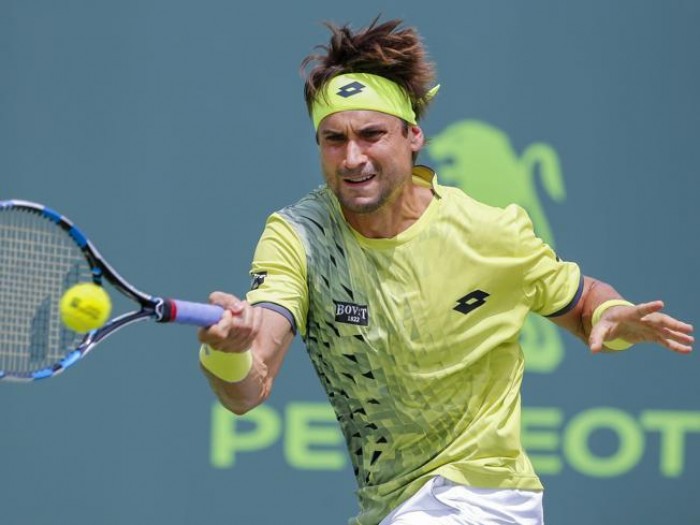 David Ferrer met Taylor Fritz in a battle that featured players 15 years apart in age. With a bye in the first round, Ferrer played his first match against Fritz in the second round of the Miami Open. The first set featured an epic showdown that went right down to the wire; the second set, a breadstick victory. The Spaniard defeated the American in straight sets, 7-6(6), 6-1, in a match lasting an hour and 47 minutes.
Ferrer Squeaks By Fritz's Near-Comeback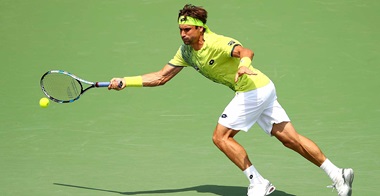 The first game really set the standard for the first set. It lasted over seven minutes, saw four deuces, and three break points before Fritz was ultimately broken, giving Ferrer a 1-0 lead. The 33-year-old held serve at 30, and the 18-year-old did the same. Down 1-2, Fritz jumped out to a 0-30 lead that quickly became a 15-40 lead. The American was staring down two break points, but a shot wide followed by a ace erased Fritz's lead. He couldn't hold on as Ferrer won the next two points to hold and give himself a 3-1 lead.
The next game was almost identical, only with the roles reversed. The Spaniard got out to a 15-40 lead with two break points in front of him. Rallying back to win the game took some work; it took the American two deuces and another break point saved, but he held to bring his deficit to just one game at 2-3. Ferrer, despite his early break, looked a little off with his groundstokes up until this point; Fritz just happened to make more errors, with most coming from his backhand. An easy hold at love for Ferrer put the score at 4-2. Another hold from each player brought the score to 5-3, in favor of the eighth-ranked ATP player.
With only one more game needed to win the set, Ferrer was unable to break Fritz's serve. The young gun followed that hold with a big break and the score was knotted up at five games apiece. Fritz held again and took his first lead of the match, 6-5. In the next game, he held a set point, but it slipped from his fingertips. Ferrer won the game--sending the set to a tiebreak.
Neither player held more than a one point lead throughout the tiebreak through the first thirteen points. The American was given another set point chance at 6-5, but he couldn't capitalize, and everything went downhill. Ferrer won the next three points to take the set, 7-6. Statistically, the players matched up about even in nearly every category. The first set lasted a whopping hour and fifteen minutes, which is five minutes longer than Fritz's entire match against Simone Bolelli lasted.
Ferrer Met With Little Resistence
The rest of the match only last 32 more minutes. After losing the first set, Fritz looked completely demoralized. In the next three games, he scored only three total points--one in each game. His second service looked like it would be more of the same as Ferrer jumped out to another 15-40 lead. The American showed some signs of life--clawing back to deuce--but it wasn't enough; he was broken again and now trailed, 0-4. At this point, Ferrer was rolling with all of the momentum. Equipped with two big aces, he won the next game untouched at love. Fritz, with almost no hope to win, was now fighting for pride. The Spaniard took a 15-30 lead before a double faught from Fritz brought it to 15-40; he had two opportunites to break the American for the third consecutive time and bagel him. It didn't work out that way. Fritz fought through four deuces and two more match points to grab his lone win in the set. The eighth-ranked ATP player finished the job in his next service and won the second set, 6-1.
A lot can be said about Fritz and his potential. He showed a lot of it today, but it will be imperative for him to work on responding better after narrow losses. He looked like two different players in the first set and second set. Luckily, he's only 18-years-old and has the support of legend Boris Becker.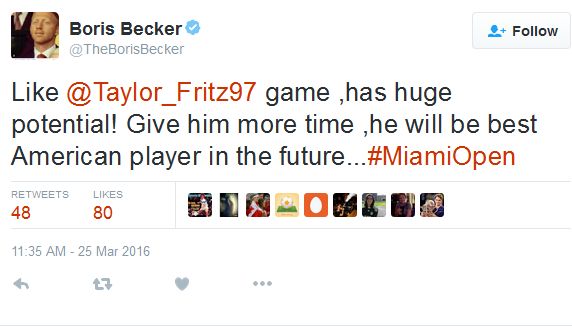 With a win over the 81st-ranked ATP player, Ferrer will move on to the third round where he will face off against the winner of Guillermo Garcia-Lopez vs Lucas Pouille. Ferrer has never played Pouille and is 8-1 against Garcia-Lopez in his career.