 Milos Raonic faced off against Denis Kudla in their first ever meeting on Saturday. Their meeting place was Court 1 in the second round of the Miami Open. This was Raonic's first match since he was battered by Novak Djokovic in the Indian Wells final. Coming into the match, it was questionable whether or not the Canadian continued to suffer from a nagging adductor injury.
It was believed that the world number twelve would breeze past the world number 63, but that wasn't the case as the American kept it close, despite losing in straight sets, 7-6(4), 6-4. The degree that Raonic was hampered by injury is unknown, but it doesn't matter now as he secured his place in the next round with a victory in an hour and 33 minutes.
Raonic Can't Catch A Break, But He Can Break A Tie
Firing off three aces, Raonic had no trouble holding in his first service game. Kudla replied, jumping out to a 30-0 lead in his service game; however, some big forehand winners and an 18-shot rally ending in his favor helped the Canadian bring it to deuce. The tides turned yet again as Kudla benefited from a Raonic error and capitalized on a big ace to hold.
In his second service game, the 12th seed had a much tougher time holding serve, overcoming two break points and four decues in a game lasting seven minutes and five seconds. Yet again, a trio of big aces bailed Raonic out of that game and brought his lead to 2-1. The 23-year-old needed hardly any time to bring the game score back to even as he held serve at love.
The momentum continued in his favor; he was up 15-40, staring down two break points on Raonic's serve. Looking completely unfazed, the 25-year-old cranked out a combination that poker players dream of: four aces in a row. That was enough for him to escape another game.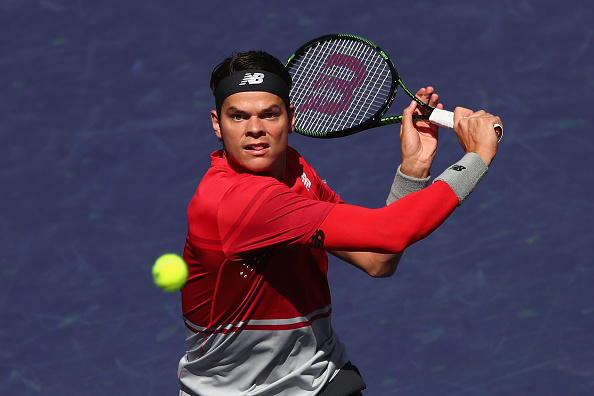 Raonic was held without a break point, and Kudla couldn't find another one for the rest of the set either. The string of holds brought the match to 6-6, heading into a tiebreak. The Canadian came out firing with a 141 mph ace to take a 1-0 lead; the American replied with one of his own to knot the score up. The world number 12 wouldn't lose a serve for the rest of the tiebreak en route to a 7-4 triumph. That gave him a 7-6 set win and a one set lead heading into the second.
Raonic Finally Catches A Break
Kudla strung together a backhand winner, a double fault, an ace, a Raonic miss, and a crosscourt volley to hold service at 15 and take his first lead, 1-0. Raonic responding by also only giving up a single point in an easy hold. Holding at love easily, the American lead yet again, 2-1.
He rode that wave of success to a 0-30 lead on his Canadian opponent's serve in the following game, that is until Raonic challenged the call and it was overturned, 15-15. The 23-year-old would win the next point two points to give himself a look at two break points, but Raonic was gaining steam. He won the next four points to crush his opponent yet again, holding to make the score 2-2.
After sixteen games and a tiebreak, Raonic finally found his break. He jumped out to a 15-40 lead that carried him to a break at 30. With the lone break needed to win the match, the Canadian just had to hold serve and he would be moving on. That's exaclty what he did, winning 6-4. Kudla was no match for the world number twelve's superior serving; he only saw six second serves in the entire second set.
With the help of thirteen aces, Raonic was able to overcome his first challenge of the Miami Open. He will move on to play Jack Sock in the third round. The Canadian has only one loss in his previous seven meetings with Sock.