 Playing in his first match since his "I would rather be sleeping" quote at Indian Wells, Nick Kyrgios played Marcos Baghdatis in the second round of the Miami Open. It was their first career meeting. The Cypriot was given quite the introduction by his Australian opponent, who dusted him off 6-2, 6-1. While Baghdatis played well, he couldn't find a way to crack Kyrgios' relentless, pounding ground strokes or his laser of a serve. The match lasted only 57 minutes.
Kyrgios Gets Past Rough Start
The match began with a blistering ace with Kyrgios coming out firing, for better or worse. At first, it was for the worse as he found himself in a 30-40 hole with a break point to save. An error from Baghdatis saved the point, while two more aces clinched the game. Baghdatis' first serve was sent back for a return ace, but he gave up only one more point in the game to score the comfortable hold. With a response of two aces, it appeared the Australian would get a comfortable hold of his own. It didn't exactly work out that way, as Baghdatis battled to deuce. He followed it with a cross-court winner to get to break point. Kyrgios let the next point slip away as he was broken and trailed, 1-2. From there on out, everything went the Australian's way. After three deuces and three break point chances, Kyrgios was gifted the break on a double fault. That ended Baghdatis' lead and he never saw it again.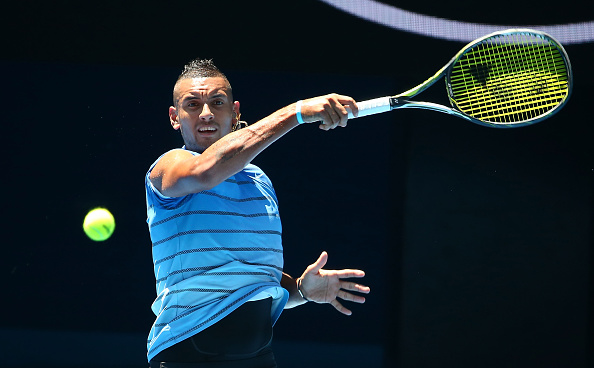 Kyrgios regained the lead at 3-2, after holding at 30. The only thing he could do wrong at this point was accidentally thump a ball girl in the shoulder with an ace. A break, hold, and another break from the Australian ended the first set with the Cypriot only getting five points in those final three games. To make things worse, Baghdatis only got 37 percent of his first serves in, and he won just under 41 percent of his service points.
Baghdatis Avoids Bagel
Furthering his dominance, Kyrgios rocketed off four straight aces to open the second set with a hold in 53 seconds. It was that kind of match. It continued into the next game as Baghdatis found himself trailing 15-40. He was able to win the next point on a forehand error by Kyrgios, but a lucky net cord sealed the break for the 20-year-old. The 2-0 advantage quickly grew to a 3-0 lead as Kyrgios held at 15, giving up just one point in his first nine service points. The onslaught continued with the 30-year-old being broken for the fifth and final time.
Despite trailing 0-4, Baghdatis was given a glimmer of hope late, as he went up 15-40 with two break point chances. Those hopes were crushed by an effortless backhand winner and an ace to send the game to deuce. At this point, Kyrgios felt an attempt at a tweener was necessary. It didn't even go over the net and Baghdatis had his third break point chance of the game. A forehand winner saved that break point and the Cypriot didn't see another. He lost the game after two more deuces. That put the set at 5-0 in favor of the young gun.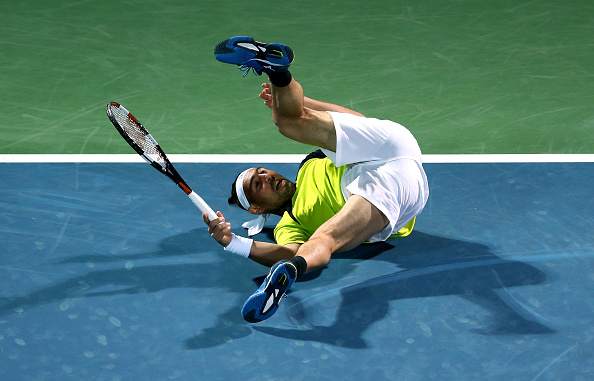 Bagel Watch was turned on and quickly turned off when Baghdatis ended his ten game losing streak. The match ended with Kyrgios holding at love to take the set, 6-1.
For those who have never watched Kyrgios, his game is hard to describe. He seemingly hits the ball as hard as he can every time and he goes for the winner every time. In the second round of the Miami Open, things went his way, and he looked unstoppable. He hit 30 winners and 14 aces. His 6-2, 6-1 victory will take him to the third round, where he will meet Tim Smyczek who upset John Isner.