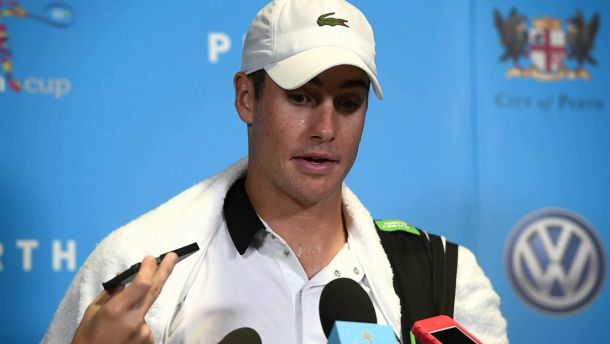 Playing in the nation's capital, American tennis players John Isner and Steve Johnson could not help but to join in on the recent political conversation. In their post-match press conferences, both players shared their thoughts on the GOP primary debate.
Top-ranked American and this year's runner up, John Isner was able to catch the debate as the match before his ran overtime.

"I actually caught most of it [GOP debate] last night, I thought it was pretty cool. Unfortunately the match before me went three sets. I hunkered down and caught some of the debate. I don't really want to watch so much tennis when I'm getting ready to go out there to play at midnight. A lot of the massage people and trainers were there watching it, it was pretty interesting."
Asked about his initial thoughts about the debate, Isner did not refrain from commenting on the most controversial candidate of the race.
"Maybe Donald [Trump] didn't do himself any favors last night, I'll leave it at that."
Isner, originally from North Carolina, is known to be a conservative. Although admitting to have an interest in politics, the 2011 US Open quarterfinalist avoided pledging his support for a specific candidate.
"I probably won't dive into that. I'm a pretty political person, I have become that in the last eight years."
43rd ranked Johnson expressed his enjoyment of politicians being politicians.
"I watched it. It's always fun to watch people dodge questions for a couple of hours. Nobody really answers the actual question at hand but it's fun to kind of watch people up there bash other people and show their true colors. But I have no preference one way or the other, just have to take it in day by day for the next year until November. We'll see what happens, and let the best Republican or Democrat win I suppose."
Even while at the tournament, fans were not able to resist the intrigue of the GOP primary debate, with many spectators in the stadium's private suites spotted watching the debate on TV.