 Tomas Berdych played Steve Johnson in their second career meeting. This meeting in the third round of the Miami Open was the first time the two have seen each other since they played in Indian Wells in 2015; Berdych won their first encounter in straight sets, 6-4, 6-2. This time, it wasn't so easy for the Czech star as it took him two hours and 42 minutes to finish off the American in three sets, 6-3, 6-7(6), 6-3.
Johnson Finally Gets Broken
In his entire match against Alexander Zverev, Johnson didn't break serve or get broken once; he advanced by winning both tiebreaks. This match appeared like it would be much of the same, even though Berdych is higher ranked than his previous opponent, seven to 52, respectively.
The world number seven got off to a quick start, holding at love and taking a 1-0 lead. A hold at 30 for Johnson brought the score back to an eve, 1-1. Winning the next game at fifteen, Berdych was able to regain the lead behind 8 of 9 service points won. The match continued without a break point or a deuce in sight, knotting the score up at 3-3. The Czech found himself leading 40-30 in the next service game, but a net cord that barely crawled over the net brought the match its first deuce. Johnson botched backhands back-to-back, and Berdych held again.
The American was finally broken after starting the Miami Open a perfect 15-0 on service games; it took three deuces, two break points and an unlucky bounce off the net by Johnson, but Berdych got the job done. At 5-3, the seventh seed just needed to hold, and the first set would be his. A hold at fifteen cliched the set, 6-3, but the match was far from over.
Johnson Holds On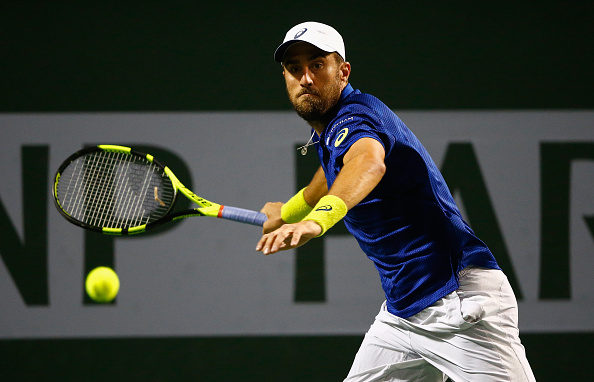 The first game of the second set become a good barometer for the rest of the set. Johnson was able to hold, but not before fighting off three break points on four deuces. Luckily, a rocket forehand down the line cut him loose with a 1-0 lead. Three more games of this played out bringing the deuce total for the set to eleven and the break point chances to nine, none of which lead to any breaks. After more than 25 minutes, the second set score was only 2-2; it was a battle with neither player giving an inch.
The match sped up with the next two games being held at love. It seemed as though the match was about to speed up; it didn't. Another game came and an all-to-familair situation came up: another deuce. Finishing it with an ace followed by a Berdych backhand into the net, the 26-year-old held again. The 30-year-old, now sporting a blue hat, sandwiched two aces between backhand errors by Johnson to hold at love, 4-4. Johnson matched it, 5-4. Berdych held at thirty, and Johnson matched it identical again, 6-5.
Powered by two aces, the seventh seed jumped out to a 40-0 lead. That lead was erased by a Johnson winner down the line, a Berdych backhand error and a forehand pass. At deuce, the 31st seed passed the Czech at the net again. He had a chance to finish the set, but he was aced. He was even gifted another set point after a double fault, but he couldn't capitalize on that chance either. The opportunity slipped away, sending the set into something Johnson is more-than-familair with, a tiebreak.
Not much fluctuated from the norm as both players were perfect on their service points through thirteen points. Berdych had his first match point, up 6-5, but Johnson won the next three and this match was going the distance.
Berdych Finally Catches Another Break
Johnson had two break point chances in Berdych's first service game. Unfortunately, he lost both of them, extending his streak to 25 games without a break. The 26-year-old wouldn't see another break point for the rest of the match. In the fourth game of the set, the Czech jumped out to a 0-40 lead, thanks to two errors from Johnson and a cross-court winner of his own. Facing three break points, Johnson clawed his way to 30-40, but Berdych was too much. A cross court sealed the deal. Finishing the break-hold combo, the world number seven just had to hold for the rest of the match and he'd win 6-3. That's exactly what he did--sinking Johnson despite a tough fight.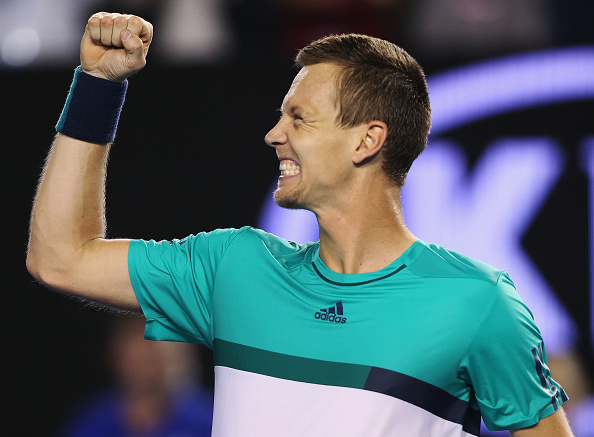 Neither played looked very dominant as both competitors had ten break point chances. The difference was Berdych won two of his chances, while Johnson came up empty. Berdych will move on to play a Frenchman in the fourth round; Richard Gasquet and Benoit Paire will face-off to find out who that Frenchman is. Gasquet holds a narrow 7-6 lead in thirteen prior meetings with the Czech star, while Paire has never beaten him in two tries.