 At the Internazionali BNL d'Italia, David Goffin eased past Tomas Berdych 6-0, 6-0 in just 48 minutes on the Grandstand court. The Belgium will now face Andy Murray for a place in the semifinals.
Perfect start for Goffin
Tomas Berdych got the match underway, but straight away it was Goffin who came out the traps quicker, getting to break point at 15-40. He put away the point and broke, which followed by a hold of serve to love for 2-0. In the next game, the Belgian continued the fast start and hit a forehand return winner to reach break point. Berdych saved it, however, the streak of breaks would continue as Berdych would be broken two points later following a forehand winner from Goffin.
The 25-year-old consolidated the double break and went 4-0 up. Berdych could do nothing about the power of his Belgian opponent and Goffin once more attacked the Czech and broke to go 5-0 up. Goffin served it out for the bagel in 18 minutes. Goffin won 90 percent of his first serve points while Berdych won none on his second serve. In addition, Goffin had won 100 percent of his second serve return points.
Dominant Goffin books spot in quarterfinals
With the match a case of one-way traffic, Goffin continued this scintillating start and in the first game, he ran to a love-40 lead, and broke with the ball landing on the line. The world number 13 held to the annoyance of his opponent for 2-0. In the upcoming game, the 30-year-old managed to save a break point from Goffin, but the Czech hit a double fault and the 25-year-old had clear daylight in the match. In the next game, there was a surprise turn of events in the set, with Berdych trying to force a way back into the match. He managed to win three points in a row and grab a break point opportunity.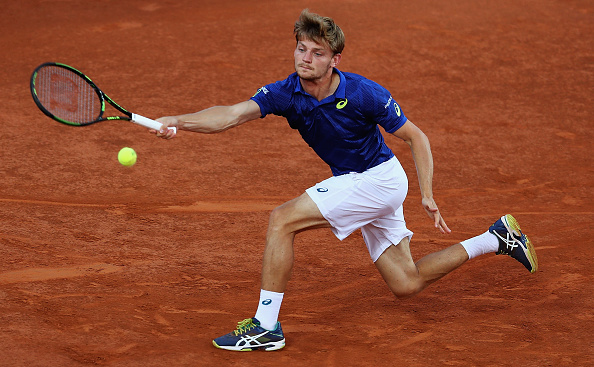 Berdych seemed to have little fighting spirit, but Goffin saved all points and held to go 4-0 up against the world number eight. With the match out of sight for the Czech star, things continued to get worse and Goffin had three break point chances. Berdych erased them, yet the Belgian would have his fourth break point of the game, which was put away neatly to go 5-0. Goffin served it out for a 6-0, 6-0 victory, which took the crowd by surprise and not least himself. The 25-year-old won 91 percent of first serve points and nine out of ten points on his second returns.
Key Stats
David Goffin served four aces and no break points while Berdych had three aces and two break points. The Belgian was highly impressive on serve, winning 90 percent points on first serve and fifty on his second with the 30-year-old struggling only managing to win 35 percent points on his first serve, and only seven percent on second. Goffin saved 100 percent break points with Berdych saving 45 percent. The 25-year-old Belgian was on fire on returns points having won 65 on his first and 93 on his second. In the end, Goffin won a total 77 percent of points.