 Gael Monfils met Pablo Cuevas for the first time since their five-set thriller at the 2015 French Open. This was their third career meeting, and Monfils remained undefeated. The Frenchman was able to continue his strong serving in the third round of the Miami Open. Not giving up a single break point, Monfils won the match in routine fashion, 6-3, 6-4. The match lasted just seventy minutes.
Monfils Holds Steady
Although Cuevas was able to grab a 15-30 lead in the first game, he didn't see a break point in the entire match. Monfils responded to an early double fault with two straight aces, winning the game after one deuce. The Uruguayan battled back with a hold at 15 ending with an ace, but the Frenchman would not be denied his hold, doing the exact same thing and taking a 2-1 lead.
Two double faults and a backhand error gave Monfils his two chances to break at 15-40, but he couldn't capitalize; he lost the next point on a long backhand and an ace brought the game to deuce. With a big forehand down the line, the 29-year-old had his third chance to break; the 30-year-old won the next three points to clinch the game and tie the set up at 2-2.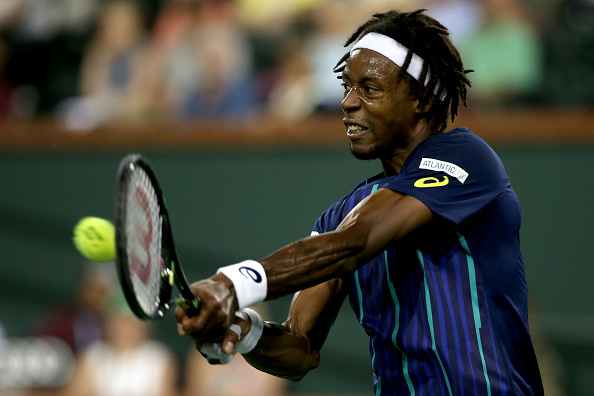 Cuevas couldn't exhale for long as Monfils held at 15 and jumped to a 30-40 break point on a backhand that landed square on the corner of the court. After three deuces, the world number sixteen still hadn't seen another break point, but two forehand errors by the world number 25 gave him his fifth chance of the match. Finally, after six chances, Monfils broke serve in a game lasting eight minutes and 47 seconds, taking a 4-2 lead with him. A fifth hold gave him an insurmountable 5-2 lead that eventually turned into a 6-3 first set win.
While Monfils only held a six percent advantage on first service points won, a 55 percent to 38 percent advantage on second service points proved to be too much for Cuevas to overcome. He was also the victim of eight Monfils aces while gifting three points via double faults.
Cuevas Can't Even Sniff A Break
Serving first, Cuevas was able to hold cleanly at 30 and take his first lead of the match, 1-0. Monfils soon matched him, making it 1-1. Giving up only one point in his next two service games, the 23rd seed looked like he was the dominant service player. The service games held at 30 by the 16th seed kept the game knotted up at 3-3.
Once again, Monfils struck and jumped out to a 15-40 lead with two break points. But once again, Cuevas saved those two break points, one with a beautifully executed chip-and-charge play, and entered the deuce battle. This one was short; two errors for Cuevas clinched the break for Monfils, giving him a 4-3 lead to ride to the promised land. Holding the rest of the way without either server giving up a point, Monfils won the match with a 6-4 set win.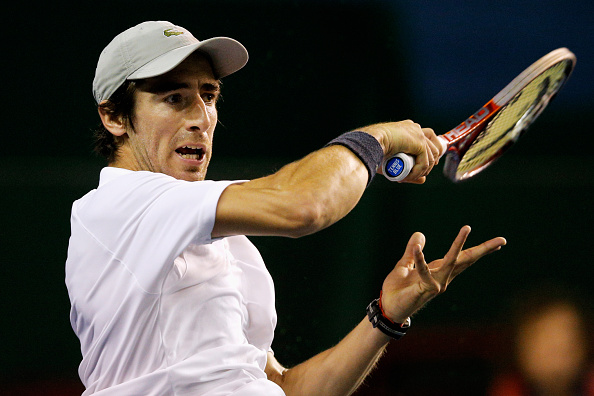 The world number 16 knocked down five more aces, but his biggest edge came in the form of his second service win percentage. In the second set, he held a 78 percent to 50 percent advantage and that propelled him to victory.
Monfils will look to take his third win of this Masters 1000 event against Bulgarian Grigor Dimitrov, who upset Andy Murray in the third round. The Frenchman holds a 3-1 lead in their previous four meetings, with Dimitrov's only victory coming in the form of a retirement from Monfils in the 2014 Bucharest Open.