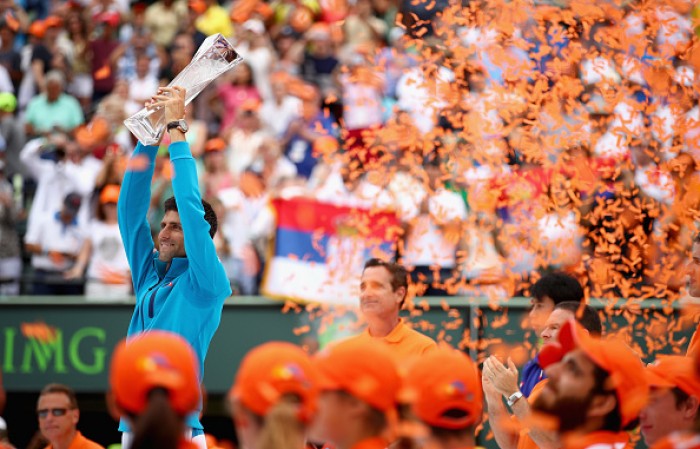 Novak Djokovic met Kei Nishikori for their ninth career meeting. Coming into the match, Djokovic was on a five-match win streak, with Nishikori's last victory coming from the 2014 US Open. The Japanese sensation was looking for his first Masters 1000 title, while the Serb looked to pass Rafael Nadal for most wins in that department; Djokovic's win in Indian Wells brought him even with the Spaniard at 27 titles apiece. In the Miami Open final, Djokovic had little trouble dismantling Nishikori, who struggled with nerves for most of the match before also having to struggle with injury. A win in straight sets, 6-3, 6-3, took Djokovic one hour and 26 minutes.
Djokovic Overpowers Nishikori With Breaks Galore
After getting the better of Djokovic in a 20-shot rally in the second point of the match, it looked like Nishikori had some hope, even with the odds stacked against him. The Japanese sensation followed that point by holding on for three consecutive errors from the Serb to grab an early break at 15 and a 1-0 lead. That lead wasn't safe for long as the world number one quickly broke back, also at 15.
A string of four errors from the world number six made holding easy for Djokovic, now holding a 2-1 lead. Nishikori held his own with a pair of forehand winners down the line combined with two Djokovic errors on returns brought the game score to 2-2. Matching his previous hold at love, Djokovic was now a perfect 8-for-8 on service points since being broken in the first game.
The next game saw the match's first deuce; a forehand error that Nishikori became all too familiar with in the first set gave the Serb his second break point chance of the match. Unable to hold on, the 26-year old was broken for the second time and now trailed 2-4. Nishikori showed some fight in the next game en route to a second break of his own, but that would be the last game he won in the set. The top seed won eight of the next ten points--breaking the sixth seed at 30 and holding for the set at love. After looking nervous all set and not serving over 120 mph to that point, Nishikori lost the set, 3-6.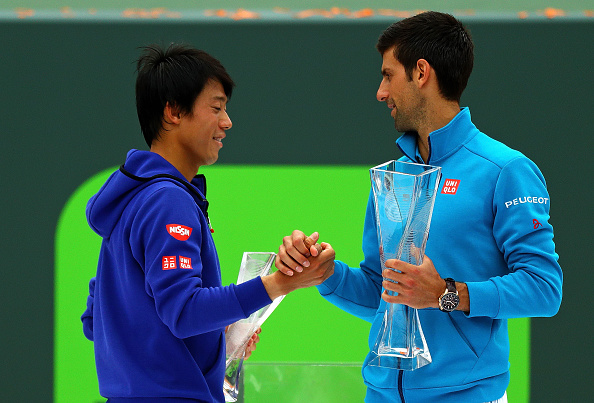 Those weak serves spelled doom as the Japanese won only 40 percent of his first serve points. There's no wonder why he was broken three times now. He also racked up the unforced errors, eight of which coming from his forehand. On on the other hand, Djokovic lost only four of his first service points, winning an efficient 75 percent.
Nishikori Can't Overcome Rough Start
The second set also began with a quick break, but, this time, it was the sixth seed who was broken. Following it with an easy hold at 15 gave Djokovic a 2-0 lead. Nishikori's odds of winning looked nearly non-existent, while the Serb looked confident and ready to finish off his adversary.
The one break lead was maintained for the next six games, with the world number one getting only one unsuccessful attempt to break again. The score was now 5-3 in favor of Djokovic. Nishikori needed a medical timeout, and he was treated on his left knee. It appeared as though the hobbled star would be able to hold for one more game, but by double faulting twice after holding the advantage, he looked all but finished.
The Serb smelled blood, and after three championship points, he finally break through his opponent's serve and finished the match. Oddly enough, neither player was able to record an ace in 109 service points.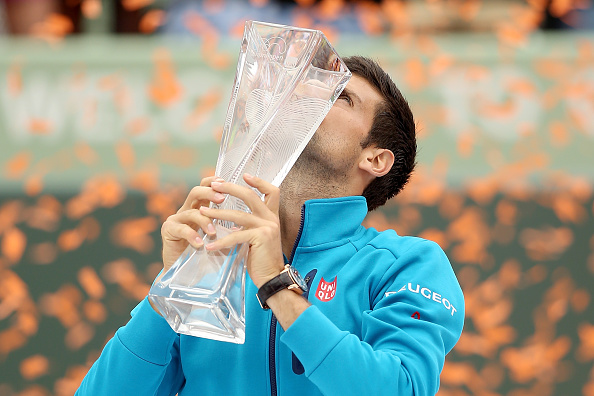 With a 6-3, 6-3 win, Djokovic was able to accomplish a lot more than just becoming the 2016 Miami Open Champion. He tied American legend Andre Agassi with six Miami Opens won, he beat Nadal's record with 28 Masters events won, he eclipsed Roger Federer for most prize money won in a career, and he officially surpassed his coach, Boris Becker, in number of matches won. That is quite the successful day for the Serbian. Djokovic also joins Victoria Azarenka as 2016 double-winner of Indian Wells and Miami.