 Serbian tennis player Ana Ivanovic defeated German rising star Carina Witthoeft in straight sets on Tuesday afternoon at the Porsche Tennis Grand Prix. Both ladies started off the match holding serve until 2-2 in the first set, when Witthoeft broke Ivanovic to love. The German kept that break advantage as she tried to serve for the set at 5-4, but Ivanovic played her best to get the break back. They would both hold serve and force a tiebreaker, which Ivanovic won 7-6(3). The second set would be a much easier affair, as the Serbian crusied through it in a little over 20 minutes, 6-0.
Ivanovic Takes a Tight Opening Set
The first round encounter of Ana Ivanovic and Carina Witthoeft saw both players hold serve in their opening service games, an ace off of Ivanovic's racquet to finish the game. Both players held serve yet again for 2-2, but a poor service game from the Serb saw Witthoeft instantly hold three break points. She would only need one, though, as a forehand slice from Ivanovic clipped the top of the net to give the German the break. The Serbian tried to break right back, but great defense from Witthoeft helped her consolidate the break. Both ladies held serve again with impressive shot-making to make it 5-3 in favor of Witthoeft.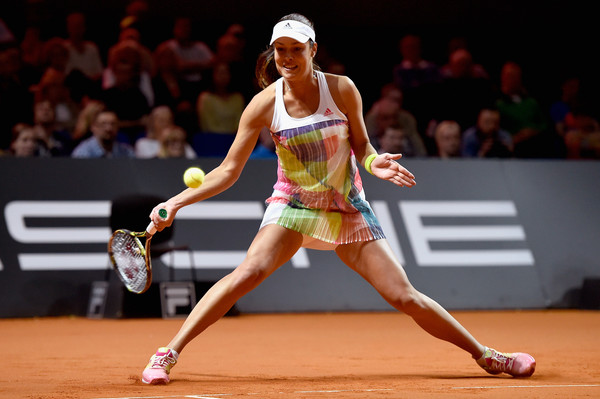 Trailing at 5-3, Ivanovic played a fantastic service game that ended with a forehand winner down-the-line to make it 5-4, the German leading. When Witthoeft was serving for the set, she tightened up, allowing the Serbian to gain control. Ivanovic would eventually get herself to break point, which she played beautifully, a perfectly placed backhand dropshot to get the break back. Leveled at 5-5, Ivanovic played another flawless service game filled with winners to get with reach of the first set. The German didn't give in, though, and forced a tiebreaker. Ivanovic got the early lead in the tiebreaker, a forehand swinging volley winner would get her up 4-1. The German again wouldn't give up, and reeled off a couple of points to get the score in the tiebreaker 4-3, in favor of Ivanovic. Ivanovic wouln't let up though, winning three points in a row and a backhand winner would get her the first set, 7-6(3).
Ivanovic Cruises Through Second Set
The second set didn't start off well for Witthoeft, as she immediatly faced three break points in the first game of the second set. She saved two break points, but not the third, a backhand sailing long from the German to give Ivanovic the break. The Serbian then faced a tough service game of her own, but she pulled through, a forehand winner getting her a 2-0 lead and consilidating the break. Despite Witthoeft being up 30-0 on her own serve in the next game, she again couldn't get past Ivanovic's blistering returns. And Ivanovic broke yet again, a forehand error sailing wide from Witthoeft to give Ivanovic a double break lead. The Serbian again consolidated the break with ease, now being up a set and 4-0. Two more fantastic returns on the German's serve would help Ivanovic to break for a third time in the second set. The Serbian then had no trouble serving it out to love, a forehand return sailing long from Witthoeft as Ivanovic won the match 7-6(3), 6-0.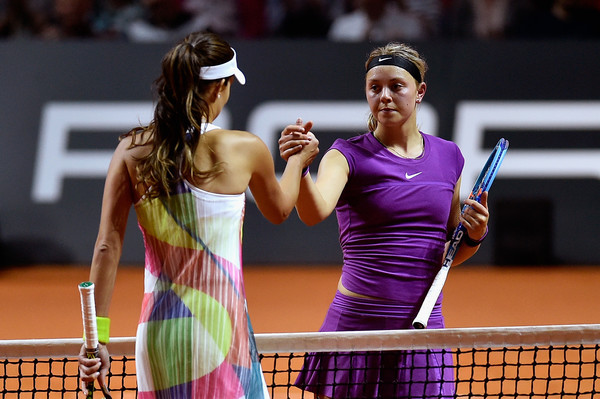 Match Statistics
Ana Ivanovic hit 4 aces, while Witthoeft hit none. Ivanovic also only hit 1 double fault, while the German hit 3. They both hit any equal 66% of first serves in, but as Ivanovic won 75% of her first serve points, Witthoeft on won 59%. The Serb also won 70 points, while Witthoeft only won 53.
What's Next?
Ana Ivanovic will now face the winner out of eighth seed Lucie Safarova or Karolina Pliskova in the round of 16. Both potential players are from the Czech Republic. She will either play on Thursday or Friday at the Porsche Tennis Grand Prix in Stuttgart, Germany.