 12-time Grand Slam champion Novak Djokovic is currently competing at the Qatar ExxonMobil Open as the defending champion ahead of his quest for a recording-breaking seventh Australian Open title and the first Grand Slam of the year starts on January 16th. After his second round victory over Argentina's Horacio Zeballos, the world number two spoke to Blicsport about his fellow Serb and former world number one Ana Ivanovic's retirement from professional tennis, and Ivanovic ended her career with the French Open in 2008 and two more Grand Slam finals in Paris a year prior and the Australian Open in 2008.
"I've known her since we were five years old. I shared a few messages with her, I congratulated her on her unbelievable career and I had tears in my eyes. I can only imagine how many emotions she had experienced to make such a decision."
The former world number one continued, "How hard it must make a cut after a whole life with tennis. She got married last year, she's thinking about family. She's an amazing person and she deserves only the best."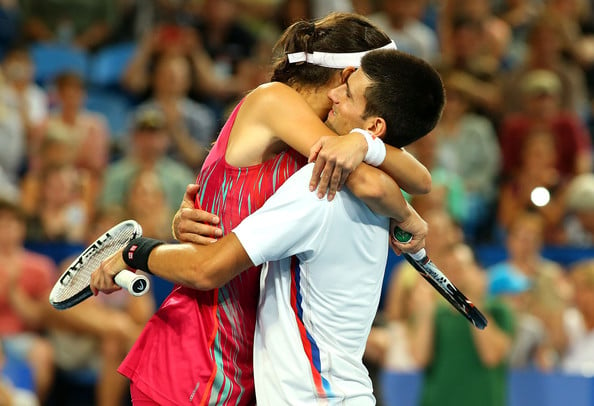 Djokovic went on to speak about his second round victory over Zeballos, who defeated Rafael Nadal in the final of Vina del Mar back in 2013 when the Spaniard was on his comeback from a career-threatening knee injury. "You're trying to start with the right intensity, and the start of the match today was definitely better than the first round. Although I was quite pleasantly surprised with his aggressive play, it was a good quality match. I thought I played well on my service games."
The Serb denied that he has issues with Pepe Imaz. "People can think what they want, I don't even want to speak about it. Pepe will obviously travel with me in the tournaments."
Djokovic concluded the press conference speaking about the attacks that occurred in Istanbul. "You've to be careful, but without thinking about fear. I have a completely positive philosophy of life. There are a lot of bad people but I don't focus on it. I think positively and I hope everything goes well."