 The second seed Angelique Kerber will play the unheralded qualifier Laura Siegemund in an all-German final at the Porsche Tennis Grand Prix, held on indoor clay in Stuttgart, Germany.
Recent Results
Kerber is back to her best, reaching her first final since winning the Australian Open. Despite struggling initially with the pressure of becoming a Grand Slam champion, the 28-year-old has recently rebounded with semifinal appearances in Miami and Charleston and a couple of wins over the weekend in the Fed Cup, including her first career victory over Simona Halep.
Despite losing the first set of her opening match against Annika Beck, Kerber has done a good job of managing crowd expectations as the defending champion here. After playing aggressively to dismiss the clay court specialist Carla Suarez Navarro 6-2, 6-4 in the quarterfinals, she physically outlasted the world number seven Petra Kvitova 6-4, 4-6, 6-2 to reach her third final of the year.
Siegemund had only won six main draw matches coming into this season but has already won 11 so far in 2016. Quite why the 28-year-old has recently found her career best form remains a mystery, enabling her to beat Jelena Jankovic at the Australian Open and Madison Keys en route to the quarterfinals in Charleston two weeks ago.
Amazingly, the qualifier hasn't even dropped a set in winning seven matches to reach her first WTA final. After crushing world number six Halep 6-1, 6-2 in the second round and number eight Roberta Vinci 6-1, 6-4 in the quarterfinals, Siegemund defied all the odds to out-jinx number two Agnieszka Radwanska 6-4, 6-2 to become the first qualifier to reach the final of this event.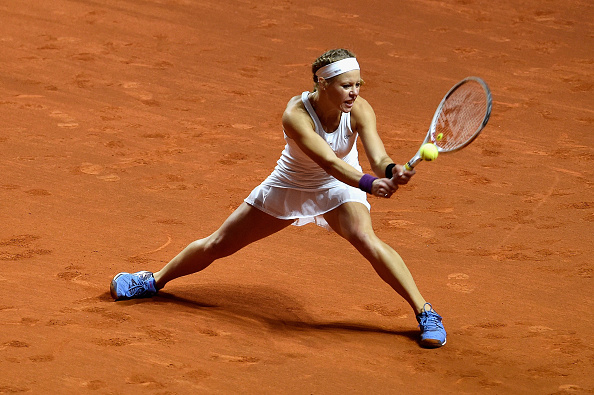 Past Experience
Kerber has won seven titles, losing in a further eleven finals whilst peaking recently at a career high of number two in the world. Last year, she was unseeded at this event but defied the odds to defeat the likes of three top 10 players; Maria Sharapova, Ekaterina Makarova and Caroline Wozniacki to win the title.
Siegemund won three doubles titles last year and is at a current career high of number 71, a ranking she's certain to exceed. Despite her giant killing form this week, she had only ever beaten a top 10 player once before via retirement and had failed to qualify for this event in four previous attempts.
Head-to-Head
The two have never played before. In this event's first all-German final, both women will be enthusiastically supported, though perhaps the crowd will lean towards the underdog given that she hails from Filderstadt, only some 13 km away from Stuttgart.
Kerber has improved dramatically in recent months, proving to be mentally tougher than before. Founding her game on a versatile left handed forehand and sensational movement, the world number three will be tough to break down from the baseline and hits the ball with more authority than the previous opponents Siegemund's encountered.
Siegemund is a refreshing player to watch, utilising an all-court game which seems perfectly suited to clay. As a psychology student, it's clear to see how she enjoys working a point, utilising drop shots, volleys and proactive returns to keep her opponent off balance.
Given her incredible run this week, Siegemund will be tough to stop as she bids to become this event's lowest ranked champion. The momentum is firmly behind her and rather than getting nervous, the qualifier seems to relish the big moment, buzzing about the court with a loud and dogmatic style. Kerber will have to utilise all of her experience and look to play aggressively in order to not give her opponent time on the ball to work her magic.
Prediction: Angelique Kerber in three sets