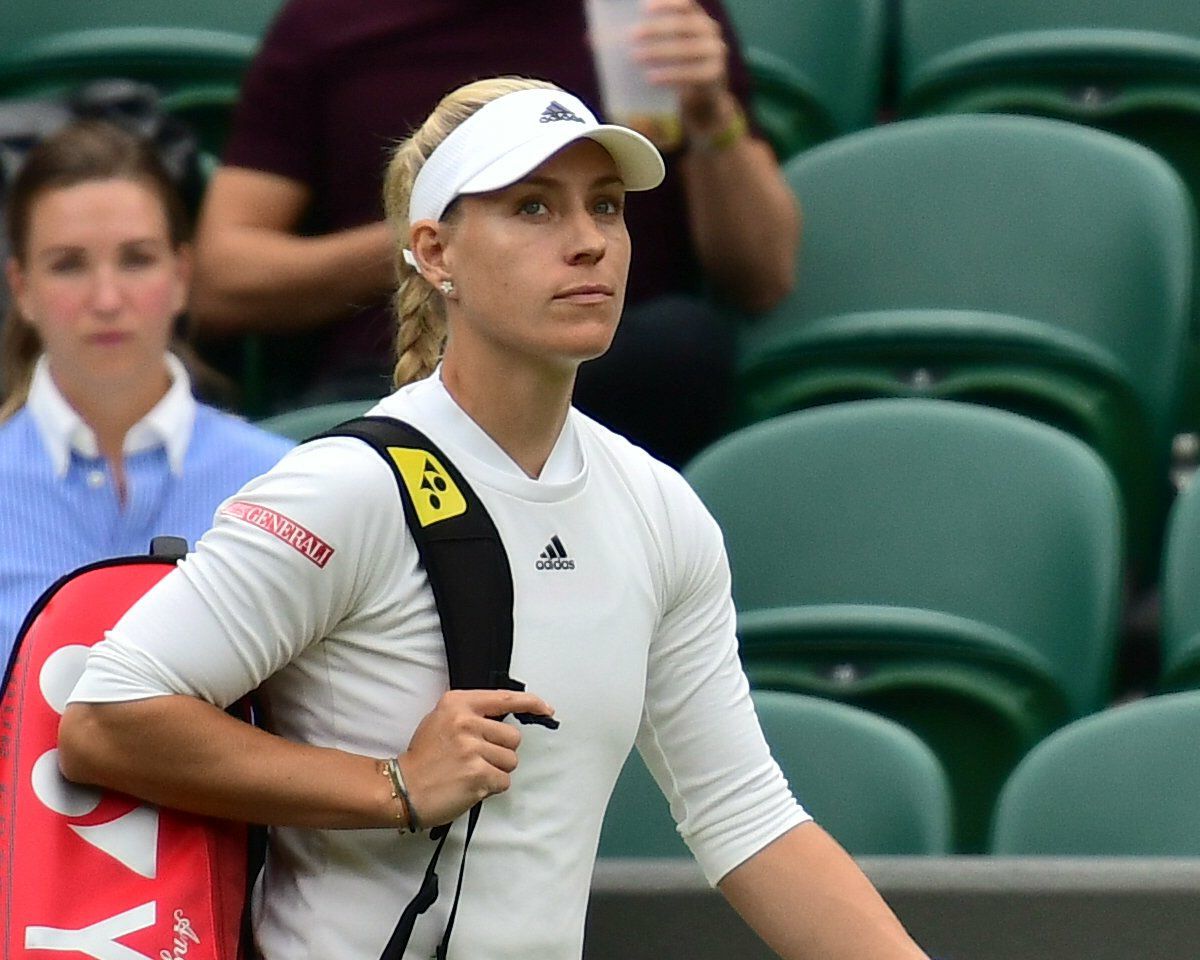 The first half of Angelique Kerber's 2018 season, which culminated in her third Grand Slam title, at Wimbledon, remains arguably the former world number one's best stint since her hallmark 2016 season to date.
Since then, however, the German has not been able to sustain that same form, as she fell out of top 20 once again, and very nearly exited the top 30 for the first time since 2012.
A challenging 2020 season, not made any better by a hiccup to begin her 2021 campaign, dampened the veteran's form further - she scored back-to-back wins on just two occasions in the first five months this year.
That all changed in the Hessian spa town of Bad Homburg late last month as the German showed everyone again that she is not done just yet, capturing another title in her home nation before enacting another Wimbledon fortnight to remember with a semifinal run.
2018 season in a nutshell: The 'first' resurgence
Kerber started her 2018 by contributing to Germany's first ever final appearance at the Hopman Cup since the 1990s.
Partnering Alexander Zverev, she was spotless in all her singles matches, even without dropping a set, all week.
In the final, against Switzerland, represented by Roger Federer and Belinda Bencic, each nation was vying for its third title.
There, however, the Germans lost to the decisive doubles match to hand their country its second runner-up finish here.
Kerber then made her second final in Sydney the week after, having been a runner-up here in 2014 where she was surprised by Bulgarian qualifier Tsvetana Pironkova.
The German's route to the final that week began rather arduously, prevailing in three-setters over Lucie Safarova and Venus Williams, and having need to save a match point against the former.
A couple of straight-set wins over Dominika Cibulkova and Camila Giorgi saw her set up a final clash against home hope Ashleigh Barty.
Kerber saw off the Aussie in straight sets, thus dashing home hopes, to capture her 11th career singles title, her first since the US Open in 2016 – besides it being the first time she won a final in straight sets since Stuttgart 2016.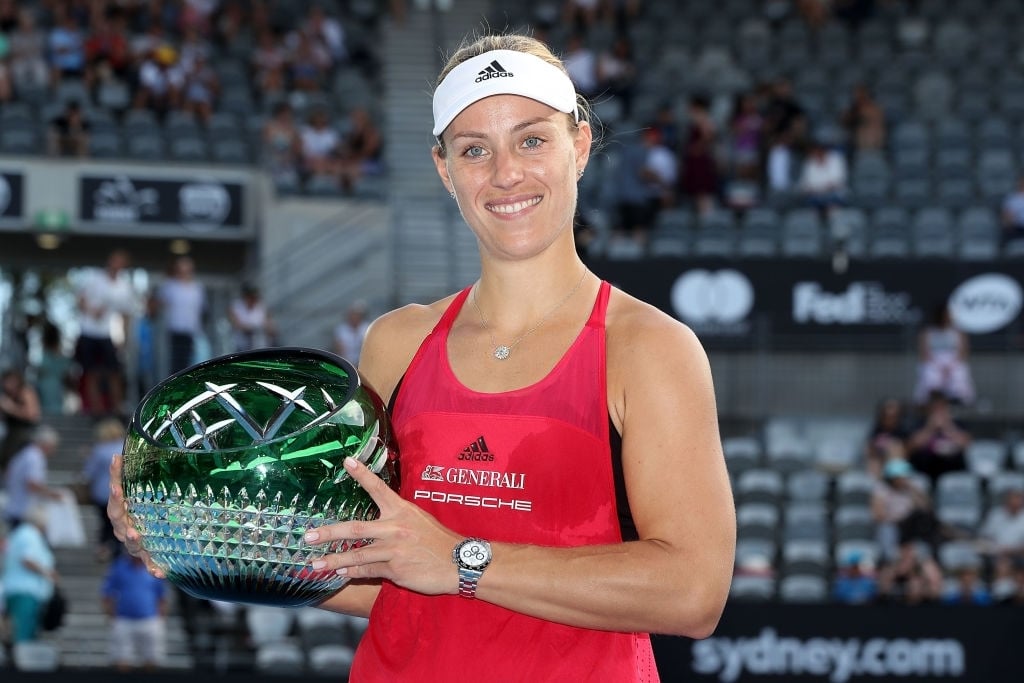 "I am playing amazing tennis again and it feels just great. It feels very good to win my first title in my first tournament this year," she said of her Sydney triumph.
Kerber further stated: "I had a great week and the final was not easy playing Ash (Barty) but I was able to play my game in important moments. I feel like I am getting closer to my 2016 level."
A semifinal appearance at the Australian Open, her second venture past the last 16 stage here, followed suit – where she lost a nail-biter to top-ranked Simona Halep, with a 7-9 overtime score line in the decider.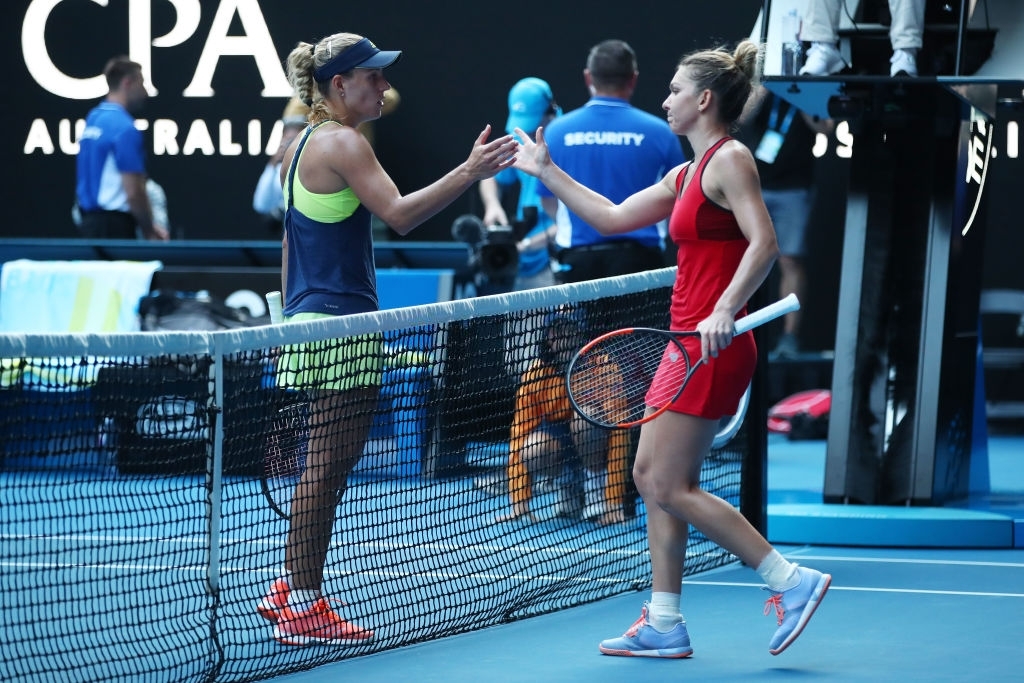 That loss did not dampen Kerber's stride: "I gave everything. This is what I will tell myself in the next few days. Looking back what I have achieved these past three weeks, it was not so bad."
"When I look back, four, five weeks ago, somebody told me that I will win many matches in a row, winning a title, and being in the semifinals here, and still having the opportunity to win this match as well."
Kerber followed up with deep runs across Premier Mandatory and Premier 5 events in Doha, Indian Wells and Miami, posting quarterfinal results in each of them.
A slow start to her season on clay, however, proved to be a blessing in disguise for the German, who concluded her campaign on the dirt with by equalling her best result at Roland Garros for the first time – making the last eight – where she lost to Halep again, this time from a set up.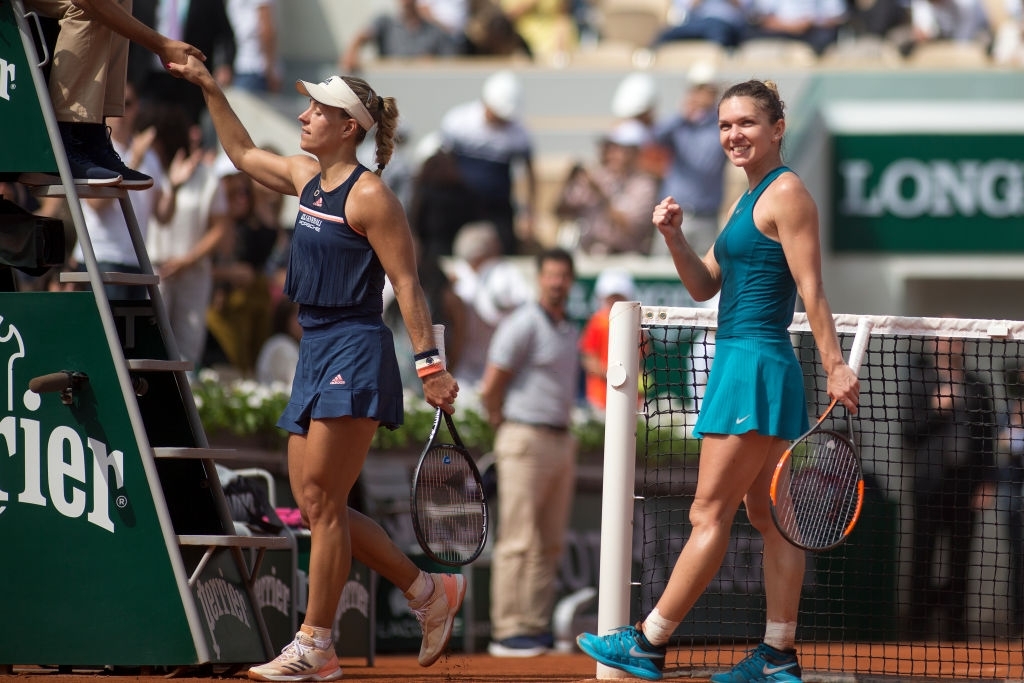 That same trend on clay translated to the grass next, as Kerber recovered from an early exit in Mallorca by making the last four in Eastbourne, which she has been runner-up twice prior.
Having finished second best to Serena Williams in 2016, Kerber was looking to make the quarterfinal or better round at Wimbledon in an even-numbered year for the third time running – having been a semifinalist in 2012 and quarterfinalist in 2014.
After navigating through her first two matches, 11th seed Kerber came up against 18th seed Naomi Osaka but was solid in a straight-set win over the future world number one.
A win over an unseeded Bencic in the fourth round put Kerber in her fourth Wimbledon quarterfinal – where she found herself the highest seed left standing after the prior almighty culling of top 10 seeds, its last victim being the eighth seed and future runner-up here, Karolina Pliskova, in the fourth round.
Kerber was tested in her quarterfinal clash against 14th seed Daria Kasatkina but eventually converted match point on her seventh try to win in straight sets.
Another win in straight sets over 12th seed Jelena Ostapenko saw her through to a second final at SW19 where she faced 25th seed Serena Williams, a rematch of the 2016 final.
There, the younger of the two veterans produced a clean display of tennis to see off an erratic Williams in straight sets, to exact revenge for her 2016 defeat, claiming her third Grand Slam title as a result – the first where she won the final in straight sets.
"I knew I had to play my best against a champion like Serena. It is always an honour to share the court with her," Kerber said of her victory.
"It is my second chance to play in front of you on Centre Court (in a Wimbledon final). I enjoyed every second of the last two weeks so thanks for the support," she added as she acknowledged the crowd.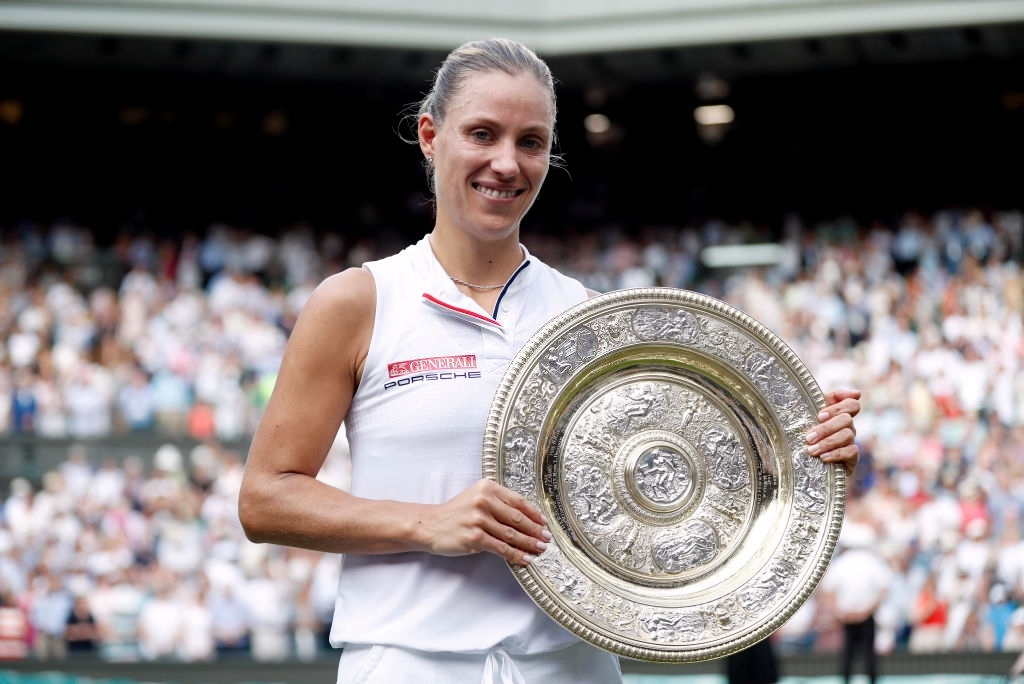 Throughout that Wimbledon fortnight, Kerber only lost one set, when she had to come back from a set down to beat 2017 junior champion Claire Liu.
Kerber's 2018, from Sydney until Wimbledon, saw her make the quarterfinals or better 10 times, out of 12 tournaments in the same period – the outliers being Stuttgart (on clay) and Mallorca (on grass).
Kerber would lay low for the rest of 2018, however, failing to reach another quarterfinal, and winning consecutive matches on two more occasions – the US and China Opens.
At the WTA Finals, where she qualified for the fifth time, 2016 runner-up Kerber scored one win in the group stage, over Osaka, thus exiting the year-ending championships in the group stage.
The German subsequently concluded the year ranked second to Halep.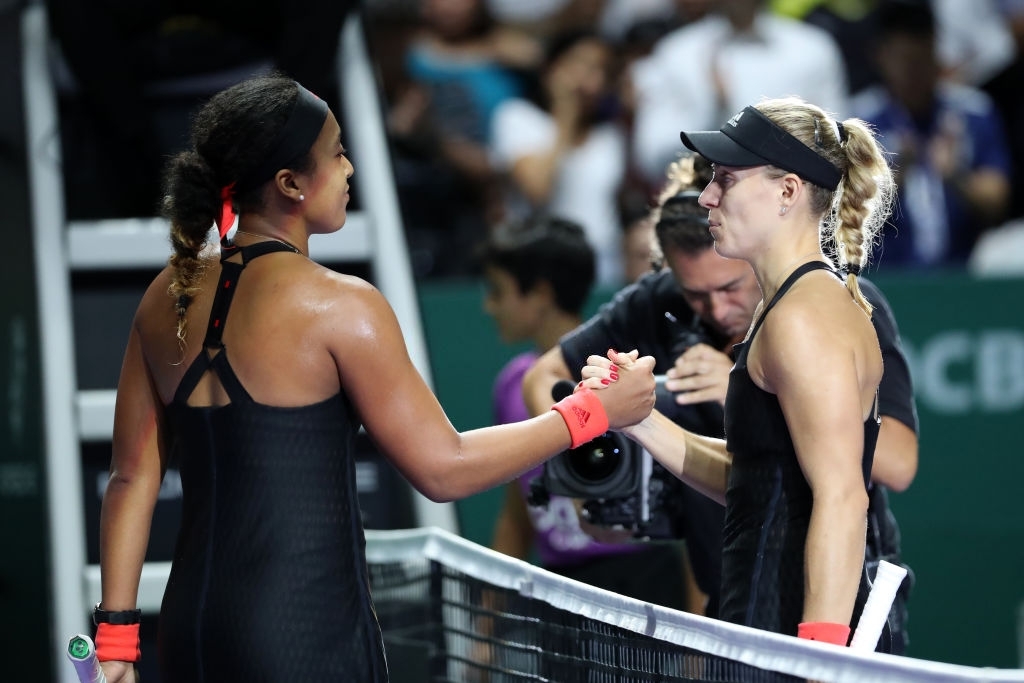 In November, having split with then-coach Wim Fisette prior, Kerber announced a new partnership with former ATP player Rainer Schuttler.
Trivia: 2018 marked the first season in Kerber's career where she won all finals appeared in, and her Wimbledon title put her one Slam shy of the Career Grand Slam achievement – having won both the Australian and US Opens in 2016.
Loss of form in 2019: Inconsistencies featuring two runner-up finishes
Kicking off her season at the Hopman Cup for the second year running, Kerber and Zverev ensured Germany another shot at its third crown when they soared to the championship round once again.
However, in an exact mirror of the previous year – Kerber winning all her singles matches, and Germany taking on Switzerland in the final – the same result was replicated.
This time, however, the Germans did sneak out a set against the defending champions Switzerland in the decisive doubles match.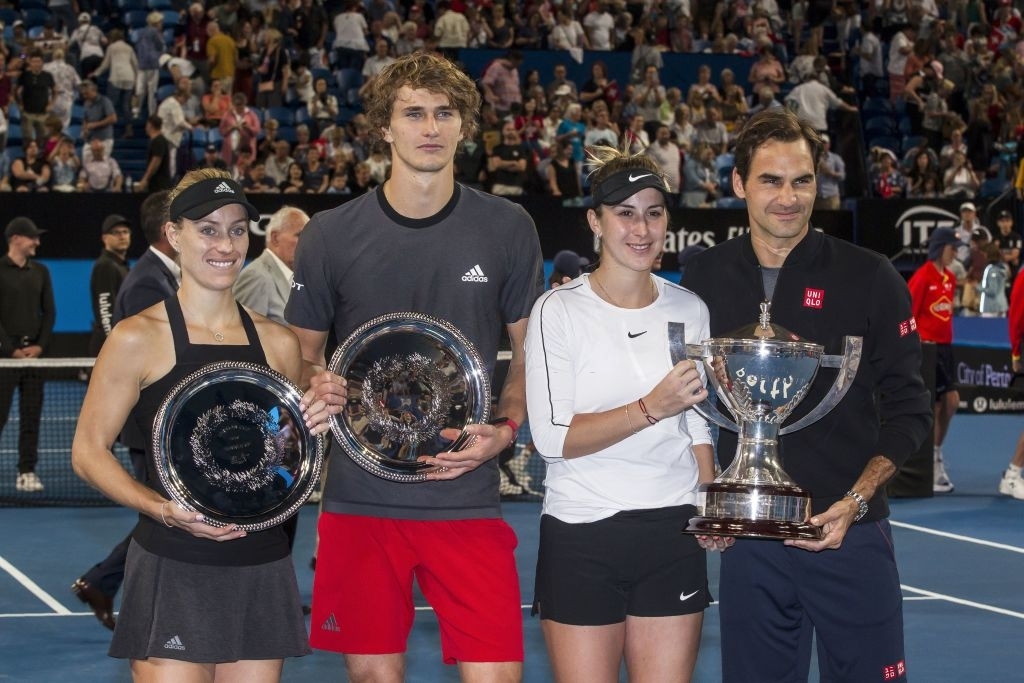 That Hopman Cup would also turn out to be the last one held, as it has been replaced by the ATP Cup starting 2020.
After a failed bid to defend her Sydney title, Kerber looked set for another deep run at the year's first Grand Slam, as she surrendered just 10 games in the first three rounds.
In the round of 16, however, Kerber was stunned by American surprise package Danielle Collins in a match where the former managed just two games under her belt.
Kerber then made her first final of the year in Indian Wells, holding off the likes of Aryna Sabalenka, Venus Williams and Bencic en route, where she was defeated by an inspired Canadian youngster Bianca Andreescu.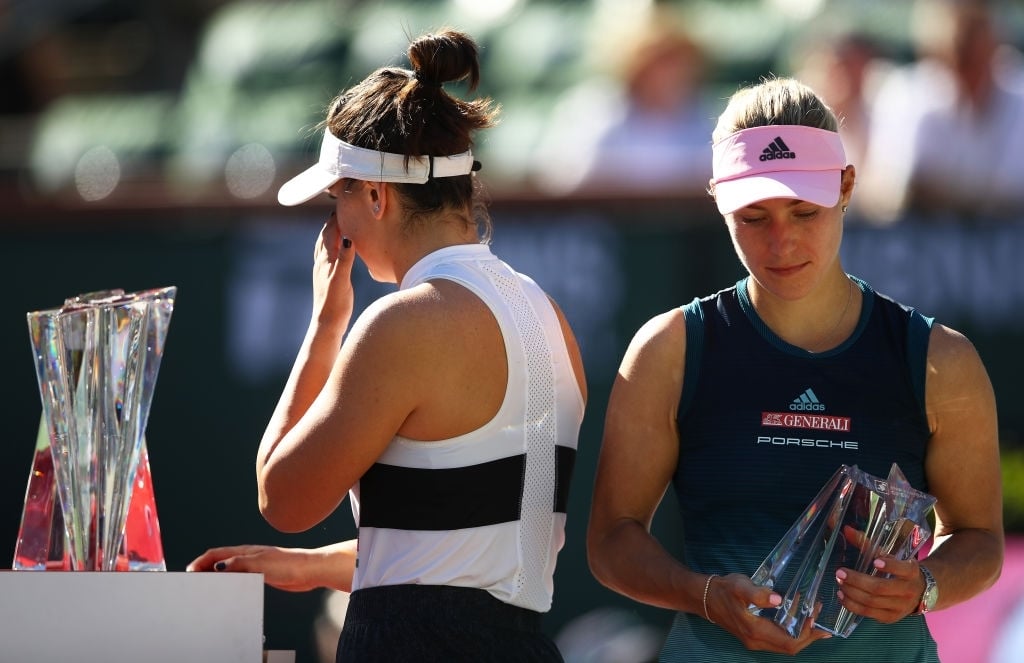 Between Indian Wells and the start of the grass season in 2019, a span of more than two months, Kerber won back-to-back matches once, when she reached the last four in Monterrey.
The German started her grass season with a semifinal run in Mallorca, and then advanced to her third final in Eastbourne, but, for the third time, was a bridesmaid once more, this time to Pliskova.
Kerber's title defence at Wimbledon, next, saw her make a second-round exit, in the hands of lucky loser Lauren Davis, which saw her depart the top 10 as a result.
Kerber and Schuttler also parted ways after the conclusion of Wimbledon.
The Pan Pacific Open, during the fall in the Asian swing, saw Kerber snap a four-match losing streak dating back to Wimbledon, by making the semifinals where she lost to Anastasia Pavlyuchenkova – a rematch of their semifinal here in 2017.
Having finished 2018 at second in the world, Kerber's year-end ranking fell ten-fold, to world number 20, in 2019.
Trivia: The Indian Wells runner-up result in 2019 is the first time Kerber advanced to the championship round of a Premier Mandatory tournament, while 2019 also joins her 2014 and 2017 seasons as the ones where she lost all finals appeared in, four in 2014 and one in 2017.
2020: Taking on the pandemic
Entering the 2020 season, Kerber made a fresh start with a new partnership in another former German player, Dieter Kindlmann, as coach.
In her first showing at the Brisbane International, after a two-year absence in Queensland, to open her season, however, Kerber was bounced in the first round by Samantha Stosur in straight sets.
Things did not improve after that as she had to retire against eventual runner-up Dayana Yastremska in the second round of Adelaide.
At the Australian Open, she managed to post an appearance in the second week here, moving into the fourth round, for the fifth year in a row, but was stopped by Pavlyuchenkova in three sets.
That was Kerber's last appearance on tour before the season entered lockdown in early March due to the ongoing COVID-19 pandemic.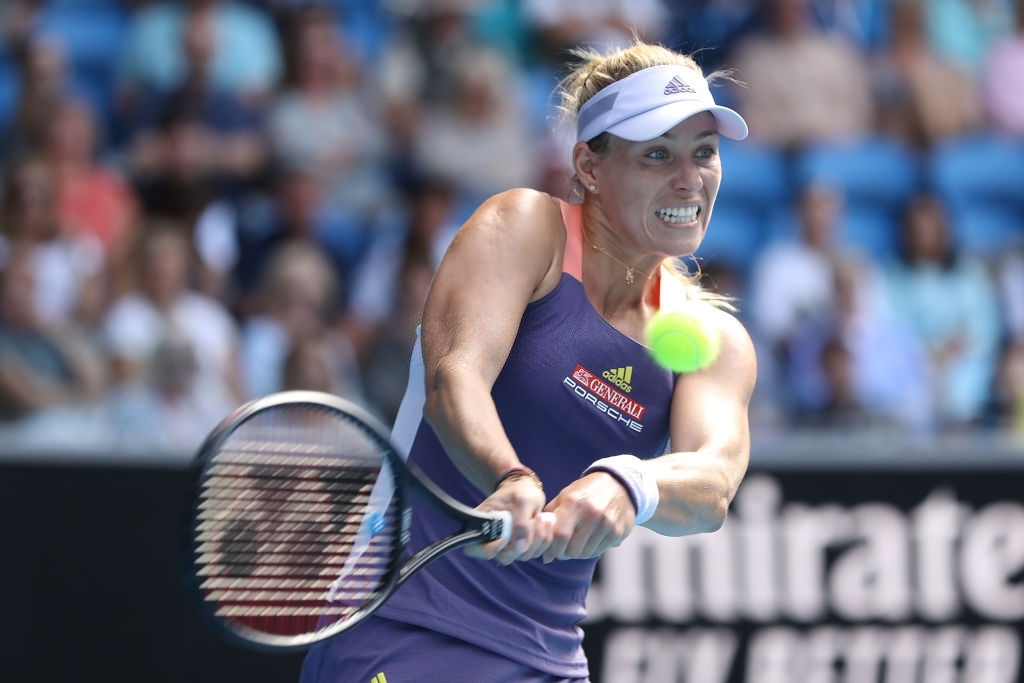 In July, both Kerber and Torben Beltz renewed their partnership, the pair having been split at the end of 2017 prior – Kerber, under Beltz's tutelage, stormed to her first two Grand Slam crowns back in 2016.
At the US Open, Kerber began her post-lockdown campaign with a fourth-round result where she lost to eventual semifinalist Jennifer Brady.
The German concluded the season ranked world number 25 as she did not win any more matches that year following the said loss to Brady.
Trivia: 2020 marked the first time since 2011 where Kerber did not appear in a final, her best result all year being the last 16 stage at each of the Australian and US Opens.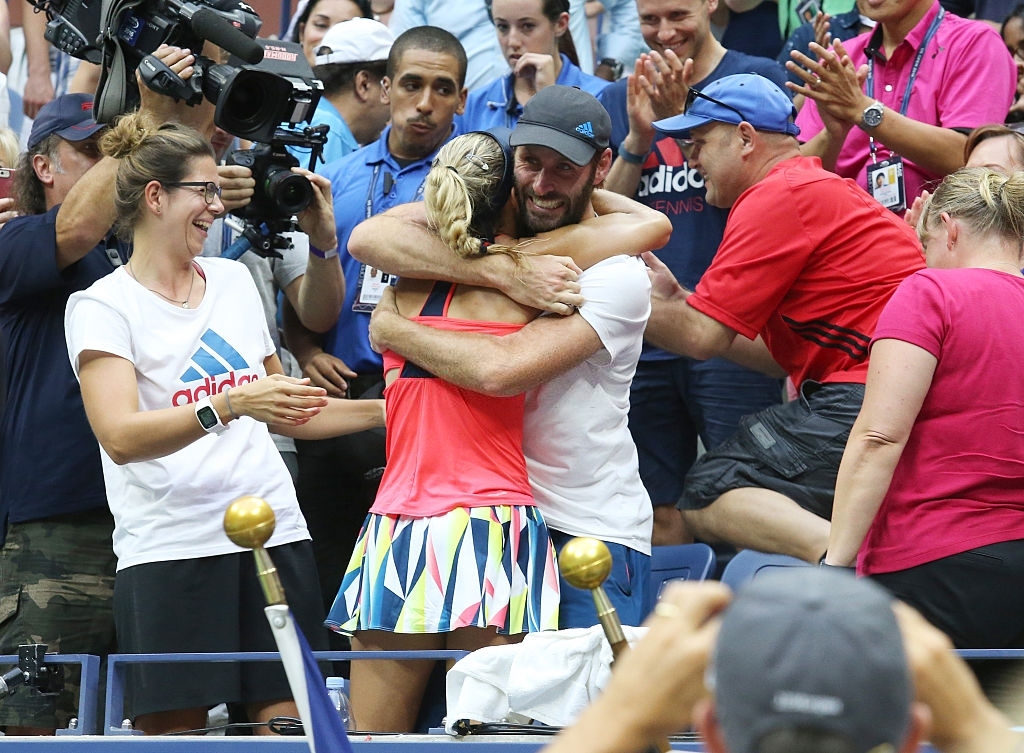 An unexpected start to 2021: From forced quarantine to another Roland Garros opening-round exit
Kerber was slated to begin 2021 at the Gippsland Trophy – until news emerged that 120 people who were abroad two flights into Melbourne, 47 of them being tennis players, and one of them Kerber, were identified as close contacts of three COVID-19 positive cases from those flights.
That sent implicated individuals into a hard two-week quarantine, and the German had to skip the said tournament as a result.
However, she was then entered into another tournament set up specifically for the said groups of players, the Grampians Trophy.
Seeded eighth, Kerber made the quarterfinals with wins over Katerina Siniakova and Ons Jabeur, but then lost to Maria Sakkari.
At the Australian Open, Kerber was cast aside in the first round by fellow lefty Bernarda Pera in straight sets.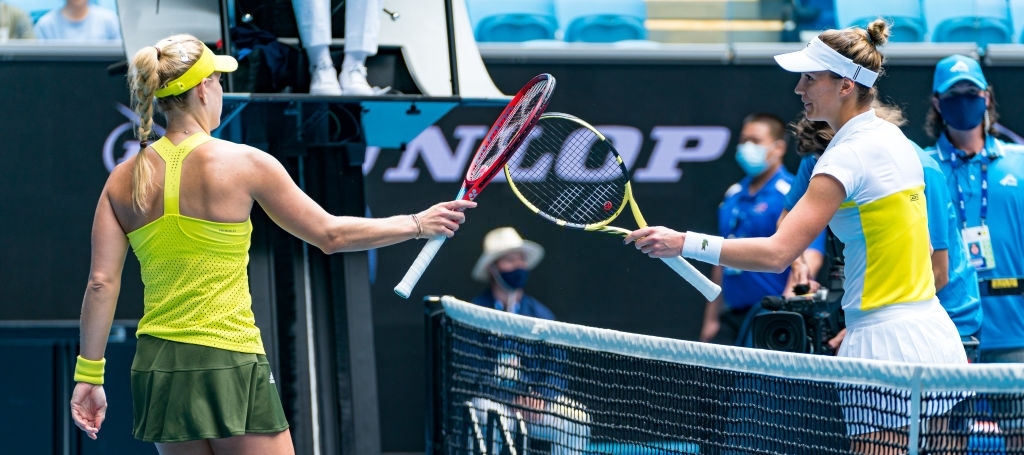 Kerber admitted she was feeling the effects of the quarantine after that defeat to Pera: "You feel it if you have not been hitting for two weeks and you are not in rhythm. I was really trying to stay positive and do the best out of this situation."
"However, you feel it if you play one of the first matches at a Grand Slam … against an opponent who was not in hard lockdown."
"I was not planning during the two weeks in quarantine. If I knew before that I will spend two weeks in hard quarantine without hitting a ball, maybe I would have thought twice about it."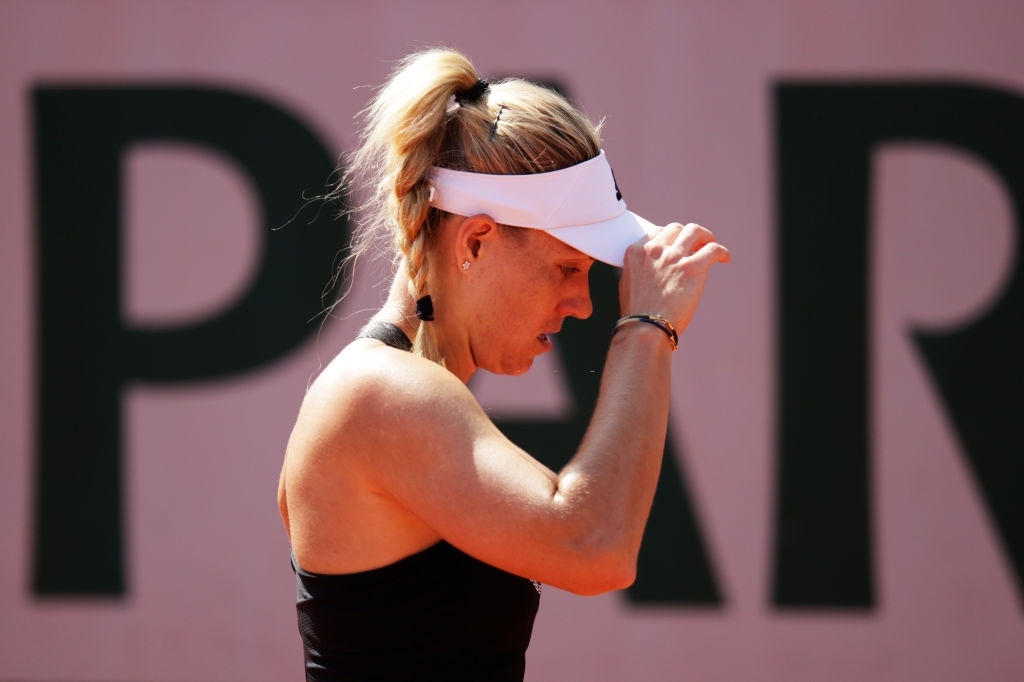 The loss kicked off a dry spell for the German – she would proceed to score just six wins across seven tournaments entered after that – including another winless showing at Roland Garros.
In that referenced time span, Kerber did manage to win back-to-back matches, on one occasion – at the Italian Open, where she beat Alizé Cornet and defending champion Halep before coming up short to Ostapenko in three sets.
Trivia: Kerber's defeat at the first hurdle of Roland Garros in 2021 marked the fifth time she fell at this stage in six past appearances here, dating back to 2016, and the first time she lost in the opening round of consecutive Grand Slams since 2011.
Grass season 2021: The 'second' resurgence
A loss to familiar nemesis, Azarenka, whom she had beaten just once across 10 prior meetings, in the second round of Berlin, opened Kerber's account on the lawns in 2021.
However, that result did not seem to faze the German, who travelled across her home country to the southern slopes of the Taunus, for the Bad Homburg Open.
Being the inaugural edition of the tournament, which was put off a year following the tour lockdown in 2020, third seed Kerber (coincidentally, appointed tournament ambassador here) romped past her first two opponents – a pair of Russians in Ekaterina Yashina and Anna Blinkova – with sheer domination, surrendering just four games, anddropping no more than two games a set.
Her first test of the week came next, in the last eight, where she came back from a set down to beat Amanda Anisimova.
With the prior day's schedule washed out by rain, it meant Kerber had to return to court once more for her semifinal later that day, where she took on top seed Petra Kvitova, a winner over fifth seed Nadia Podoroska in their quarterfinal clash earlier that day.
The semifinal saw Kvitova show up with a fiery of winners as she soon enacted a 6-3, 3-1 lead, but the persistence of Kerber eventually paid off as her Czech opponent's level dipped – allowing the home player back in the match, winning the second set 6-4 the match thus sending the match the distance.
The decider saw Kvitova go up a break thrice, the third of those with an opportunity to serve out the match, at 6-5, but a tiebreak would the lifeline for the all-lefty pair – and it was Kerber who kept home hopes alive as she prevailed 3-6, 6-4, 7-6(3) – the match just a little over two hours old.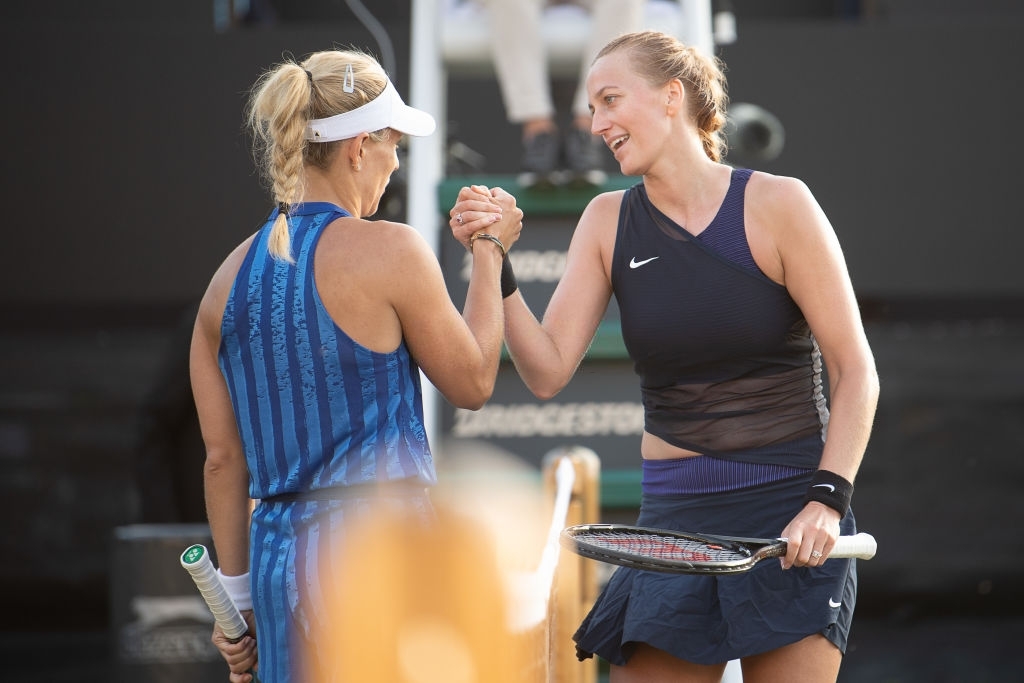 That clash against Kvitova was the 15th time the pair have crossed paths in their careers – Kerber narrowing her trail in their head-to-head at 7-8 with the win – and it also meant that for the third Olympic year in succession, Kerber had defeated Kvitova in a semifinal (after Cincinnati 2012 and Stuttgart 2016).
In the final, the German beat Kvitova's compatriot, Siniakova, in straight sets, for her third title on grass, her third on home soil, first since Wimbledon in 2018, and the 13th overall of her career.
Trivia: Kerber, notably, recorded an all-Slavic route to the Bad Homburg title. Besides Russians Yashina and Blinkova along with Czechs Kvitova and Siniakova, her one other opponent, Anisimova, is an American of Russian heritage.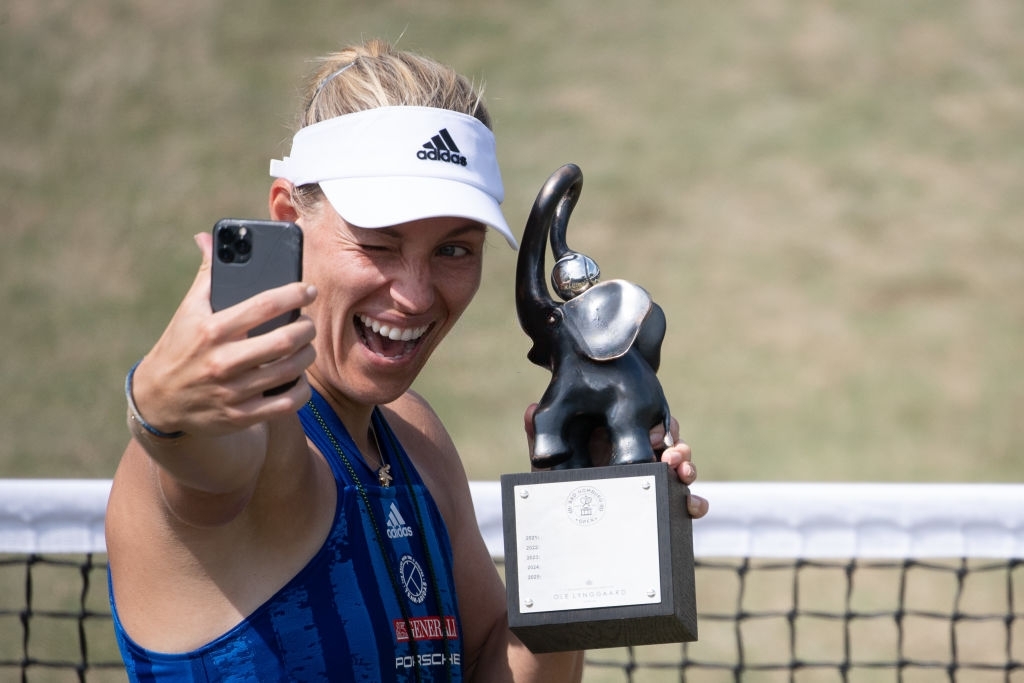 Making her 13th appearance at Wimbledon next, 25th seed Kerber shook off early rust in her opener against Serb Nina Stojanovic.
She then topped Sara Sorrribes Tormo in a long three-setter that lasted past the three-hour mark, before coming back from a set down in a third-round match featuring a rain delay, against Aliaksandra Sasnovich to reach the second week here for the sixth time.
Up against a teenager in 20th seed Coco Gauff on Centre Court for a spot in the last eight, the veteran was poised in a convincing straight-set win, thus moving into the quarterfinals here for the fifth time, also tying Kvitova's record as the only lefty women who have made that many quarterfinal appearances at SW19 this century.
Up against another Czech, in 19th seed Karolina Muchova, Kerber moved past the former in straight sets, thus becoming the first lefty woman this century to not just make eight Grand Slam semifinals, but four here at Wimbledon (adding to her prior appearances here in 2012, 2016, 2018) as well.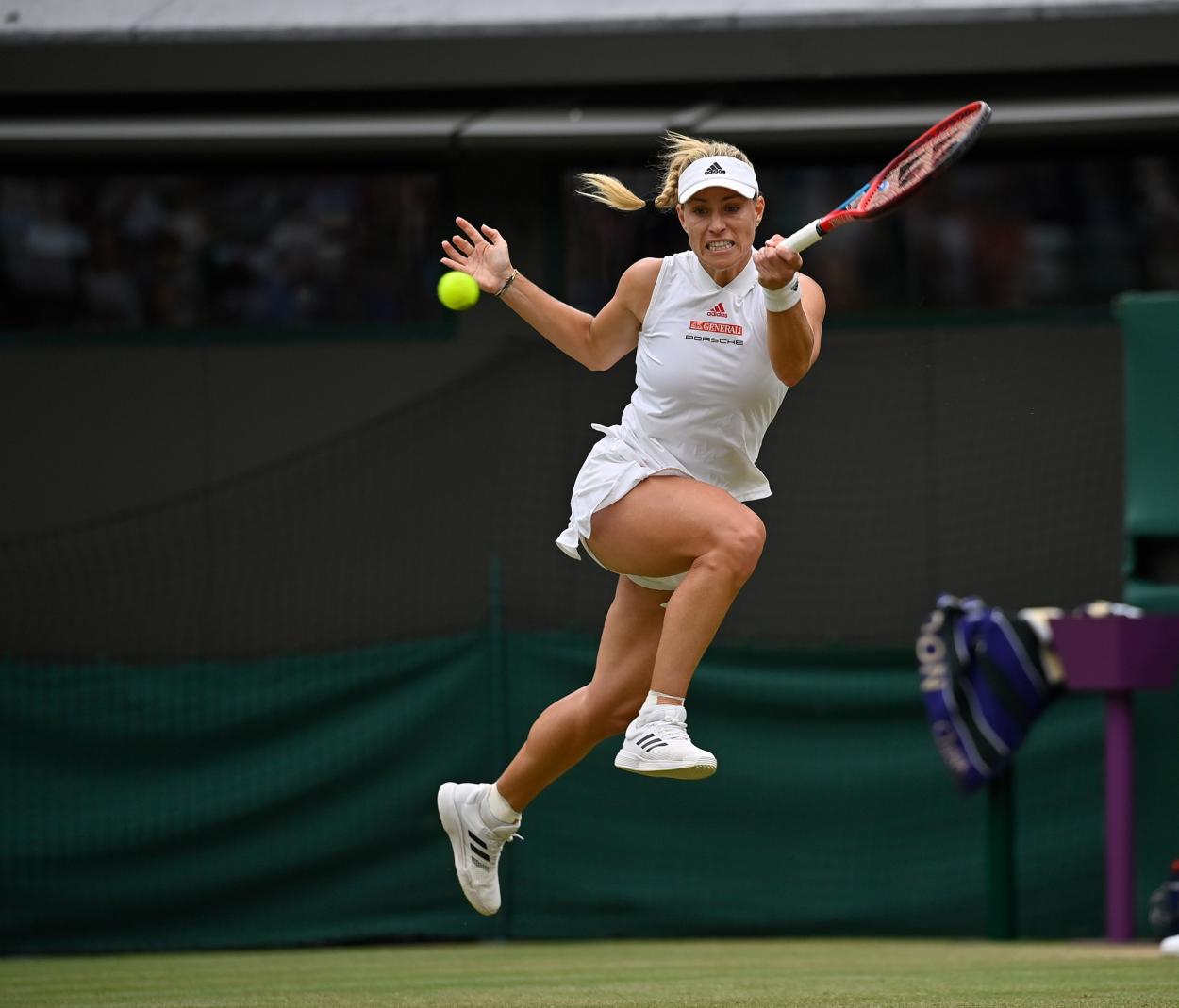 It is here, however, where the German's grass season ended as she fell to top-ranked and eventual champion Barty in straight sets.
Having entered Wimbledon this year with a career win-loss of 11-2 on the venue's Centre Court, and a six-match winning streak on the said court dating back to her first-rounder here in 2017 – Kerber exited the tournament with that tally now 12-3, the semifinal against Barty being the 15th match of her career on this court.
"I was trying to play my game," former champion Kerber reflected on her defeat to Barty.
"She (Barty) is a really intelligent player. She knows how to play with her slice, and come forward with her forehand."
Kerber added: "For me, it was important to give everything I had on court. However, in the important moment, she had the answer."
On her plans after this, with the Tokyo Olympics and American hard court summer swing around the corner, Kerber said: "Actually, I don't know yet. I was focusing on today (semifinal match), and I am still with a lot of emotions from my game."
"I will sit down with my team, tonight, and then talk about our schedule for the next few weeks."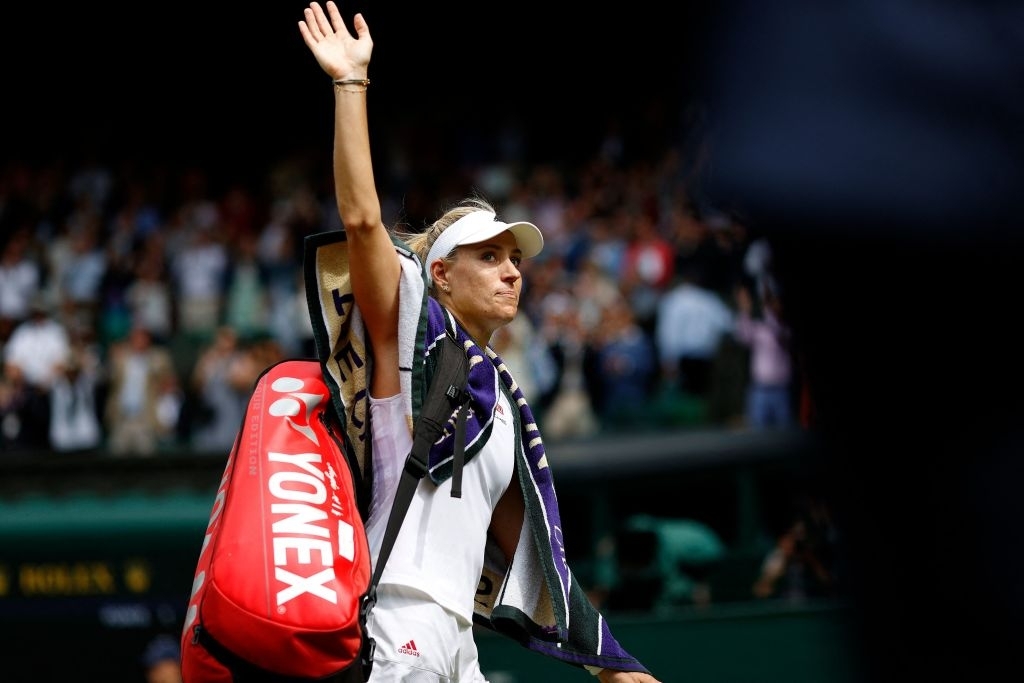 "I think it's important now that I take the confidence with me, from the last three weeks. I now know that I am in the right direction, and I know how it is to work hard, now to continue my play," she elaborated.
"I think this will be the challenge – to stay at this level, playing good matches again on hard court, and, you know, moving forward, to continue this."