 Second-seeded Grigor Dimitrov had to fight past some tough resistance from qualifier Adrian Ungur before coming through 7-5, 4-6, 7-5 for a place in the quarterfinals of the Istanbul Open on Wednesday.
Dimitrov, whose form has recently tailed off, is trying to get back into the top 20, as Dimitrov made his debut here last year inside the top 10. Ungur, who has had to win three matches to get to the round of 16, played exellent tennis to push the Bulgarian to three sets, but couldn't close the macth out after being just two points away from victory. Dimitrov made the semi-finals here last year, and was looking to get one step closer to that round as he made the quater-finals in just over two hours and 10 minutes.
Dimitrov takes tight opener
The 24-year old, who is known as the next Roger Federer, won the coin toss and elected to receive. This was the first meeting between the two, and both players wasted no time to get on the board and hold their first service games. Despite the Bulgarian having a couple of break-points in the first game, Ungur rallied to save them all.
Another easy hold would follow from the Romanian as Dimitrov was making multiple unforced errors. Dimitrov would then face a break-point himself, though, and a forehand shank would follow from the Bulgarian to give Ungur a break lead. The Bulgarian star, though, fought back right away, a double fault from Ungur helping him get the break straight back. Getting precedings back on serve, Dimitrov consolidated the break to tie the set up at 3-3.
Both men again held serve, each finding rhythm on their own serve to hold easily. Unforced errors from Dimitrov would then give Ungur a 5-4 lead, but they were still on serve, and the Bulgarian held as well as a forehand from Ungur sailed wide.
Dimitrov, who seemed to have found his rhythm, crucially broke Ungur with clean and patient play on a very important service game to get a break lead and serve for the set. Dimitrov then held serve easily to get a one set lead against his Romanian opponent.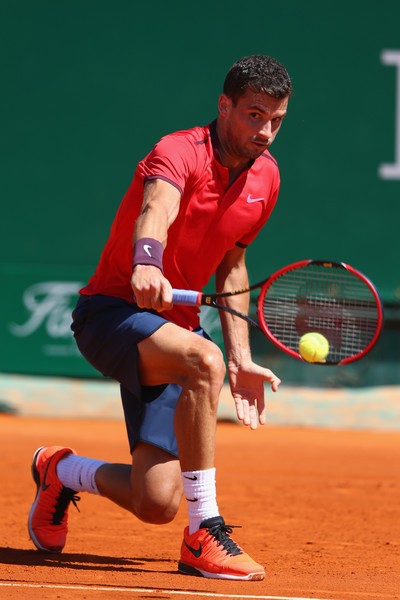 Ungur breaks at right time to win second set
Dimitrov started the second set where he left off in the first, breaking Ungur on the first time of asking. Ungur, though, responded excellently, breaking Dimitrov easily and getting the momentum straight back. Both men then held their own serves to tie the score at two games apiece. The second seed then earned himself a break point, but a missed return helped Ungur save the break point and eventually win the game. The Bulgarian then held serve once again with aggressive play. Dimitrov's timing was still a bit off, though, and Ungur wasn't planning on giving anything away as he held yet another service game.
Despite being down 4-3, the Bulgarian showed great sportsmanship as a ball was called out from Ungur, but Dimitrov corrected it. This was no sign of letting up, though, as Dimitrov won the next two points to win the game. Unforced errors were starting to fly off the Bulgarian's racquet, though, and he showed his frustration as he thrashed his racquet against the clay surface, completely demolishing it then throwing it to a spectator in the crowd. This didn't help his rhythm, though, as another error sailed into the net to give Ungur a 5-4 lead. Ungur's fighting spirit seemed to get the best of the Bulgarian star as he served to stay in the set. Dimitrov would give Ungur three set points, but he would only need one, a backhand sailing long from Dimitrov to give the Romanian the second set 6-4.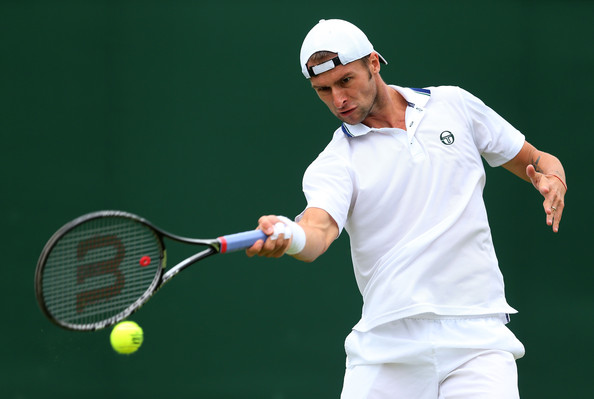 Dimitrov rallies to take third set
Both players started out proceedings in the third set by easily holding their own serves to love. Better points from the Bulgarian on the qualifier's serve would get him a break point, but an amazing backhand up the line from the Romanian would save it fantastically. Another backhand unforced error from Dimitrov gifted Ungur the lead once more. Dimitrov started out his next service game with a net cord, but giving the circumstances, he would take it. Four more tight holds of serve by both players made the score 4-3 in favor of the qualifier.
The first serve was flawless from Dimitrov yet again as he held for 4 games a piece. Another easy hold to love from Ungur put him a game away from beating the former world number 8. Consistent play from the qualifier put him within two points away from the finish line, but he couldn't close out the match, and Dimitrov held serve with an ace. It came crashing down for Ungur in the next game, though, this time it was him who was making the errors. A backhand shank would give Dimitrov the opportunity to serve it out. And he did just that, getting himself to triple match point and taking the match at the first attempt in two hours and 13 minutes.
What's next?
Grigor Dimitrov's next opponent in the quater-finals will be the sixth seed Jiri Vesley, who defeated Roberto Carballes Baena 6-7(5), 6-2, 6-2. Vesley is from the Czech Republic and defeated the world number one Novak Djokovic 6-4, 2-6, 6-4 in Monte Carlo a couple weeks ago.