 Novak Djokovic moves on to the third round of the Internazionali BNL d'Italia following his straight-set victory, 7-5, 7-5 over Stéphane Robert. The world's number one got on and off the court in a mere hour and 25 minutes.
Djokovic gets critical break at end of set
On Djokovic's second service game of the match, Robert made Djokovic work. The French qualifier had the opportunity to break Djokovic as he was up 30-40. But then Djokovic went to work and came back to take the game to deuce. After that, both men were able to hold their serves relatively easy as no one won more than two points and no game went to deuce again. Novak Djokovic, in fact, had to wait until the last game of the set to get the all important break.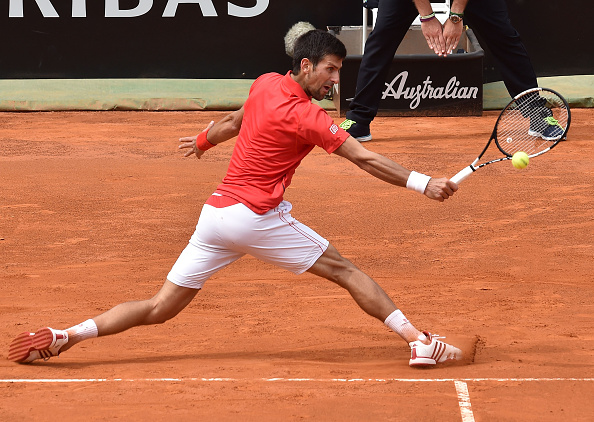 Breaks dictate second set
It's rare these days when Djokovic gets broken. But in the third game of the second set, that is what happened. The 35-year-old Robert battled Djokovic in that game, going down 40-15 and taking him to deuce. Eventually, Robert would get the advantage on a well-placed backhand that pumped up the Italian crowd.
Djokovic, though, knows how to fight back when things are not going his way. It took five more games, but Djokovic got back on serve. The world's number one only lost one point on Robert's serve that game as he dominated to get the set level again. And then, Djokovic got one final break in the match. It came in the 12th game of the set again and decided the outcome of the match. Djokovic jumped out to a 0-15 and a 15-30 lead before trailing 40-30. There were only two final points to be played in this match as Djokovic won them both.
Key stats
The tough conditions made life difficult for Djokovic at times. His first serve did not hold up well in the opening set, as he managed to get in just 69% of his attempts. Robert, on the other hand, bested him in this category, going 24/34 which is good enough for 71%. In the last set, however, Djokovic's served improved tremendously, missing just nine first serves.
Second serve points were also a major decider in today's match. In the opening set of the match, Djokovic won eight of his 12 attempts. But in the last set, the statistics jumped up to 78%. Robert struggled here, winning less than half of his points.
Coming up
In the third round of the tournament, the big Serbian will face off against Thomaz Bellucci for a spot in the quarter-finals.