 Jo-Wilfried Tsonga is very upbeat and positive to be in Paris preparing to start another campaign at Roland Garros. An injury scare in Rome a couple of weeks ago left some question marks over the Frenchman's fitness, but the two-time semifinalist is feeling in good shape and ready to play.
Tsonga withdrew from the Rome Masters after injuring a thigh muscle during a practice session. It became apparent that he had stretched his adductor and all eyes turned to whether or not the home favorite would grace the courts of Roland Garros in 2016.
Tsonga: I was quickly reassured about being able to play here
In a press conference, the Frenchman was asked when he knew that he would be able to compete at his home Grand Slam following the scare in Rome.
"Well, the decision, I took it last year when I decided to start a new season. Then after the little glitch in Rome I was fairly quickly reassured - I talked to my physicians and they told me it would be fine. They said, you'll go."
Upon being asked whether he did anything different to usual in terms of mentally preparing for the event, the world number seven recognized the physical challenges of playing on clay and was determined to me as ready as possible.
"I did a lot of re-education for my adductors. I did a lot of physical work, which is, I guess, standard practice. You know, this is a tough tournament where you can play very long games, first of all, very long matches, and I wanted to be physically in good shape hopefully to go as far as possible for each game."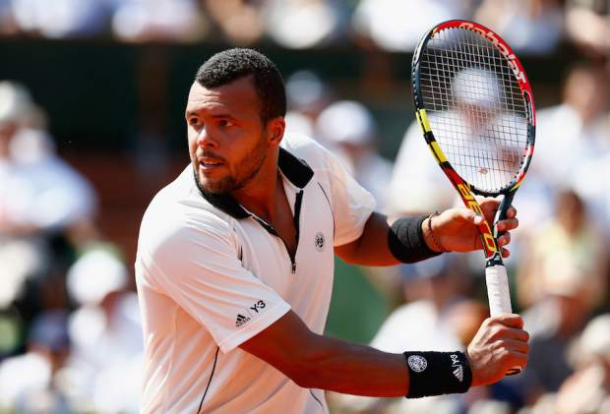 "Being here today I think is a real opportunity"
It is clear that the Frenchman feels fortunate to be here and in the position where he is able to play and he did not draw any comparisons between his and Roger Federer's situations.
"Honestly, simply being here is a great opportunity. Roger has won lots of tournaments, Grand Slams, and so the approach, I think, is the way you arrive at a tournament is just not the same between him and me.
"Again, I'm very happy to be here, and I'm here to do as well as I can, and I'm sure of course he would say the same.
"But I have had a lot of difficulties in my career, and you just can't say every single time something goes wrong I'm not playing, because I would have almost never played or half seasons only.
"Being here today I think is a real opportunity. I'm very happy to be here. Simply getting on the court is wonderful."
Mixed results on the clay this season
Tsonga's results on the clay have been mixed, but a terrific run to the semifinals at the Monte Carlo Masters is not something which should be overlooked. The Frenchman overcame Federer in a fine win in the last eight 3-6, 6-2, 7-5 before falling to compatriot Gael Monfils 6-1, 6-3.
The world number seven then suffered a straight sets defeat at the hands of Milos Raonic in the last 16 in Madrid 6-4, 6-4, his last competitive match. Tsonga, seeded sixth at Roland Garros this year, will face the qualifier Jan-Lennard Struff in his opening match on Tuesday.