 Kevin Anderson is the top seed this week at the Aegon Open in Nottingham and he got his campaign up and running with a three sets win over Ivan Dodig 6-3, 6-7(5), 6-3 to progress to the third round.
Reflections on his second round win
Speaking exclusively to VAVEL USA, the world number 24 said that he was delighted to progress. "It was great to get through today, it was a very close match, with not too many chances. I was able to stay patient and in the moment, create my opportunity and take it towards the end. I think that you have to have the right motivation, especially on the grass to create those chances and you have to, most importantly take care of your serves, which I thought I did very well today. Even though I lost the second set, I reset very quickly in the third."
There was a difficult moment on court for the South African at two games all in the final set as the top seed saw a 40-0 advantage slip back to deuce when serving, causing him to become very animated, showing signs of frustration. "On the grass you can't really afford to slip up, if you go down a break there then it's not easy to break serve. Obviously, when I was at deuce you don't want to be slipping up and giving your opponent a sniff at a break", he said.
There were plenty of positives to take from the match today for the former top 10 player as he looked to build some momentum on the grass. Anderson said, "I felt that when it was close on my serve I pulled out some big serves and played some good points. Not facing a break point the whole match is definitely a good sign.
"It was very important to win today, for a couple of reasons, one being that I want to do well here as this is a really good tournament and a good opportunity for me. And secondly, with Wimbledon coming up next week it's really important to get on the grass and get as much practice in as possible."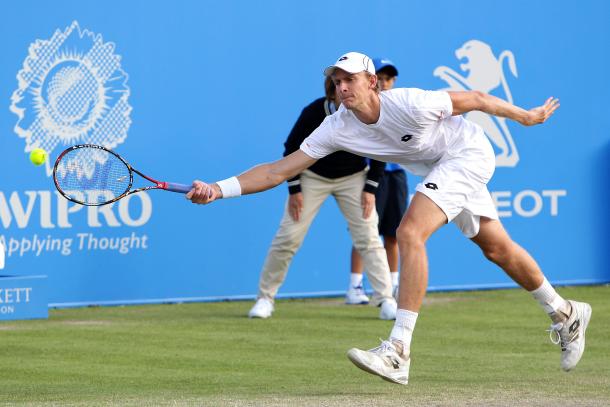 Thoughts on his upcoming match
Anderson faces Fernando Verdasco in the third round at the Nottingham Tennis Centre, with the Spaniard leading their head to head 2-1. The South African believes that the most important thing for him heading into the match is his mind-set. "Focusing on what I do well with my game is the attitude I take into every match. There are some fine adjustments that I make, but I have the game style where I can go out and play very similarly regardless of who I'm playing. Even though I've got a very different opponent from the player I played today (Dodig), what I will be trying to implement (against Verdasco) should be very similar", he said.
An injury plagued year so far for the 30-year-old
It has been a very difficult year for the South African so far, after the highs of 2015 with terrific performances at Queen's and Wimbledon, before reaching his first Grand Slam quarterfinal at the US Open and breaking into the world's top 10, Anderson has struggled with injuries in 2016.
The 30-year-old has been hampered by left knee and right elbow injuries this season, as a result, he was faced with a 10-week absence from the tour, retiring from two matches and withdrawing from seven tournaments. The world number 24 made his return at the ATP Masters 1000 in Madrid and is looking to rebuild after claiming his fourth victory of the year on the ATP Tour over Dodig here in Nottingham.
Anderson is not looking back on last year's achievements too much, as the injury has caused a shift in his perspective of his career. He is very focused on his progress at the Aegon Open and for what lies ahead at Wimbledon.
The South African said, "Obviously I had a great run at Queen's and made the final there and had a good run in Wimbledon, pushing Novak all the way to five sets, but things change, all I can do is deal with what is going on right now and I know that where I am now is much better than where I was even just a month ago. I feel like I've turned a corner after a tricky start to the year for me, so I'm just really focused on the present and each day I'm just pushing myself to get better."