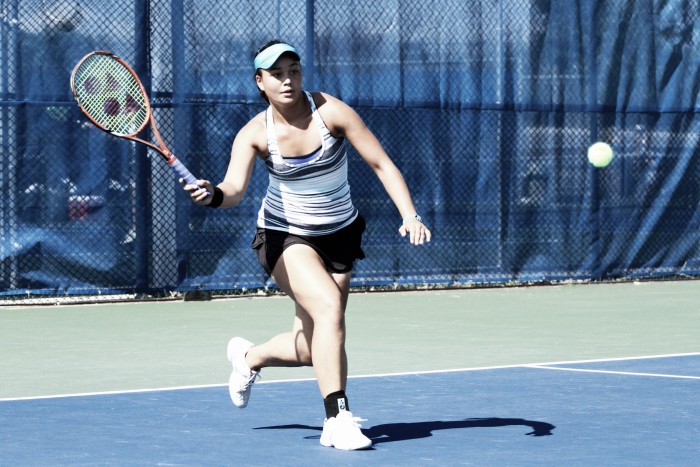 As a result of tennis' increased popularity in recent decades, millions upon millions of kids alike have begun to pick up a tennis racquet, hoping to become the new Serena Williams or Roger Federer. For all of these kids, playing starts as a fun and innocent recreational activity, but for many, tennis quickly becomes much more than just a hobby. Overtime, young players develop a desire to compete with one another, which is ultimately the main driving force behind their desire to play at a competitive level. But, it must be said that very few of these young athletes are successful juniors, while an even smaller percentage decide to turn professional further down the road. However, it must be said that turning professional is no easy feat, and countless hours of careful thought and consideration – from a personal and financial standpoint – are put in to make this life-changing decision, in addition to all the hard work that must be put in to reach the upper echelons of the sport. But that begs the question... What is it like to be a successful junior?
Meet Isabelle Boulais.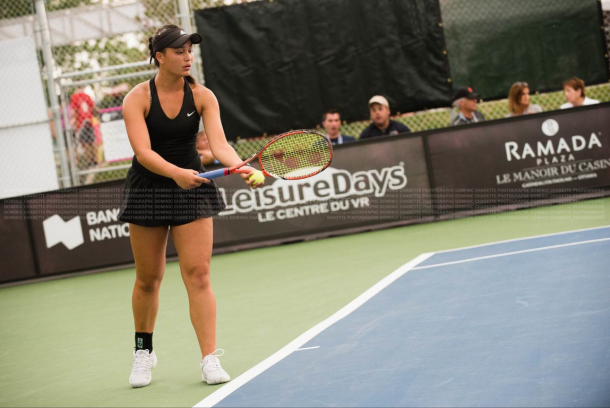 The 16-year-old is already one of Canada's brightest prospects, having won five National titles – in both singles and doubles – and is currently the second best female tennis player in the U16 National Rankings, and the sixth best in the U18 Division.
The daughter of former world number 28 Patricia Hy-Boulais (née Hy) and her former coach (who is now her husband) Yves Boulais, Isabelle was unsurprisingly introduced to the game of tennis at an early age, and quickly developed a passion for it, much like her parents who are still actively involved in the game today in the form of coaching.
"I started playing tennis when I [was] 5 years old," Boulais said in an exclusive sit-down interview with VAVEL USA. "I've been around tennis all my life and while they [my parents] didn't force me to love it, they for sure showed me what there is to love about it."
Though one quarter of 2016 is already over, the 16-year-old will not be forgetting her 2015 season any time soon. "I thought it was a pretty good season with a number of good wins, but I'm optimistic that I can make this next one even better," she said, when asked to reflect on her breakthrough 2015 season.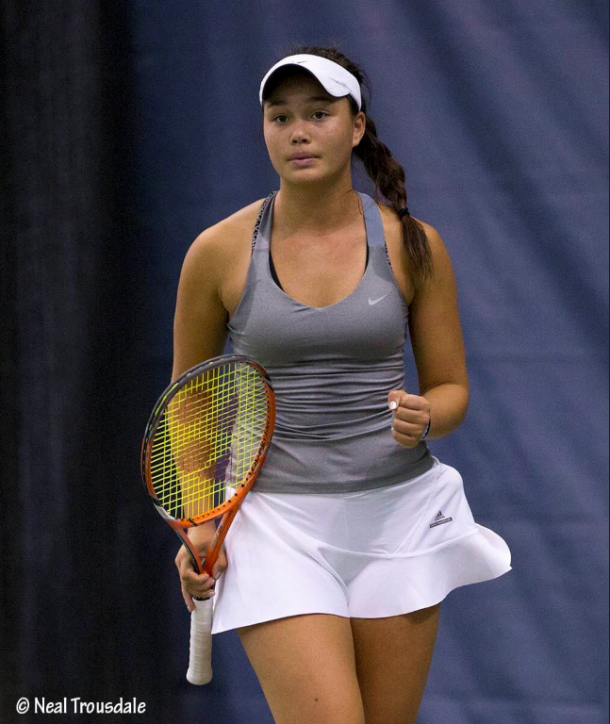 In a big year of transitioning for the then-15-year-old, Boulais tasted victory at both the U16 and U18 Nationals, impressively winning three titles, two doubles – with compatriots Tiffany Lagarde and Bianca Vanessa Andreescu respectively – and one in singles in the U16 Division. In addition, Boulais was limited to playing eight professional events on the ITF Pro Circuit due to age eligibility rules, with the standout result coming at the Tevlin Challenger in Toronto, a $50,000 stop on the calendar. After failing to qualify for her first ten professional tournaments, it was a case of 11th time lucky for the teenager as she impressively tore through the Tevlin Challenger qualifying draw, dropping just one set in three matches. Though she fell to compatriot Françoise Abanda 6-2, 7-5 in the main draw, Boulais was able to take a lot of positives from her breakthrough tournament, which she says pushed her forward and gave her a lot of confidence.
For many talented juniors, the transition from juniors to the professional level can often be one of the most difficult challenges an tennis professional has to face in their entire career, mainly because of the difference in skill level. When asked about the difference between the two levels, Boulais laughed and said, "For sure the level of play. You can't get away with bad games or unfocused points on the pro tour. In the juniors, we're all young so maybe if you have a bad game or set, it doesn't really make as big of a difference as it would on [the professional] tour."
Speaking of the aforementioned age eligibility rules put in place by the International Tennis Federation, there has been much discussion surrounding this topic, with the vast majority saying that this was a much-needed regulation to give young players the necessary time to mature and develop both physically and emotionally before committing to such an arduous, year-long schedule. Being one of the juniors under this regulation, Boulais made it clear that she agrees with the majority of her peers: "I feel like since I'm still pretty young I need to pace myself and don't overdo my tournament schedule and get burned out by the end of the year."
Life on tour and as a junior can get very lonesome very quickly because of the individuality of the sport itself, which is one of the reasons why we see so many friendships being formed among players on both the junior and professional tours. However, the likes of Maria Sharapova and Boulais' compatriot Eugenie Bouchard have both made it clear that they're not interested in forming friendships with their peers for a number of personal and professional reasons. Boulais on the other hand, is always open to forming friendships, and has been lucky enough to make some of her best friends doing what she loves most.
"Bianca [Vanessa Andreescu] and I are really close," she said. "And I love her as a person on and off the court. It's great having friends like her that I can relate to and the fact that all us tennis players have so much in common already having played the same sport is what I love."
Being one of the best at what you do has certain perks, but much like other student athletes, balancing the books with the ball can often be more challenging than playing itself. So that begs the question, how is one able to balance the needs of a physically and emotionally-demanding sport such as tennis, with their schoolwork?
Instead of going to a regular school, the 16-year-old says she had been schooled for multiple years but recently switched to a different program tailored to fit the needs of young athletes just like her.
"From when I was in sixth grade until last year, I was schooled, which was perfect with my traveling schedule because I could do my work anywhere that had Wi-Fi," she explained.
"This year I switched over to Silverthorn Collegiate Institute where they have a program for athletes like me. It's perfect because they let me get out of school early and are helpful when I need to leave for periods of time. My teachers will email what I can do on the road and I try and do as much as possible."
Time management is exceptionally important for a student athlete like Isabelle, as she needs to make the most of her time to balance her academics with the athletics to fit her usual weekday schedule, which is as follows:
5:30 AM – Wake up
6:30 AM-8:00 AM – First training
9:00 AM-12:30 PM – School
2:00 PM-4:30 PM – Second training
5:00 PM-6:00 PM – Fitness training
Despite being one of the most successful Canadian juniors in the game today, Boulais – like many of her peers – has yet to decide on turning professional, saying she wants to keep her options open for the time being.
"There's still time for me to make that decision and I don't want to rush into anything," she said. "I think I'd like to stick to something close to athletics and tennis [if I don't turn pro] since this is what I know best."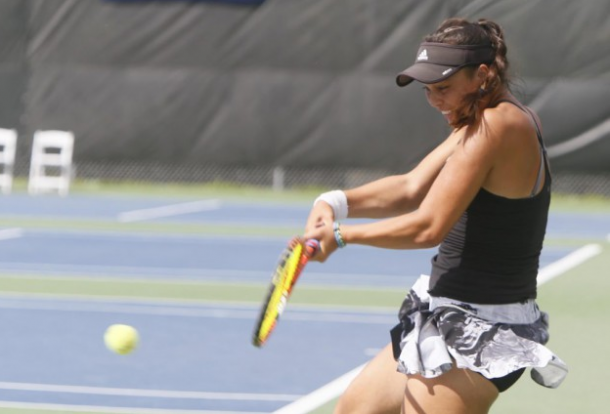 With that being said, Boulais has still set high and ambitious goals for herself, and evidently has the hunger and desire to get better with every passing day. In 2016, the 16-year-old is looking to make the most of every event she plays, and will work towards gaining direct entry into the qualifying draws of all four Grand Slams next season.
In addition, the Mississauga, Ontario native says she has set a personal goal to improve her on-court attitude towards the game, a major objective she has tried to work towards for the past two years.
"My dream has always been to win Grand Slams," she said, when asked about her long-term goals. "I want to see how far my tennis can take me but at the same time, not focusing just on rankings."
"Personally I think winning a Grand Slam [is more important than being number one in the world] because there's absolutely nothing like the feeling of winning a tournament and being able to win a Grand Slam would be unbelievable, and I'm sure indescribable."
"Like I said before. I don't focus too much on rankings. I don't even know what mine is right now!"
Through it all, if Boulais continues to work hard and stays ambitious, there is no telling what she can accomplish at both a national and global level.