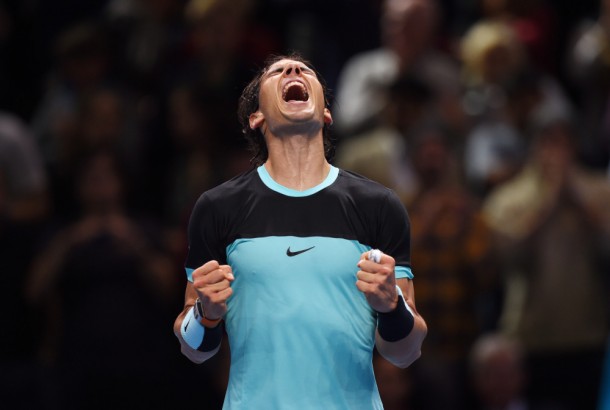 It's been an unusual season for Rafael Nadal, suffering from countless blows, and having his confidence destroyed. 2015 has been a difficult year as he's struggled with a 'mental injury' of self-doubt and anxiety right from his first match in January. As time went on, many contemplated if he actually would be back to 'normal'. A mental injury is similar to a physical one, regarding how it takes patience, determination and motivation to overcome, but Nadal's struggles this year were new and understandably worrying for him and his fans alike.
Eventually, after surviving early round defeats and setbacks, Rafa looked like his old self. Many were unsure if he'd ever recover, but like always, he did, and he deserved everything speck of positivity that came his way. 'All I can say is that I need to improve and I'll do everything I can to be back on my feet again", said the Spaniard in April, 2015, after a tough early loss at the Barcelona Open to Fabio Fognini. The former world number one converted his despair and desperation in losing matches into motivation, ending the year on a high, and working hard to make sure a year like 2015 doesn't happen again.
Win/Loss Record
Rafael Nadal's win/loss record this season was 61-20, with a winning percentage of 75.31%. To anybody else's standard, that statistic would be something to celebrate, but for the Spaniard, it was his worst winning percentage since 2004, when he won his first Grand Slam. Nadal has stacked up a considerable amount of wins despite early exits from many tournaments, simply by playing as many professional matches as possible to rebuild his confidence. He's been winning points, just not the right ones.
Best Results
Nadal has won three titles this season, at ATP 250 and 500 levels. His first came in February/March on the clay in Buenos Aires at the Argentina Open (250), where he beat Juan Monaco in straight sets in the final. Then, rather surprisingly, Rafa had a great run in Stuttgart, a 250 grass court tournament. The Spaniard knuckled down on the grass this season, playing two tournaments (Stuttgart and Queens Club) prior to Wimbledon. Since his 7 month injury lay-off from 2012 due to tendonitis in the knees, Nadal's performance on grass has been poor, but after winning the title in Stuttgart, he explained how it's been increasingly comfortable for him to play freely on the surface as his battered knees regain strength, which is good news for his future.
Rafa won his biggest title since capturing his 9th Roland Garros crown in 2014, the ATP 500 Hamburg Open. His time at Wimbledon was cut short due to his second round loss, so Nadal wanted more matches and time on court to yet again fight for some 'positive feelings'. The tournament, on clay, was a questionable option as it came in the run up to the hard-court season, but it proved to be a good decision, as Rafa was able to gain not only points, but confidence on his favourite surface.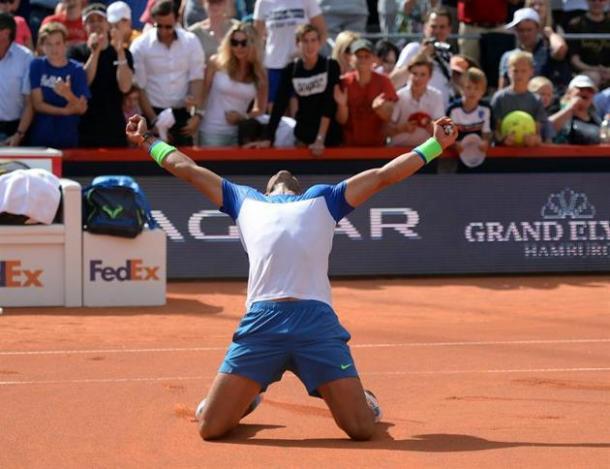 Worst Results
Out of Nadal's 20 losses this season, 7 came to players outside of the top 25: Michael Berrer, Fabio Fognini (three times), Fernando Verdasco, Alexandr Dolgopolov, and Dustin Brown. He's had several early exits, with his earliest losses being in the first rounds of both the Qatar Open and Queens Club. Early on in the year came a three set loss to Fernando Verdasco in the third round of the Miami Masters, one of the countless three set matches Rafa lost this year due to nerves and self-doubt in the important moments.
Nadal reached the semifinal of the Monte Carlo Masters, and despite losing to Djokovic, it was a very positive tournament for him and a big improvement as he was able to beat a top player on the way, David Ferrer. It's been a case of 'one step forward, two steps back' this year though, as in his next tournament, the Barcelona Open, Nadal lost in straight sets in the third round to Fabio Fognini once again. It was a tough loss on his favorable surface, and dumped him back to the reality of 2015.
In May, he reached the final of the Madrid Masters where he was defending champion. Playing in a final itself is a fantastic result, but in theory, Rafa should have easily won the match. He played very poorly, lacking any life on court and appearing helpless, letting Andy Murray dominate him 6-3, 6-2.
Running for the title of Nadal's most gut-wrenching loss of 2015 is his second round defeat to Dustin Brown at Wimbledon. The four set match with Rafa losing 5-7, 6-3, 4-6, 4-6, proved that his trend of early round exits at the Slam in recent years was still very much alive. Later on in the summer, Nadal had a positive result reaching the quarterfinal of the Montreal Masters, but things went rapidly downhill as he was ousted in the third round of the Cincinnati Masters to Feliciano Lopez. The loss was followed by brutal five-set defeat to Fabio Fognini in the third round of the US Open- potentially his most heartbreaking match of the season, as he was up by two sets before letting it slip away. The 14 time Grand Slam champion exited the court scrunching his face, dropping his head and walking back to the locker room grievously in defeat.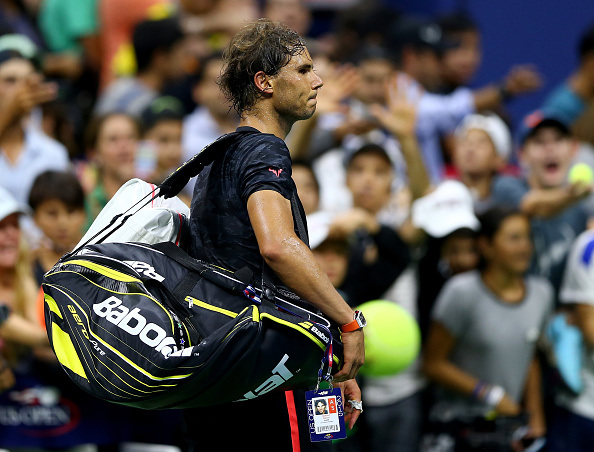 High Points
2015 hasn't all been dismal for the former world number one. With exceptions of his three titles, Nadal's best part of the season was the indoor swing in October and November. It was an unlikely segment of the year for the Spaniard to perform as well as he did, given that indoor hard court is probably his least successful surface, but actually, it's understandable. It could have just been a natural point for him to peak in 2015 as his matches cumulatively built his confidence, but on the other hand, playing a part of the season with little pressure to succeed as his results haven't been strong historically, will have given him the ability to play freely, and therefore calmly.
Nadal reached finals at the Swiss Indoors and China Open, semifinals at the Shanghai Masters and ATP World Tour Finals, and a quarterfinal at the Paris Masters. His losses came to Federer, Djokovic (twice), Tsonga, and Wawrinka, not low-ranked players like the rest of the year. In those five tournaments, Rafa beat the likes of Raonic, Wawrinka, Gasquet, Murray and Ferrer, including three back to back wins over top eight players in London. His win/loss at the end of the year was 16-5, a very strong result on the hard courts for the renowned King of Clay. However, more importantly, this was the point in the season that Rafa announced he was finally free of his self-doubt and nerves on court, his 'mental injury'. His improved mentality was the main reason why he performed so well over the last few weeks of the season, and enjoyed his time competing on court for the first time in 2015.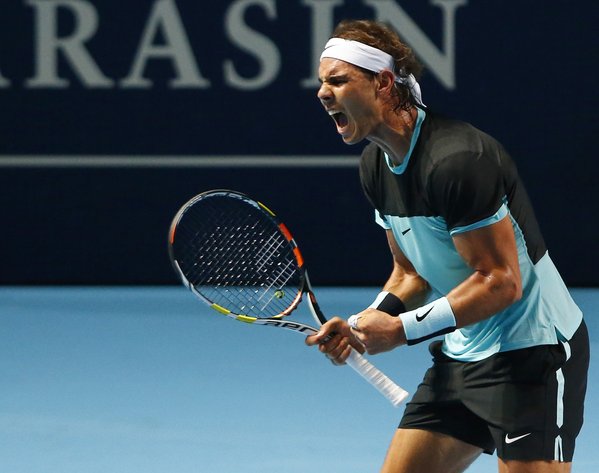 Low Points
The low moments in 2015 for Nadal were all sparked from a corresponding cause- mentality. There's no clear root of the issue, but his injury problems in 2014- the back injury sustained in the final of the Australian Open, the wrist injury that forced him off the hard courts, and appendicitis, were all likely contributors. There's only so many times you can be struck down before seriously struggling to get back up. There are two reasons why everybody was so shocked and confused at his mental problems this season. Firstly, most expected a superhuman comeback similar to 2013 (and the rest of his career), and secondly, Nadal is known for having one of the strongest mentalities in all of sport, so a mental problem seemed peculiar.
All of Nadal's early exits this year can count as low points, but it's the way in which he lost them which really emphasise his problems. In the quarterfinal of the Australian Open against Tomas Berdych, Nadal won just eight games, being handed a bagel (6-0) along the way too. That's a scoreline we very rarely see in terms of Rafa.
The Spaniard has also struggled with retaining his level throughout matches this year. For example, after winning the first set 6-1 against Fognini in the semifinal of Rio, he lost the match. The same applies to the quarterfinal of Indian Wells against Raonic, losing the match after taking the first 6-4. His third round Cincinnati loss came once again after winning the first set with ease. Once his level dips, it's been very hard for him to get back on his feet as his mentality hasn't been strong enough. Instead of believing he could win right to the very end, the self-doubt pulled him back.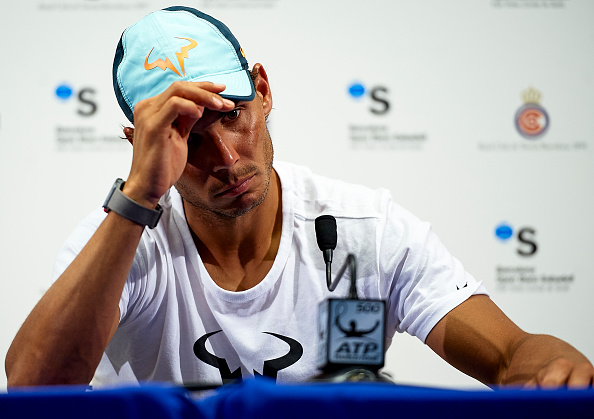 This year, Rafa lost at Roland Garros for the first time since 2009, his second loss in Paris during the whole of his career. The 9 time champion's career win/loss at the tournament now sits at 70-2, with a 97.2% winning percentage. That statistic is still utterly insane, but at a tournament like Roland Garros, walking off the court having lost a match for just the second time, and loosening the tight grip on the title that has always been his, is a moment to forget. Nadal's immediate reaction at the draw ceremony when he saw that world number one Novak Djokovic was drawn into his quarter was to laugh, probably in disgruntlement. Given the Serb's impeccable form this season, the prospects never looked good for Nadal, but at Roland Garros, many still hoped he'd be able to pull out the weapons to prevail like he usually does. Instead, Djokovic thrashed him in straight sets in the quarterfinal, 7-5, 6-3, 6-1 to knock Nadal, the King of Clay, out for the second time ever.
Grade: D
There's no denying that it's been a rough year for Rafa Nadal, especially when you compare it to the rest of his career. Does the 29 year old still have motivation and resilience left to bounce back next season?
'There is no happiness without suffering.'- Rafa Nadal.