 Last year, Serena Williams won her 21st title at Wimbledon, that has been her last victory in a Grand Slam. She lost in semifinals at the US Open against Roberta Vinci and lost two finals at the Australian and French Open to Angelique Kerber and Garbiñe Muguruza, respectively. The big question is if Serena Williams can win her 22nd title and match Steffi Graf at this Wimbledon, her coach Patrick Mouratoglou gave some thoughts about her.
Williams results this year have not been the best
"It's going very well. Serena was looking forward to play on grass, last week we practiced on hard-courts but grass is so different. The week before a Grand Slam tournament is crucial but it's even more crucial here, because we have to adapt to the condition," he commented Mouratoglou. Williams has won Wimbledon six times and is aiming for her seventh victory at the All England Club.
It's not doubt that the last months have not been ideal for the world number one player who had only won a title so far in the year in Rome. When asked about the results this year, Mouratoglou has been cleared that the main focus is winning another major. "This tournament is very important for her because it's Wimbledon and because she has not won any Grand Slam so far. So she is ready and more motivated to get it."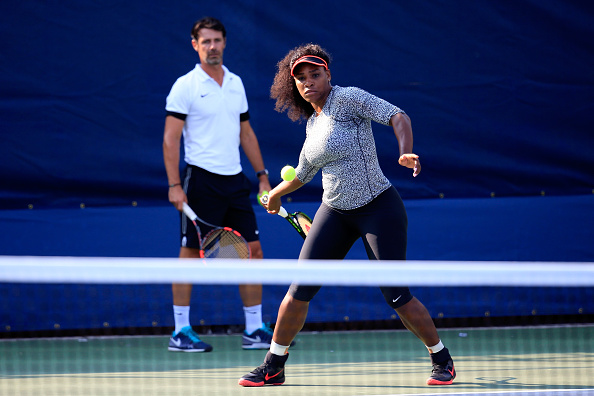 History playing an important part in her game
He has also stated that he feels history is weighing heavily on her and that's one of the main reason of her results this year. "There is a very high level of expectation and tension on this 22nd grand slam. It doesn't make her play bad but maybe not aggressive enough to win it." However, he also added that getting other historical wins have also been tough to get, but not impossible. "This 22nd is difficult, but the 17th and 18th were difficult, too. It's normal. You cannot play a grand slam final for history the same way as any other."
Mouratoglou who has been coaching Williams since 2013 is positive about getting the 22nd Slam. "It's going to take the time that it's going to take but we're going to do it, we're going to make it. The good thing is we have many occasions because she's in finals almost all the time. I don't doubt she will achieve it."