 Stan Wawrinka claimed his third Grand Slam title in as many years after defeating world number one Novak Djokovic 6-7(1), 6-4, 7-5, 6-3, in a brutal display of dominance, to claim his first US Open title. The world number three has looked impressive since saving a match point in the third round, and with this victory, he has extended his win streak in finals to 11 with another impressive comeback win over the defending champion.
Djokovic looked to be in total control in the first set as he hurried to a 3-0 lead. He managed to keep his lead until he was serving for the set, and Wawrinka upped the pressure to break back. The first set eventually went the way of the defending champion anyway as he dominated the tiebreak, taking it 7-6(1). Wawrinka then went on the comeback trail as he broke for the second and third sets as Djokovic was serving to stay in them. The Swiss bullied Djokovic around the court with huge groundstrokes and took an early lead in the fourth set, stayed focused through the Serb's injury timeouts, and held on until the end to add another Grand Slam title to his name.
Tightly contested first set
The danger signs for Djokovic were obvious from the start as Wawrinka found himself with opportunities on the defending champions serve at 15-30, but with the help of a big serve and a shanked shot from Wawrinka, Djokovic came through the opening game. Djokovic showed his incredible defensive skills to win the first point on Wawrinka's serve, but a couple of errors from the world number one and some big serves from the Swiss got him back in front with two game points.
A couple of great returns from Djokovic and with an error and another couple of shanks from Wawrinka, the Serb found himself with a break point, which he took with another error from Wawrinka to get the early lead. The defending champion was very impressive in his next service game where he held to love, with big serves allowing him to dictate the points as he rushed to a 3-0 lead in ten minutes.
Wawrinka got his first game on the scoreboard as he started to use his huge groundstrokes to push Djokovic back. After winning the first point in Djokovic's next service game and then losing the next three with loose shots, Wawrinka shouted "make him play" to himself. He then hit a great return but again lost the point with an error into the net and Djokovic held to go 4-1 up.
Great deep returning from Djokovic continued as he hit high loopy forehands into the Wawrinka backhand to draw errors and he climbed 0-30 ahead on the world number three's serve. Big kick second serves got Wawrinka out of the 0-30 hole. Djokovic then upped his aggression and the high forehands followed by flattening out his backhand got him on the front foot in a crucial point but a poorly timed drop shot from the Serb ended up in the net to give Wawrinka game point. A crushing forehand winner from Djokovic and an untimely error from Wawrinka brought up another break point, but the Swiss saved it with a big serve. Wawrinka then hit a punishing forehand down the line and another big serve to hold on and keep it to a one break deficit.
The world number four showed signs of improvement in his defense in the next game as Djokovic continued to dominate points on serve but the defending champion still held to love for a 5-2 lead. As Wawrinka was serving to stay in the set, Djokovic went on the offensive, looking to close it out early. Another great return on the first point gave the Serb a lead straight away.
Djokovic then drew Wawrinka into the net with a drop shot, but it wasn't good enough and Wawrinka got to it easily and volleyed away Djokovic's next shot. A bad forehand error from Wawrinka and a backhand rally that went the way of the Serb left the world number three with two set points to fend off. A huge kick serve and a backhand error from Djokovic took them to deuce, and a massive signature backhand down the line followed by the same shot from the forehand forced Djokovic to try and serve out the set.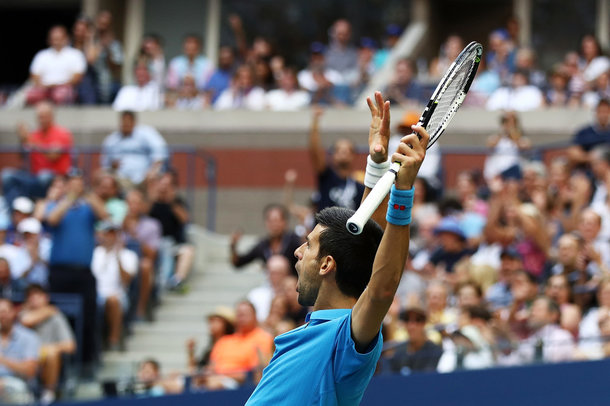 Wawrinka started to push Djokovic on return with huge groundstrokes drawing a couple of forehand errors from the Serb for 0-30. The Swiss was getting fired up as he dominated another rally to bring up three break points. An ace and another backhand shank from Wawrinka reduced the deficit to 30-40, but Djokovic double-faulted on the last break point to bring them back on serve. Wawrinka then started to make more first serves when he needed them most and he held his serve with ease to bring the match level at 5-5.
Another easy hold of serve for each player brought them into a first set tiebreak. The world number one brought out his best in the tiebreak and his opponent done the opposite. He dictated his first point on serve and done the same on Wawrinka's first service point, taking the ball early to get a mini-break straight away. Wawrinka's one and only point of the tiebreak then came in one of the best rallies of the tournament where he urged the crowd to get behind him. An excellent backhand pass with great defense and Djokovic done the same as Wawrinka in trying to get the crowd on his side. It was one-way traffic for the rest of the tie-break and Djokovic just had to stay solid while Wawrinka made a lot of cheap errors and the defending champion finally took the first set 7-6(1).
Fightback begins
Wawrinka managed to halt the momentum slightly as he struggled through his first service game of the set. The world number three then had opportunities on the return as, with the help of a double fault, he found himself at 15-30. Great defense from Wawrinka kept him in the next point but Djokovic put away an overhead smash to come back to 30-30 and eventually held his serve. More big serving from the Swiss two-time Grand Slam champion got him through another easy hold of serve.
A couple of early errors came from both in the next game, but huge dictating forehands from Djokovic gave him two game points. A loose error and another double fault left them at deuce and Djokovic's first serve abandoned him at a crucial moment. Wawrinka took control in the next two points with punishing groundstrokes and he took the first break point of the set with his signature shot, the one-handed backhand down the line.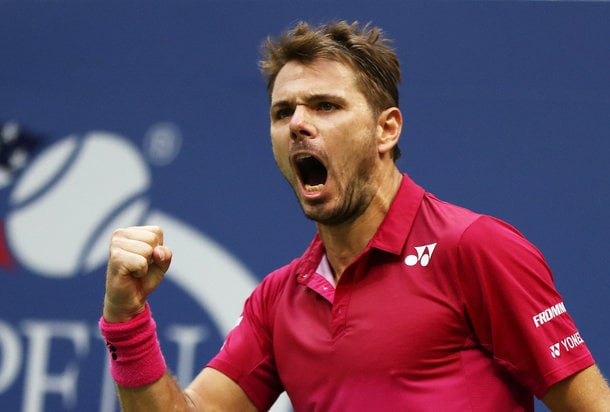 The world number three's lead looked to be in danger in the next game as errors and a double fault left Djokovic with three break back points. Two errors brought Wawrinka to 30-40, a huge 135 mile per hour body serve followed by an ace out wide and Wawrinka let out a roar as he took a 4-1 lead. Djokovic then got his fourth love hold of the match as he put the pressure straight back on Wawrinka.
A cross-court return winner gave Djokovic a head start in the sixth game of the set, and the defending champion pushed hard to get the break back with a forehand error from Wawrinka. Djokovic continued to serve well as he got yet another love hold, which Wawrinka answered with a love hold of his own for 5-4.
Another couple of loose errors from Djokovic left him in danger at 15-30 as he served to stay in the set. Wawrinka finished off a brutal rally with a forehand winner down the line to bring up two set points. Djokovic managed to volley away the first, but another error from the Serb leveled up the match at one set all, with Wawrinka taking it 6-4.
Mini battles and missed opportunities
A crucial mini battle in the opening game of the set went the way of Wawrinka. Outrageous defense from Djokovic left him with two break points, but Wawrinka clawed his way to deuce with a great second serve and another perfect backhand down the line. Djokovic sent a return long to give Wawrinka the advantage, but a backhand shank and some big pushing forehands gave the defending champion another break opportunity. Another bullying backhand down the line that Djokovic couldn't control took them back to deuce, but another huge body serve and an ace left Wawrinka with an important hold of serve.
Djokovic hurried to 30-0 in his first service game of the set, but another beautiful backhand down the line from Wawrinka and an error from the Serb left them at 30-30. The world number four hit a great forehand passing shot for break point and he took it with the help of a bad serve-volley attempt from Djokovic. The world number one had more opportunities in his next return game but once again he couldn't take them. A great pickup from Djokovic at 30-30 gave him a break point, deep hitting from Wawrinka then caused Djokovic to make an error and erased the chance quickly.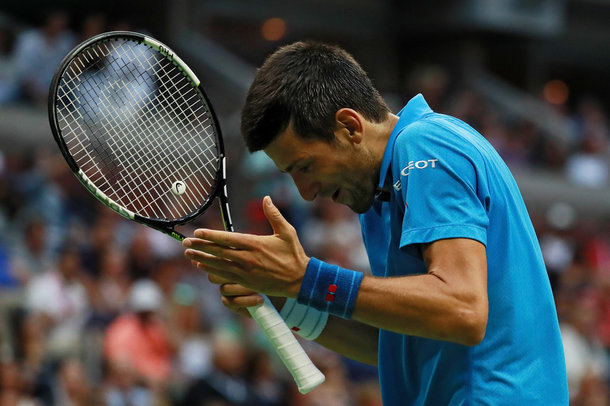 The body serve tactic continued to work well for Wawrinka as he hit another powerful one straight at Djokovic and put away the short return with a forehand winner to earn a game point. The defending champion threw everything at Wawrinka in the next point in an attempt to get back to deuce, but incredible defense from the Swiss kept him in the point and he finished it off with a backhand winner to take a 3-0 lead in the third set. Wawrinka's great defense continued into the next game as he got to 0-30 on Djokovic's serve, where he got three overhead smashes back into play and won the point. A backhand from Wawrinka drifted long and Djokovic finally hit a good overhead smash to even them up, and he found a way to grind out the crucial hold of serve and get his first game of the set on the board.
Djokovic finally managed to take a break point in the next game. On the third deuce of the game, Wawrinka was put off when Djokovic thought a ball was going out and just lazily pushed it back into play as he waited for the out call, but the call never came and the next shot from Wawrinka went long to bring up the breakpoint which gave the Serb the break back for 3-2. Djokovic struggled in the next game to hold, but he came out on top of another baseline rally in which both players were hammering the ball around the court and fought back from 3-0 to 3-3.
Wawrinka held on to his serve again with the help of a big forehand crosscourt that Djokovic couldn't return, and at 30-30 the Swiss found his first serve and hit an ace and he made his relief known as he shouted "finally!". Djokovic followed up with a straightforward hold to 15 to bring them to 4-4, still using the big serves and powerful forehand to shorten points and stay on top.
After another hold of serve each, Djokovic tried to push through at 5-5 on Wawrinka's serve and found himself with chances at 15-30 after a perfect drop shot got him ahead in the game. Wawrinka followed up with some perfect play of his own while under pressure as he hit a huge serve out wide and finished off with a forehand down the line.
Djokovic was once again feeling the pressure as he served to stay in it. A good first serve and another shank from Wawrinka took him to 30-0, but a backhand wide and a forehand winner from the Swiss brought them level at 30-30, and another couple of mistimed backhands from Djokovic gave Wawrinka set point. The first time finalist threw huge groundstrokes at the Serb and took his first set point when a shot from Djokovic drifted wide to go two sets to one up.
Cruising to victory
The start of the third set mirrored that of the first, with Wawrinka rushing to another 3-0 lead. He held serve with ease in the opening game, firing two backhand down the line bullets in the process. Signs of injury started to show for Djokovic as he attempted to hold serve, with the sliding around the court hurting his feet. Wawrinka got the break with another gorgeous backhand down the line and looked to be cruising to his third Grand Slam title as he held to love and Djokovic looked almost ready to give up.
A double fault from Djokovic gave Wawrinka an insurance point to go up a double break, but a good overhead smash saved it. The first game point for Djokovic came as he hit an ace, but it disappeared as quickly as it arrived with a double fault taking him back to deuce. The defending champion somehow managed to hold on and stay within one break of Wawrinka.
The Serb was then allowed a controversial medical timeout right before Wawrinka was due to serve. But he clearly needed it for what appeared to be a painful injury to two toenails. Wawrinka didn't look happy about the timing but Djokovic apologized. The Swiss then went out to serve and looked to be in control at 30-0 but an error followed by a beautifully angled backhand from Djokovic took them to 30-30. The Serb was trying to shorten the points, and as he came into the net Wawrinka was unable to make the passing shot and gave Djokovic a break back point. He saved it with a big body serve and a huge roar of "come on", and after saving another two he kept his lead intact to go 4-1 up.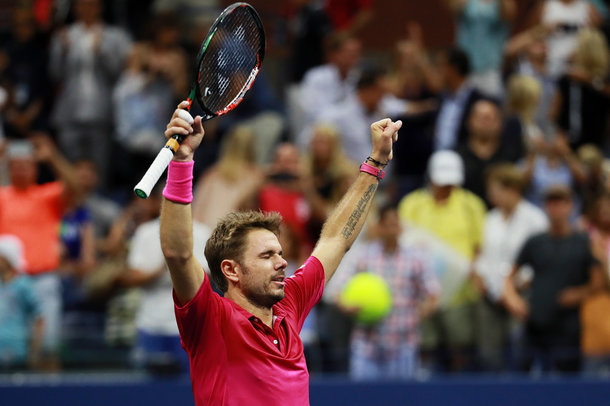 After another love hold each, Djokovic had another visit with the trainer before serving to stay in the match, which he did easily with a clever forehand back behind Wawrinka and a smash winner.
The Swiss looked to be a bit nervous as he served for his third Grand Slam title and a couple of errors put him in danger at 0-30, but he halted any signs of a comeback and reeled off the next four points to earn himself his first championship point. Big hitting from Djokovic drew the error from Wawrinka and saved it, but he earned another with some huge groundstrokes. A shot from Djokovic went long, and Stan Wawrinka was crowned US Open champion after a punishing display of dominance.