 World number eighteen Grigor Dimitrov moved into the third round of the BNP Paribas Masters as Marcos Baghdatis retired midway through the match, after a quick 6-3 set, due to injury. Dimitrov will now face either defending champion Novak Djokovic or Gilles Muller for a place in the quarterfinals of the final tournament of his season.
There were no signs of injury in the opening couple of games as Baghdatis took an early break. It was all downhill from there though as the Cypriot looked both physically and mentally flat and Dimitrov took the break back, cruising through the remaining games. There were some signs of fight left as Baghdatis served to stay in the set, but it ended there as Dimitrov sailed through another hold to take the set and Baghdatis retired straight after.
Quick day on court
The match began with an easy love hold from Dimitrov. Baghdatis followed up with a quick hold of his own to tie them up. Danger arrived for the Bulgarian in his next service game as Baghdatis battled to earn himself two break points. The Cypriot was gifted the early break as a double fault from Dimitrov left him trailing after only seven minutes.
Amazing defense and court coverage from Dimitrov earned him the first point on return in the next game as he looked to gain the break back. The Bulgarian earned himself a break back point immediately and a loose forehand error from Baghdatis got the pair back on level terms. A forehand down the line winner gave Dimitrov the game point to consolidate the break and go back ahead on the scoreboard at 3-2.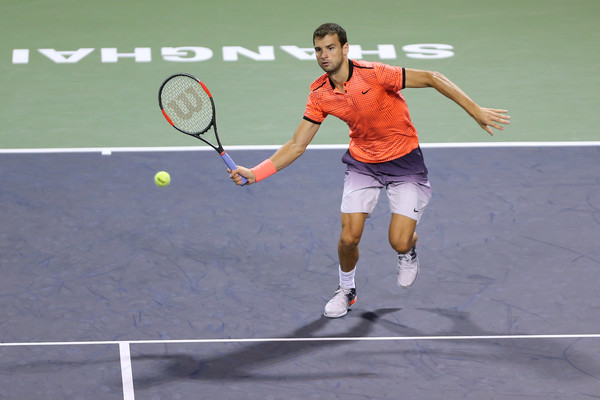 A nightmare game from Baghdatis set Dimitrov up with another three break points. The first was wasted as Dimitrov hit a backhand return into the net but another gift from Baghdatis gave the Bulgarian his third straight game. The world number nineteen then aced his way through another love hold to go one game away from taking the first set.
Baghdatis showed some much better signs as he was serving to stay in the set but looked emotionally flat as Dimitrov cruised through another simple service game to take the first set 6-3 in only twenty-nine minutes.
Disappointing end to the Cypriot's season
An explanation for Baghdatis' lack of energy came at the changeover. A hip injury was affecting Baghdatis and he was unable to continue. He explained his injury to the umpire and Dimitrov and apologized as he retired from the match. It is a difficult end to the season for Baghdatis, who has already faced his fair share of injury problems in the past. Dimitrov will now have a day off to be fresh for a potential meeting with the world number one Novak Djokovic.