 Great Britain's Davis Cup captain Leon Smith spoke to the press about world number one Andy Murray's absence from the team ahead of their first-round tie against Canada. Murray had an exhausting end to 2016 with a five-tournament win streak and in turn suffered an early exit in the Australian Open.
End of season efforts affecting Murray
Murray mentioned earlier in the year that he could have done with a couple more weeks of rest during the offseason and Smith backed up the world number one's point about needing some time off. "I spent time with him in Miami during December talking about it pretty openly so we always knew it was going to be a challenging one for him to play," Smith said. "It's the right thing for him to do, what he's doing, stay at home, get some rest after what was an unbelievable three or four months for him and focus on these four here who are really good players,"
Dan Evans and Kyle Edmund lead the charge in singles against Canada, with Dominic Inglot and Andy's brother Jamie Murray making up the doubles team. "We've got so much confidence in what they can do. We all miss him because he is such a great influence on the team both on and off the court."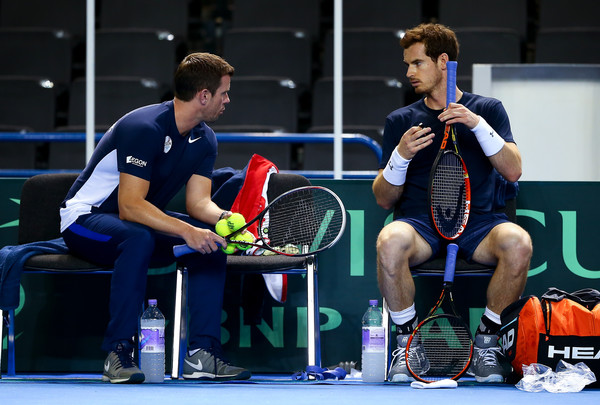 Supporting from afar
Murray's dedication to the team was clear as last year when he skipped the quarterfinal tie against Serbia after his runner-up appearance at Roland Garros, he still traveled to Belgrade to sit courtside and support the team. "Like we saw last year, he puts a lot of interest and care into this team," Smith said. "He obviously gets on really well with the four players here and he is very close to all the support team as well. He will be watching for sure. He will send in messages."
The world number one has always been vocal in his support for other British players and keeps up with not only his fellow members of the Davis Cup team but also the up and coming players making their way through the ranks, as Smith told the media. "He watches all of our guys, not just the four here, the ones on the Challenger circuit and the Futures tour and is often feeding back a lot of information. It doesn't make too much of a difference in terms of preparation and how we go about our business and the mentality going into the match," the team captain concluded.
Great Britain will face off against the Canadian team of Vasek Pospisil, Denis Shapovalov, Peter Polansky and Daniel Nestor this weekend for a place in the quarterfinals against either France or Japan.