 On July 21, 2007, John Isner played his first career ATP World Tour match against Belgium's Dick Norman (former world number 10) at the Hall of Fame Championships. Now, exactly 10 years later, the American has won ten titles and returns to Newport as the tournament's number one seed.
His opponent, on the other hand, was hungry to build upon his success in Newport thus far and presented a strong front when the pair met on Stadium Court. Dennis Novikov earned his first match wins of 2017 the rounds prior, effectively propelling him inside of the top 200 in the ATP rankings.
Yet, though nearly a decade separates their ages, both players boast the same major weapon: a dominant service game. Isner had not yet faced a break point this tournament, while Novikov made 94% of his first serves against previous opponents Marco Ciudinelli (def. in R1) and Frank Dancevic (def. in R2). Thus, their shared "key" to the match was maintaining a high first serve percentage to prevent conceding service breaks.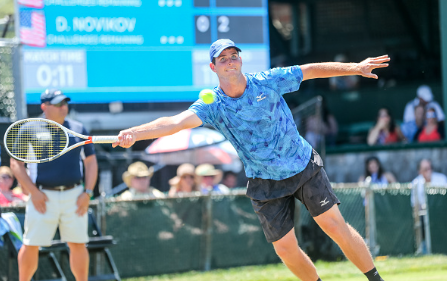 First Set:
The first half of the opening set progressed with little abnormality. "I was threatening early on and couldn't cash in on the first few games, but at 30-30 I did," Isner told VAVEL and the press following his victory.
The players traded holds of serve until 3-3, where Isner clinched the first break of the set to position himself with an early lead. Both his tenacity and his unwavering serve, helped him to 5-4, 30-15, where he reeled off two consecutive aces to secure a first set victory, 6-4.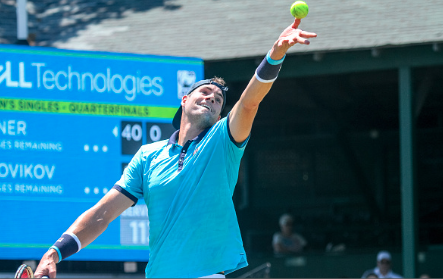 Second Set:
With the crowd still reveling over the closeness of the first set, Isner was quick to continue establishing his lead—he wasted no time racing to 2-0. Yet, despite facing a 4-6, 0-2 deficit, Novikov responded with some fire of his own, fighting off a break point for a crucial hold to get on the scoreboard, 1-2.
The players continued trading holds of serve, but, with Novikov unable to threaten Isner's serve, it was the #1 seed who sealed the victory, 6-4, 6-4. In just an hour and 13 minutes, Isner hit 20 aces and 36 winners, made 69% of his first serves and earned 86% of his first serve points. Nonetheless, a difference of just 12 points was what separated Novikov from making his debut semifinal round.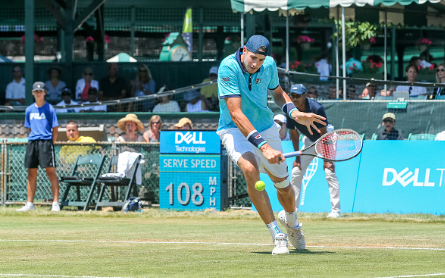 Final Thoughts:
After facing an upsetting second round loss to Dudi Sela at Wimbledon, Isner can feel confident that he has rebounded.
"I'm more comfortable here [versus at Wimbledon]. I know I can play well on grass. I've played well here a bunch of times before, so I still have faith that I can do big things at Wimbledon [in the future]," the 32-year-old explained to VAVEL.
The number one seed is scheduled to face another compatriot in Bjorn Fratangelo during Thursday's semifinal action—will Isner concede his first break point of the tournament to a younger player, or will experience prevail to send him into his third Newport final?
"I'm focused on placement, location, and following [my serve] up with a volley. But either way, it's going to be a tough match for me."