 John Isner has been struggling with his left knee for a long time now. In fact it has become normal to see him with the white bandage around his left knee; however, this week he tweaked the right knee and is currently sporting supporting bandages on both knees. That is not good for the tall American, who relies heavily on his serve to win him some easy points. In addition to affecting his serve, his limited mobility was further compromised and he was struggling coming into this match.
To play an opponent like Viktor Troicki who is quick and versatile, you have to be at your best and Isner was clearly not at his best today. Although he won their last match earlier this season, Isner could not utilize his weapons to do much damage today. His serve failed him and his compromised mobility made his forehand ineffective. Troicki, in contrast, defended his serve much better than his opponent the entire match and never gave Isner any opportunity to break him.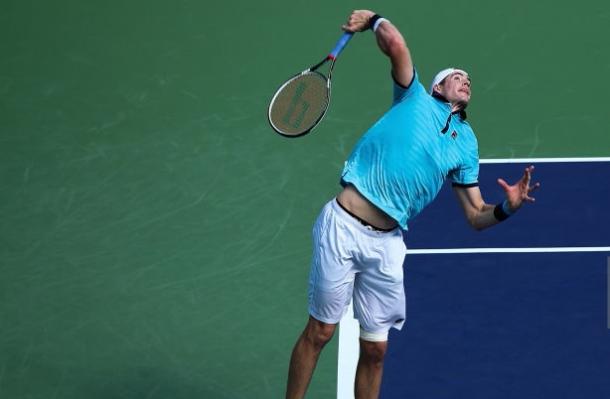 It was an even match for the first eight games. Despite having to work a little harder than his opponent to hold his serve, Isner was hanging in there until he fell behind 0-40 on his serve in the ninth game. Troicki was able to capitalize on his second break point opportunity with a clean forehand return winner and then served it out without much resistance to claim the first set.
The inevitable Isner tiebreak
After dropping the first set, many expected the American to fade away; however, despite his discomfort, Isner is a competitor and Troicki would have to win it. He had to fight off a break point in the second set, which would have essentially given the match to the Serbian who served well the entire match; however, Isner dug deep and produced some clutch volleys to stay in the match.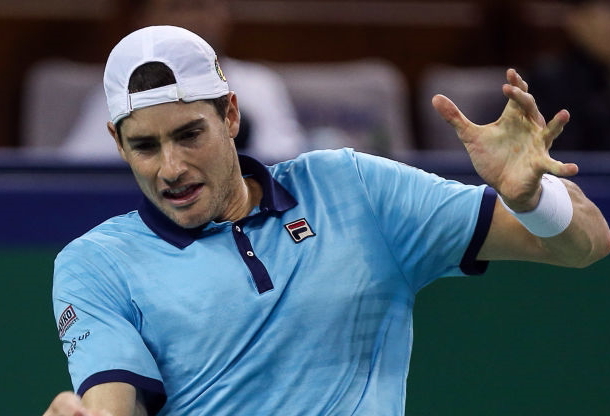 Photo Source: Yifan Ding/Getty Images-John Isner's forehand keeps him in the match.
Isner recognized that he was not going to be effective in long rallies and started attacking the net more, which allowed him to force the tiebreak. He still believed his chance of winning the tiebreak was greater than his opponent since he has the bigger serve; however, because he was physically hampered due to knee pain, his serve was negatively impacted and it cost him in the tiebreak when it was crucial for him to be accurate. His serve deserted him and he lost his serve on two consecutive points to go down 1-4. He got one mini-break back with a ferocious forehand return winner; however, it was not enough to stave off defeat.
Troicki out served Isner to win 6-4, 7-6(4) and advanced to the quarterfinals to play Juan Martin Del Potro.