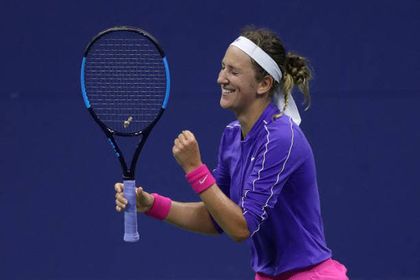 It has been since 2013 when Victoria Azarenka last reached a Grand Slam semi-final who showed no lack of confidence seeing off Elise Mertens in spectacular fashion in a straight-set affair 6-1, 6-0.
In terms of tournaments runs both players have looked impressive with Azarenka only dropping one set to Karolina Muchova. Whilst Mertens on the other hand also in fine form has not dropped a set all tournament.
As far as head-to-head meetings go this will be the first time the pair will play each other and is the second time Mertens has reached the Quarter Final stage of the US Open.
Azarenka breaks ahead early
In a highly-anticipated match up it was an explosive start with the two-time US Open finalist Azarenka getting the early break to go into a 2-0 lead. Mertens immediately answered back next game, breaking Azarenka's serve with a thunderous forehand it was only a one-game deficit with it back on serve again.
It felt like tonight's match would go the distance with the next game both players had lengthy exchanges, even this early on in the match it was a high level of tennis already. At 40-30 Mertens hit a serve down the t which Azarenka then returned with interest forcing Mertens back which in turn set up a dry volley with the Belarusian powering it into the far corner. Mertens scrambled to get this back hitting a deep lob, but Azarenka hit the best shot of the day with a well-placed powerful smash showing her quality. The game ended up going in Azarenka's favour with now a 3-1 lead and double break.
Azarenka rarely gave Mertens a look in the first with all the answers and in a controlling lead. Even at 4-1 the Belarusian pounced mercilessly moving Mertens from corner to corner always finding the angle with such precision. Before you knew it, it was 0-40 and Azarenka then launches herself at Mertens' serve with a piercing backhand which ended up becoming a down-the-line winner, the former world no 1 now 5-1 up serving for the opening set, 30 minutes gone.
It was a comprehensive hold for Azarenka in her service game with no real problems caused by Mertens. All-in-all it took the 31-year-old Belarusian just 36 minutes to take care of the first set, the set score ending up 6-1, a rather forgettable set for the 16th seed Mertens who would like to make more of an impact in the match.
Overall, stat-wise in the opening set it was the break points which proved dividend for Azarenka with 3/4 breakpoints converted with an overall 65% of 1st serve points won. Azarenka's game tonight has been perfection in every way possible.
Azarenka pushes on
If there were to be any questions of Elise Mertens getting back into this match Azarenka quickly put an end to that idea with a defiant charge in the second set. It was a similar story in the second set with Azarenka powering her way through games and often finding that signature down-the-line backhand. This was getting demoralising for Mertens her serve broken in the first game with Azarenka comfortably holding her serve to go 2-0 up. There was a chance to break the Belgium's serve again to go 3-0 up, despite Mertens' best efforts to hold, and the game generally being tighter Azarenka was returning everything and finishing off points. The sort of level Azarenka is playing at is certainly top ten level and she has looked more confident than ever tonight against an opponent who on paper should cause the two-time US Open finalist some problems.
With a sailing 4-0 lead now, and with her mind on the semi-final it would take a lot for Mertens to come back in this encounter with Azarenka's level needing to massively drop. It was just relentless tennis from world number 27 Victoria Azarenka who kept firing backhand winners as if they were nothing, now in a 5-0 lead and looking to wrap the match up quickly. Azarenka's game tonight has been perfection in many ways, with the former world no 1 hardly putting a foot wrong and before you knew it she had a match point set up at 5-0 up, 40-15. Mertens managed to save 3 match points with some good defensive tennis, but she finally got it done on the fourth attempt.
The contest took just 1 hour and 14 minutes for the world number 27 to wrap up. This means Victoria Azarenka is back once again in a Grand Slam semi-final since the US Open in 2013. Azarenka will now face none other than Serena Williams in the next round.