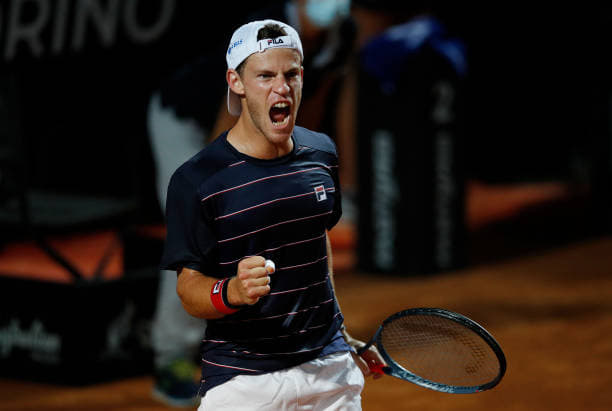 Diego Schwartzman battled past Denis Shapovalov in 3 incredible sets 6-4, 5-7, and 7-6 to book his spot in his first-ever Master Series 1000 final.
How we able to do it :
Schwartzman had no issues in the opening service game of the match and was the first to hold serve. Shapovalov on the other hand got off to a slow start and faced 3 break points in his opening service game down 0-40. He would end up double faulting and giving the Argentine the early break to lead 2-0.
The Buenos Aires resident had no trouble holding serve once again putting the Nassau, Bahamas resident in 0-3 hole. Luckily he was able to comfortably hold in his next game to earn his first game of the match.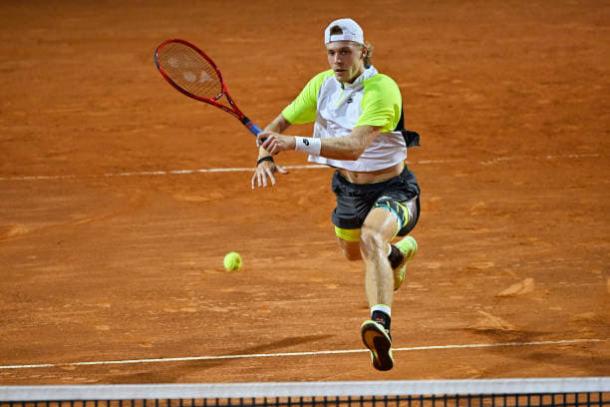 The 12th seed was able to put some pressure on the 8th in the next game winning the first two points with some great shots. Down 0-30 the 28-year old rallied as the exchanges started to intensify and he managed to hold to lead 4-1.
Both players held serve and with Schwartzman leading 5-3 and serving for the first set Shapovalov came up with 3 amazing points to earn 3 break points to try and go back on serve. He would end up breaking to go back on serve and 5-4 we saw a long game with both players playing some intense rallies.
It was either we saw an error from one or an amazing winner that saw this game go to deuce 3 times. The Argentine would earn his first set point when the Canadian would throw in an untimely double fault. Playing an intense serve and volley game the Tel-Aviv born would save it with a great finish at the net.
Unfortunately, his errors would cost him as he would send the ball long on the next point setting up another set point for Schwartzman. This time he made no mistake as Shapovalov would dump a forehand into the net and he would take the first set 6-4.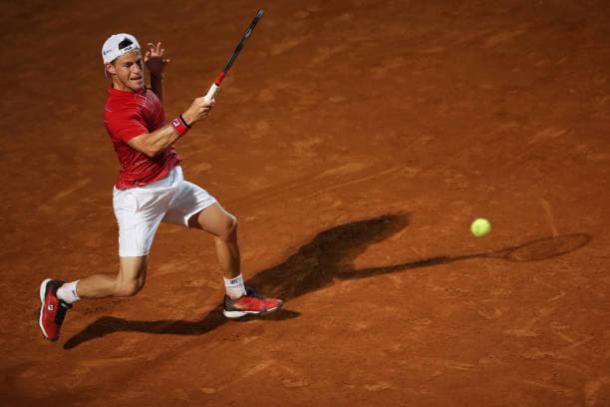 Into the second set and this time both players had no trouble holding serve and after earning a love service game Shapovalov would earn the first 3 break points of the set. Schwartzman would end up saving the first with a beautiful down the line forehand winner but on the second would falter as he hit that forehand into the net.
The 6 foot 1 Canadian would finally get his serve going again as he would have multiple aces in his next service game. He would hold to take a 4-2 lead and his forehand would earn him 2 more break points in the next game. The 5 foot 7 Argentine would save the first one with a down the line winner followed by a big serve and saved both.
Shapovalov would serve for the second set at 5-4 and Schwartzman would have 2 break points of his own as the Canadian would start over hitting the ball sending his shots long. Another untimely double fault would level the second set at 5-5.
It was the Argetine turn to start hitting some pretty nice forehands but it was the Canadian who would have another chance at a break point when his forehand would go off the net cord and down the line. Shapovalov would end up breaking to lead 6-5 and once again serve for the set.
This time as the Canadian was serving for it Schwartzman would once again come up with a breakpoint when he forced Shapovalov to make an unforced error. He responded immediately playing an amazing point and this time making the Argentine make the error. At set point, the 21 year old would play another amazing point and finish with a volley at the net to take the second set 7-5 and force a deciding third set.
Before the set could begin we saw the trainer come out to come work on Shapovalov right hamstring and we were curious to see if it would affect his game. The 29-year old put pressure on him immediately in the second game earning a break point at 30-40. The Canadian would save it with an amazing forehand that went down the line for another winner.
The 2020 US Open Quarter Finalist would face three more break points in a game that lasted over 8 minutes but he would end up finally holding serve in a tough, grueling game. The next game he had a chance of his own to break when the Argetine served a double fault. He would end up breaking to take an early 2-1 lead in the set.
Schwartzman went back to work trying to get back on serve and he had two more break point opportunities as he was forcing Shapovalov to make errors. He would end up breaking back right away as the Canadian would once again serve a double fault and we were back tied at 2-2.
The Nassau resident wasn't going to go away quietly and won 3 points in a row on the Buenos Aires resident serve to try and get the break back. He would end up breaking and holding serve to go up 4-2. This was turning into a very intense match with long rallies and every game there was a twist.
Schwartzman would hold serve and conjur two more break points as Shapovalov once again was struggling to hold serve. He did his best to stay in it and managed to save both with some great tennis. The Argetine kept coming at him and managed to earn the break with a great forehand winner to go back on serve at 4-4.
Once again the Canadian had a 0-30 lead in the next game looking to finish it and he managed to get the break with a well constructed point that finished with a volley at the net. Serving for the match he picked the worse time to get tight and it seemed nerves were playing a factor in his struggles.
The Buenos Aires native had two more break points to go back on serve in a match that was going back and forth and both players ultimately struggling to hold serve. The Canadian would dump another forehand into the net and we were level again at 5-5. Schwartzman would finally hold to take his first lead of the set.
Shapovalov would force a 3rd set tiebreak to decide the match and wow was it exciting. At 1-1 once again the worse moment as the Canadian would double fault and you thought surely this was the advantage Schwartzman needed.
Down 4-2 in the breaker the 12th seed would win two straight points rallying to get back in the breaker and the match. Sadly those were the last two points he would win and the Argetine went on a tear winning 3 in a row to take the breaker and the match 7-6.
Schwarzman will now face Novak Djokovic in tomorrow's final for a chance at his first Master 1000 title.