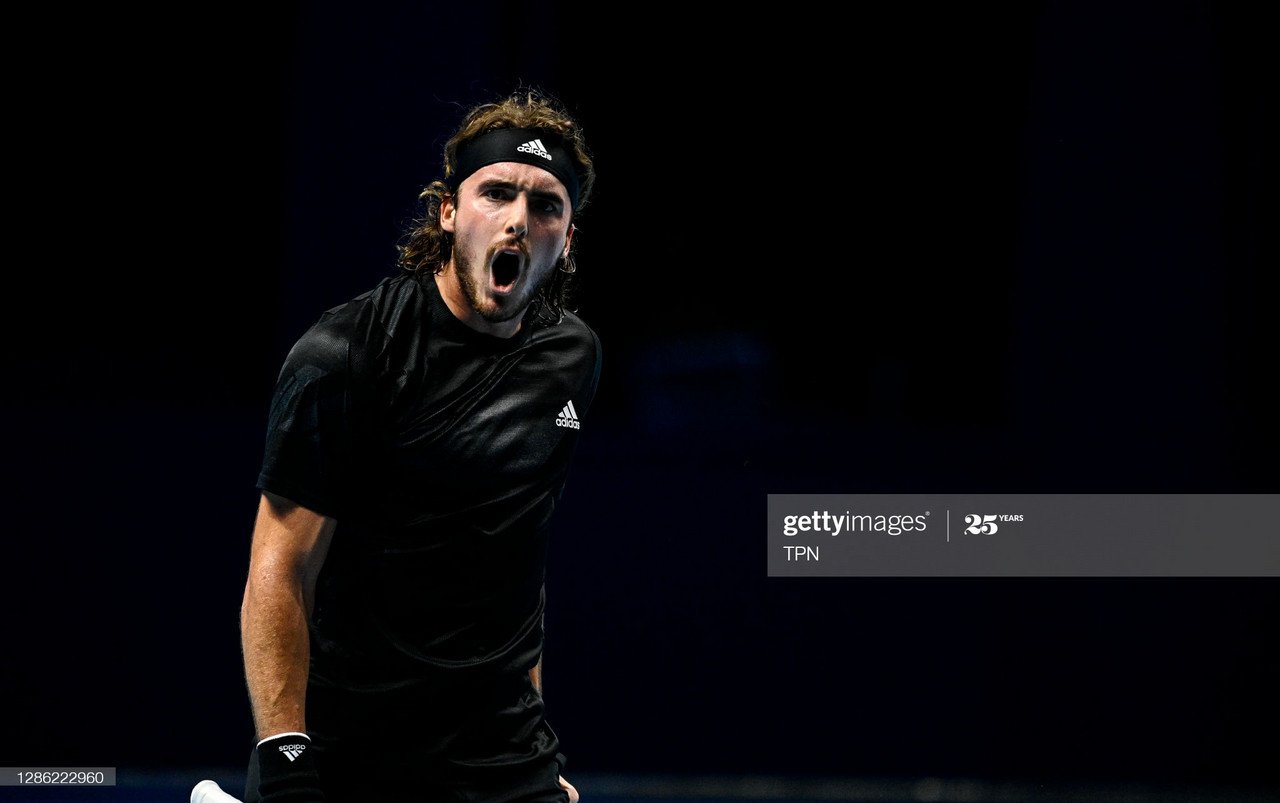 In what was a highly-anticipated match-up defending champion Stefanos Tsitsipas takes on Andrey Rublev with both players level on head-to-heads with three wins apiece.
Both players are in need of a win with Tsitsipas losing a close three-set match to Dominic Thiem, and Rublev losing comfortably to Rafael Nadal 6-3, 6-4. A loss here for Rublev puts the Russian out of the event.
Tsitsipas out in front early
The 22-year-old Greek star certainly came out fighting, with an early break on Rublev's serve to go 2-0 up with the next game a comfortable service hold.
Prior to this encounter, Rublev has arguably had a more successful year out of the two youngsters breaking into the top ten and also beating three top-ten opponents so far in the year. Tsitsipas has had a mixed year overall claiming two titles, reaching the final in the Hamburg Open and the semi-finals in the French Open.
Looking to make amends after a rather frustrating three-set loss to Dominic Thiem, Tsitsipas was really putting his foot on the gas early in this encounter not letting Rublev get into the encounter at all and after just 20 minutes the world no 6 found himself in a 5-1 lead over the world no 8.
Determined to not let down his guard Tsitsipas's final service game was played to perfection with Rublev failing to find any returns in court, with this match having the most one-sided sets in London so far.
As far as statistics go the Greeks' serve stood out with 16/19 serve points won compared to Rublev's 7/15. Tsitsipas also had a successful conversion of 4/4 net points won. A lot of work for Rublev to do in the second set with a mountain to climb.
Rublev not backing down
Determined not to let this match run away Rublev came back with renewed confidence serving out the first game in quick fashion. Tsitsipas managed to fashion a return back at 0-30 down which Rublev quickly pounced on punching an unreturnable forehand winner cross-court, positive signs here for the Russian.
Tsitsipas has rarely lost matches after winning the first set but Rublev now winning back-to-back service games the second set at least turned into a more competitive encounter.
Now in a 2-1 lead Rublev fell victim to one of Tsitsipas' trademark shots which was none other than the one-handed backhand with the Greek hitting it so sweetly that Rublev had no chance, this was just the first point to ensure Tsitsipas goes 15-0 up.
At three games all both players were producing some of the finest tennis the match has seen so far. In total it was a 15 shot rally with a crafty drop-shot from Tsitsipas enough to win the point. The 22-year-old now had three break chances to take a 4-3 lead, with the first one now squandered after a well set-up point from Rublev. The Russian managed to save all three with some solid serving, with this second set remaining on serve.
After a whirlwind of a first set, the match had now been turned on its head with both players throwing all they had at each other proving why they deserved their spots in the tour finals.
Rublev was now 5-4 and 30-0 up after an unforced forehand error from Tsitsipas, this was a very important game for Rublev with some aggressive forehands, Rublev ensures he takes all four break point chances to take the game 40-0 and the second set 6-4.
Final set showdown
With credit to Andrey Rublev after a much-improved service performance in the second set, he had now turned the match on its head.
Early on into the final set, Tsitsipas was looking to break to secure a 2-1 lead, with the first break point chance snubbed out with a mean Rublev serve. An unforced error from Rublev lofting a forehand out sets up another opportunity, 3rd chance now for Tsitsipas, which the Greek can't take resetting the score back to deuce.
Managing to fend off the Tsitsipas onslaught Rublev held firmly with five break point chances saved. Fast-forward a few games which went back and forth on serve, after a rather crucial service hold at deuce Rublev remained in front at 5-4. The opportunity would have to wait with the pressure back on Rublev after some lights out tennis from Tsitsipas, now five games apiece.
It felt only fitting that this match is decided by a final set tiebreak with the odds arguably in Rublev's favor winning the last 5/6 out set tiebreaks with Tsitsipas losing his last three. After a forehand was dragged out wide Tsitsipas goes into an early 3-2 lead. The next point Rublev was careless yet again, this time a backhand dragged out wide gifting Tsitsipas the lead, now 4-2 up.
At 5-5, this was one of the best points in the tiebreak as both players traded shots from the baseline forcing each other out wide, Tsitsipas crafted another drop-shot which Rublev was on in a flash with a well-crafted return which Tsitsipas could do nothing with now 6-5 up and with a match point.
Unfortunately, it was an untimely double fault which prevented Rublev from sealing the job only his second in the match, this is what pressure can do to any players. At 6-6, Tsitsipas hits a great defensive return which results in setting up an incredible inside-out forehand that wins the Greek the point, and more importantly the lead, now 7-6 up with a match point.
After a rollercoaster of a match, Tsitsipas stands strong as Rublev can't hang on-no doubt rueing that missed match point opportunity at 6-5, Tsitsipas wins the tiebreak 8-6 letting out a huge come on.
Rublev put in a good performance coming back from one set down, but Tsitsipas held his nerve and didn't falter getting the job done 6-1, 4-6, 7-6. Tsitsipas will next face off against Rafael Nadal in a semifinal clash on Thursday.