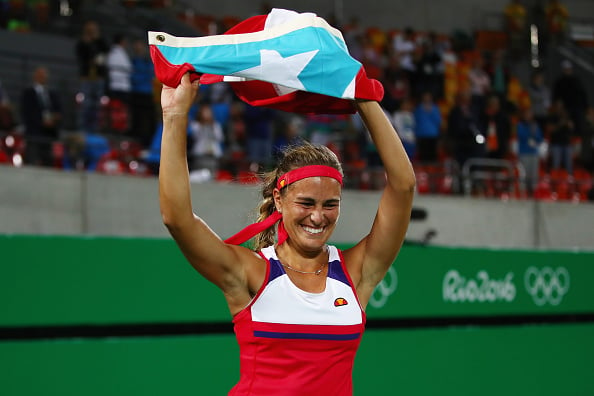 It would have been last Friday that, under normal circumstances, the opening ceremony for the Olympic Games in Tokyo would have taken place. Tennis would have been one of the first sports to kick off, but players across the ATP and WTA Tours currently find themselves waiting to see if they can return within the next few weeks following the Coronavirus pandemic.
With sadly no Olympics to enjoy this summer it seems right to reflect on some of the greatest moments the showpiece has seen. In this piece, I count down what (in my opinion) are ten of the greatest Olympic tennis moments since the sport was reintroduced to the Olympics in 1988.
10: Murray Makes History with Title Defence
Despite coming in as the defending champion and recently crowned Wimbledon champion, Andy Murray was not the favourite for the gold medal at Rio 2016. Most of the talk was about whether Novak Djokovic could avenge his early exit at SW19 and capture his first Olympic title, with the draw blown wide open when the Serbian fell to Juan Martin del Potro in the opening round.
Murray eased his way through his first two matches and then survived three-setters against Fabio Fognini and Steve Johnson to once again reach the last four, where he comfortably saw off Kei Nishikori to set up a final clash against del Potro.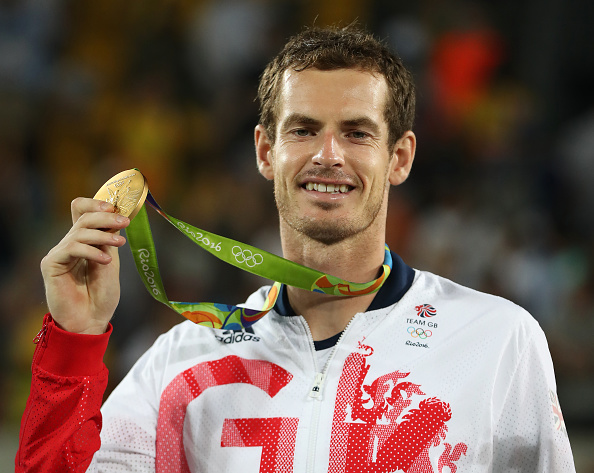 The final was a gruelling contest in hot and humid conditions, with del Potro's fans from Argentina helping to a create an electric atmosphere. After four tough sets it was Murray who made history, becoming the first person in singles to win a second Olympic gold and extending the fine form that would see him rise to the No.1 ranking later that season.
9: Victorious Venus Captures First Golds in Sydney
Venus Williams rolled into the 2000 Olympic Games in Sydney with the world at her feat, having won both the Wimbledon and US Open titles in the preceding months. The American was seeded second at the tournament, and her status as the favourite for the title only amplified when top seed and former gold medalist Lindsay Davenport withdrew before her second round clash against Rossana de los Rios.
Williams strolled through the first three rounds without any issue and then came through three-set quarterfinals and semifinals against fellow Grand Slam champions Arantxa Sanchez Vicario and Monica Seles to reach the final, where she would face Elena Dementieva. The American had more than enough to beat the tenth seed, dropping just six games to secure one of the four Olympic titles she would claim throughout her career.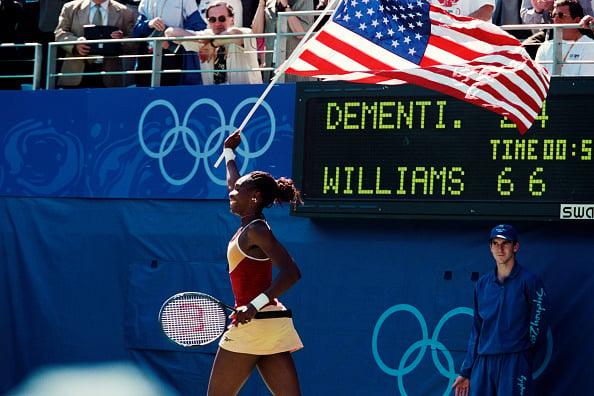 The win was made even sweeter by the fact she secured another gold in the Women's Doubles alongside her sister Serena. The pair were unseeded, yet only dropped one set as they stormed to their first doubles gold.
8: America Sweep the Singles in Atlanta
Only once have the winners of the men's and women's singles been from the same country, and that feat happened to take place when Lindsay Davenport and Andre Agassi both took gold on home soil in Atlanta 24 years ago.
Agassi came in as the top seed and certainly had to work hard on his way to gold, with back-to-back three setters against Andrea Gaudenzi and Wayne Ferreira in the third round and quarterfinal respectively. He then beat Leander Paes (who would become India's only tennis medalist by winning the bronze medal playoff) in the last four, before beating two-time French Open champion Sergi Bruguera in straight sets to capture the gold medal.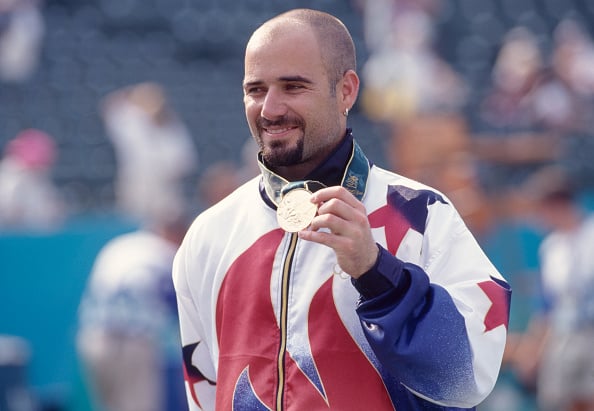 In contrast Davenport came in fairly under the radar as the ninth seed, though the pure ball striking that would later take her to world number one was in full flow as she captured what was then her biggest title to date. Davenport would drop just one set throughout the tournament, to fifth seed Anke Huber in the third round, eventually beating third seed and former world number one Arantxa Sanchez Vicario in the final. Gigi Fernandez and Mary Joe Fernandez would add to the American success by winning gold in the women's doubles.
7: Jennifer Capriati Stuns Steffi Graf
By the time the 1992 Games in Barcelona came about the world knew just how good 16 year-old Jennifer Capriati was. The American had already reached multiple Grand Slam semifinals and was the third seed at the tournament, with top seed and world number one Steffi Graf heavily favoured to defend her title.
Capriati stormed through to the semifinal without dropping a set, with a three-set win against Arantxa Sanchez Vicario (yep, her again) sealing her spot in the final against Graf. The German was seemingly easing towards a second gold medal after she took the opening set though Capriati was able to turn things around, producing some astonishing tennis to comeback and prevail 6-4 in the decider. She became one of the youngest gold medalists in Olympic history.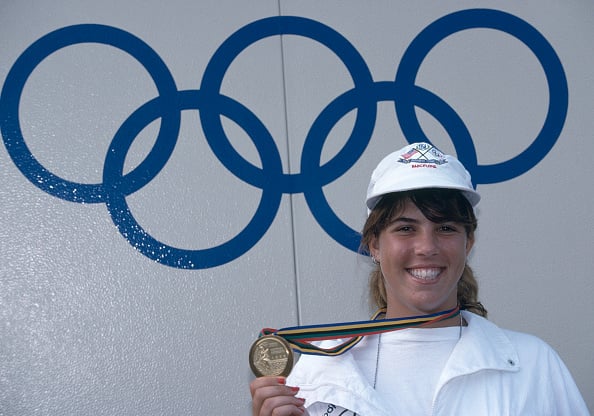 6: Russian Sweep in Beijing
To see two athletes from the same nation on the podium together is something special, but the Russian team went one better than that in 2008 in Beijing with Elena Dementieva, Dinara Safina, and Vera Zvonareva sweeping up in the Women's singles.
Women's tennis in Russian was in the middle of its golden age during the 2000s, with stars such as Maria Sharapova and Svetlana Kuznetsova winning multiple Grand Slam titles. Dementieva, who had won silver in Sydney eight years prior, overcame Serena Williams to reach the last four and set up a meeting against compatriot Zvonareva, whilst Safina faced Li Na in the other semifinal. Dementieva and Safina prevailed in their respective semifinals to set up a gold medal clash, in which the fifth-seeded Dementieva prevailed to win what would prove to be the biggest of her 16 career singles titles.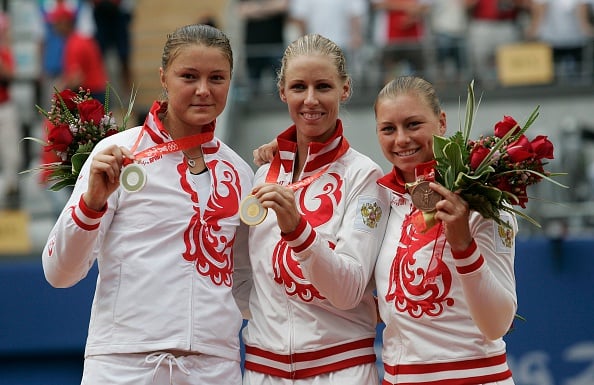 Zvonareva had already prevailed in the bronze medal playoff to ensure that a historic sweep of all three medals would take place, a feat not acheived before or since. The Russian legacy at the Olympic Games has lived on in recent years; Sharapova claimed a silver medal in singles in London 2012, whilst Ekaterina Makarova and Elena Vesnina won doubles gold in Rio.
5: Massu Secures Shock Double
Though both Serena and Venus Williams have won both singles and doubles gold in the same Olympics it is not exactly an easy feat, which makes Nicolas Massu's achievements at the Athens games in 2004 even more surprising.
Massu had a solid career, reaching a career high of ninth, though only ever reached the second week of a Grand Slam once and never won a doubles title outside of these Olympics. The singles draw was blown wide open with six of the top eight seeds (including world number one Roger Federer) out before the quarterfinals, with straight set wins over third seed Carlos Moya and Taylor Dent seeing the Chilean set up a gold medal clash against Mardy Fish.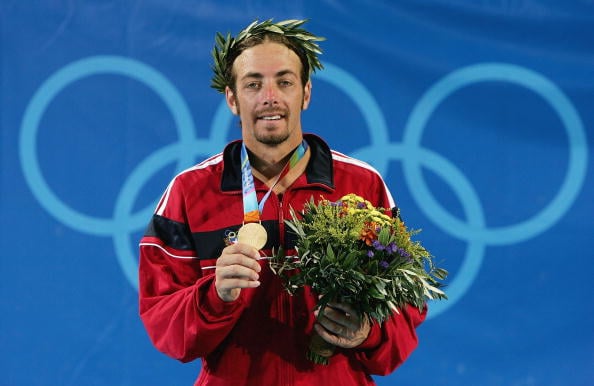 The final was held the day after he and Fernando Gonzalez had made history in the doubles final. The pair had saved four championship points to take the title and win Chile's first ever Olympic gold. Massu added their second just a day later, coming from two sets to one down to take another gold medal. His achievements in Athens are arguably not celebrated as much as they should be, but it is certainly one of the most impressive weeks ever seen at the Olympics.
4: Williams Sisters Win Third Doubles Title
Serena and Venus came into the 2012 Olympics fresh off the doubles title at Wimbledon just a few weeks earlier and were heavily fancied to win Olympic gold again. After missing out in Athens in 2004 due to Serena not playing, the pair regained the title in Beijing eight years after winning in Sydney and were aiming for a historic third gold in London.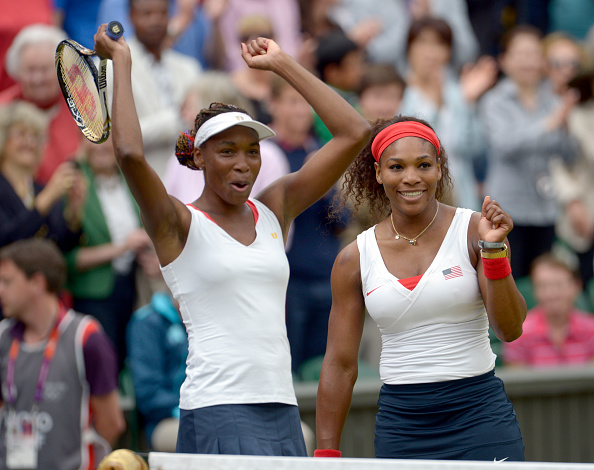 They were unseeded at the event but had no trouble in reaching the final without dropping a set, beating the likes of second seeds Sara Errani and Roberta Vinci and third seeds Maria Kirilenko and Nadia Petrova on their way to the final. With Serena dropping just one game in her singles final against Maria Sharapova the day before there could be no doubt that they were huge favourites for the final, and they delivered.
The final against Czech pair and fourth seeds Andrea Hlavackova and Lucie Hradecka was not easy but the duo had more than enough, winning in straight sets to win what was a fourth gold for each of them. It is unlikely that anyone else will ever win four golds, or win the same event three times; they are truly Olympic greats.
3: Murray Takes Gold on Home Soil
The event in London 2012 was held at the All England Club just a few weeks after the end of Wimbledon, and it could have easily been a painful return for Murray. He had suffered a fourth Grand Slam final defeat, to Roger Federer in four sets, in his first final at SW19, and many saw Federer or Novak Djokovic as the favourites for the gold medal.
Murray, Djokovic, and Federer all made the last four alongside Juan Martin del Potro. Having dropped just one set, Murray was in impressive form, and impressed further as he saw off Djokovic in two tight sets to reach the final. In contrast, Federer prevailed in a four-hour semifinal against del Potro as he continued his quest for his first singles gold.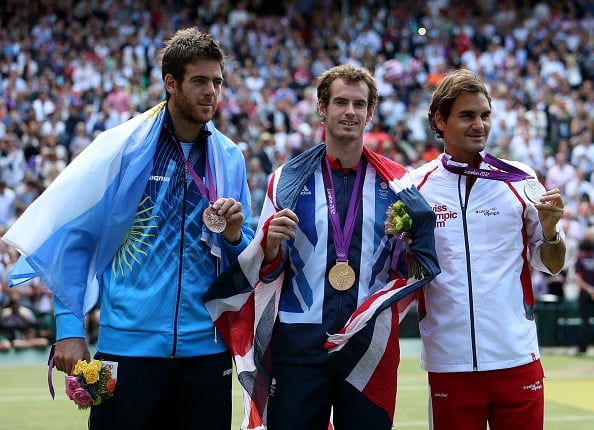 It was a rematch of the final four weeks prior, but it was certainly not going to be the same result. Federer did not seem at his best following his semifinal and with Murray playing well, the Brit was always in control. The Brit dropped just seven games to take the gold medal, much to the delight of an adoring home crowd, and would later take mixed doubles silver alongside Laura Robson. He would capture his first Grand Slam at the US Open later that year, with the Wimbledon title following in 2013.
2: Puig Powers to Puerto Rican History in Rio
If Nicolas Massu's triumph in Athens in 2004 was surprising, it is hard to find a word to describe Monica Puig's achieved in Rio de Janeiro 12 years later. Puig had set qualifying for the Olympics as her goal for the season and had managed to achieve that, ranked 34th coming into the tournament.
The Puerto Rican seemed inspired early on as she did not drop a set on her way to the last four, with that run including a dominant 6-1, 6-1 win over reigning French Open champion Garbine Muguruza. Her toughest test to date came in the last four against another Grand Slam champion in Petra Kvitova, though Puig overcame the 11th seed in three sets to set up a gold medal clash against Angelique Kerber.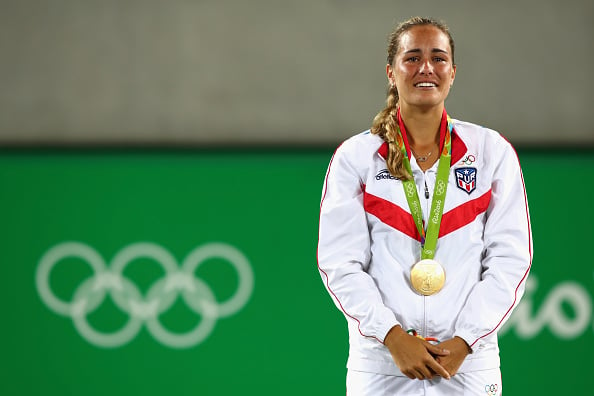 Kerber was in the middle of her greatest season. She had already won the Australian Open title and reached the Wimbledon final, and would become world number one after winning the US Open a few weeks later. After levelling at one set all it seemed the German would take the title; Puig had other ideas. Despite dropping the second set, the Puerto Rican dropped just one game in a dominant deciding set.
She had made history by winning Puerto Rico's first ever Olympic gold, and became one of the most memorable Olympic champions in recent years. She has not reached those heights since then, but this moment will be embedded in the mind of tennis and Olympic fans for years to come.
1: Graf Captures Historic Golden Slam
It took a lot of thought to decide what moments to include on this list and in what order to include them, but for me there was only ever one choice to put as number one. Steffi Graf is undoubtedly one of the all-time greats of the sport, and her achievements in 1988 are almost unbelievable.
The German, who only turned 19 in the June of this season, had beaten Chris Evert in the Australian Open final, Natasha Zvereva (in a double bagel) in the French Open final, Martina Navratilova in the Wimbledon final, and then Gabriela Sabatini in the US Open final to complete the calendar Grand Slam. It was an achievement rightfully celebrated, though the focus quickly switched as to whether she could also capture the Olympic title on tennis' official return to the games.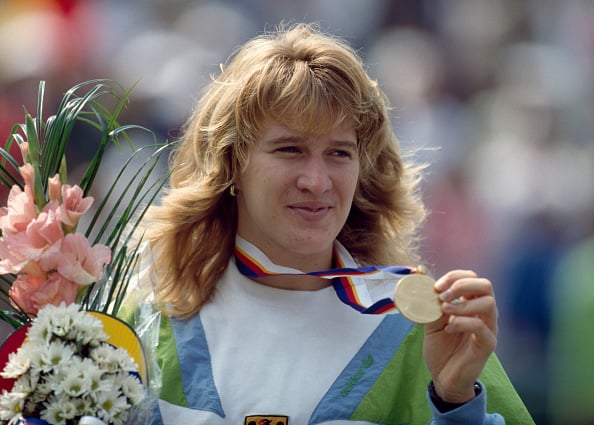 Graf was undoubtedly the huge favourite in Seoul and reached the final dropping just one set, to Larisa Savchencko in her quarterfinal match. She had dropped just two games in her semifinal against Zina Garrison to set up a final meeting against Sabatini, one of her biggest rivals of the period. The US Open final between the two just a few weeks before had gone to three sets though it proved to be a much simpler affair for Graf this time; she dropped just six games to beat the Argentine and take the gold medal.
It was a defining moment in her career, capping off what is most likely the greatest season in tennis history. We are unlikely to see anything like her 1988 season ever again and though she would lose the final four years later, her Olympic legacy was sealed.
Who knows what we would have seen if the games had taken place this summer, but we can hope that we will be enthralled by the games in 12 months time. Will Andy Murray or the Williams Sisters claim more historic titles, will Naomi Osaka win gold on home soil, or will we get another surprise champion such as Monica Puig or Nicolas Massu?
I can't wait to find out!