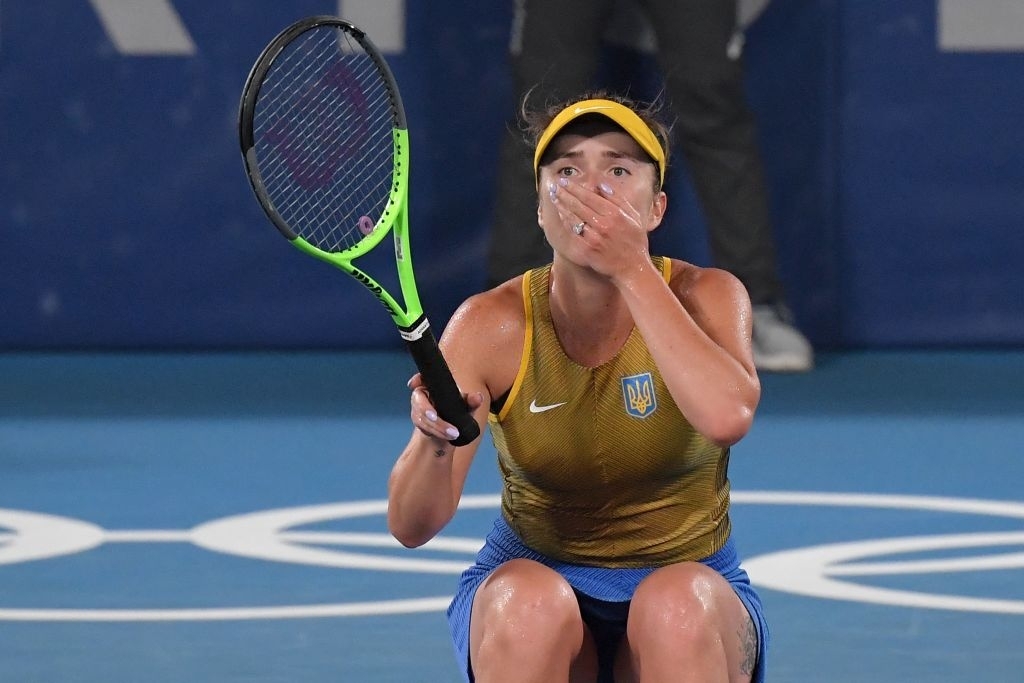 The two losing women's semifinalists at this year's Tokyo Olympics, Elina Svitolina and Elena Rybakina, took to Centre Court at the Ariake Tennis Park for their bronze medal match, following the same contest for the men's singles discipline prior.
In the latter, Spain's Pablo Carreno Busta, in his Olympic debut, claimed the bronze, by upsetting world number one Novak Djokovic, needing six match points of his own to do so.
That result saw Djokovic become the first highest-ranked semifinalist to finish in fourth place, and women's fourth seed Svitolina of Ukraine was looking to avoid a similar record.
A typical match reminiscent of many of her past matches, the Ukrainian was her tenacious self and fought to the end as she came back from a first-set washout to prevail for a historic win, in a tussle lasting two hours and 24 minutes.
Rybakina clears a hurdle to storm through opening set
The Russian-born Rybakina stormed through the first set in just about half-an-hour as the Kazakh national dropped just one game in the process.
Serving to kick off proceedings, the 22-year-old Moscow native's challenge in this set came in the third game, on her serve.
There, in what turned out to be a six-deuce game, Rybakina fended off two break points en route to a big hold of serve.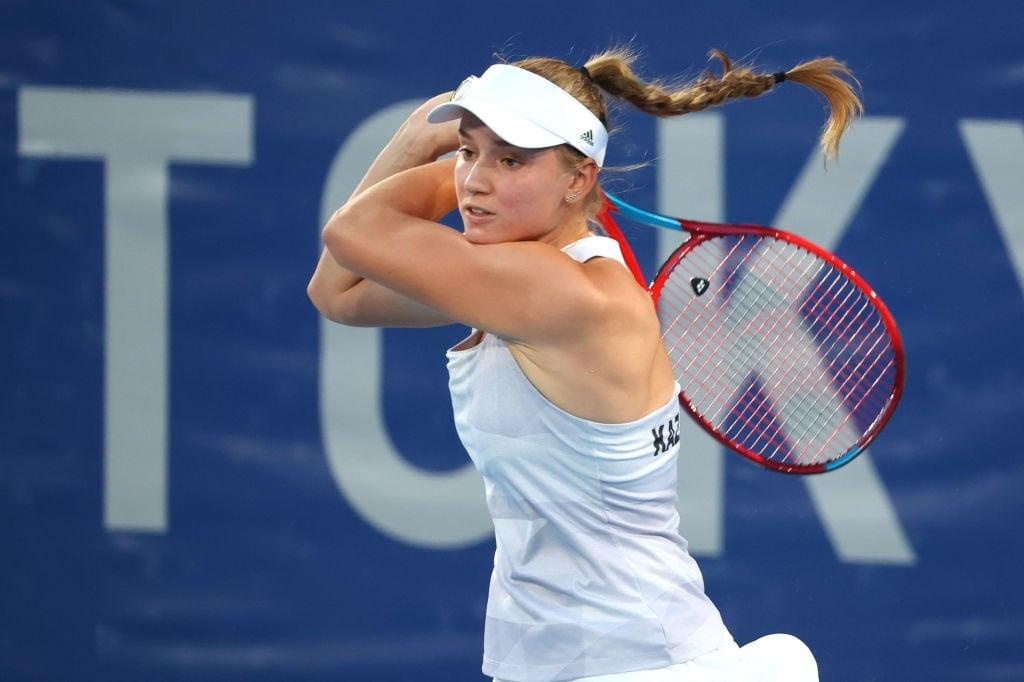 That obstacle past her, it proved to be a decisive feat for the Kazakh's bid for her nation's maiden medal in tennis as she reeled in the next four games in succession, and the set, to win it 6-1.
In that referenced span, Rybakina dropped just five points and won two of three break chances, and closed out the set on serve – with a thundering serve and backhand dropshot winner combo.
Svitolina equalises the match in tight second set
26-year-old Svitolina opened the set with her second hold of serve of the match, doing so to 15, but 15th seed Rybakina maintained her pace as she grabbed a break in the third game, then consolidating the lead with a backhand volley winner in the next game.
The following game saw the Ukrainian record her third service hold to narrow her opponent's lead and then, in the next game, began her surge as she made inroads by enacting three chances to break, converting the third of those.
A routine hold of serve then pushed her ahead in a set for the first time, up 4-3, and after a further five routine service holds, the pair arrived at a tiebreak, the second contested in their three meetings.
There, two-time Grand Slam semifinalist Svitolina went up a mini-break twice but was not able to maintain those leads.
A third one, however, came at 5-5 where the Ukrainian earned herself a set point courtesy of being on the receiving end of a Rybakina volley error.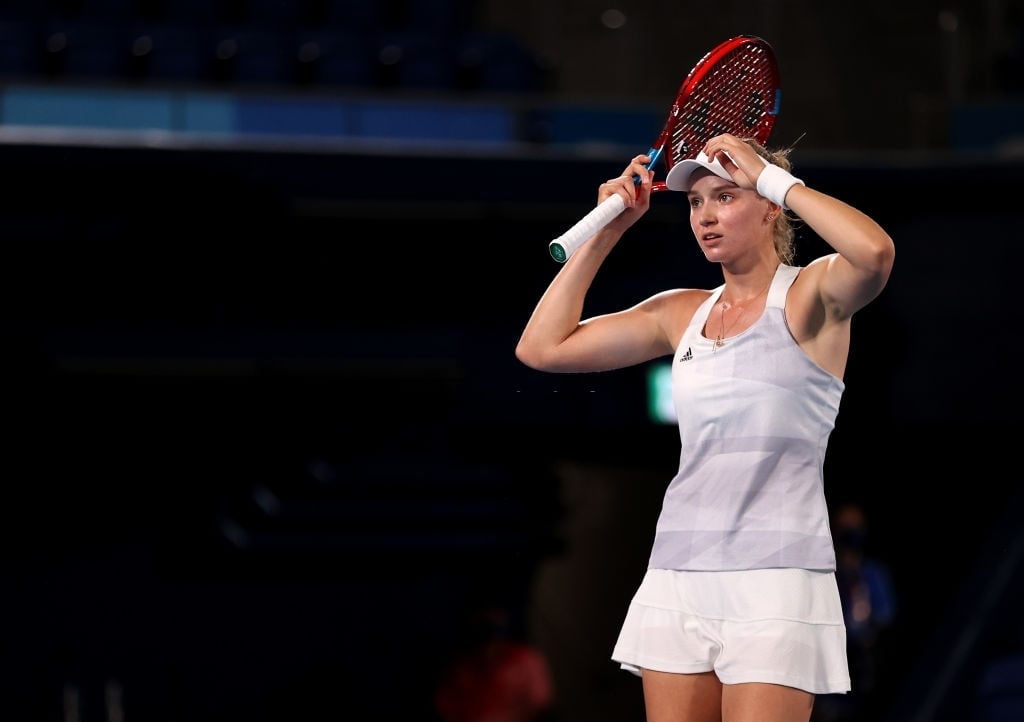 Serving for the set on her own serve, Svitolina forced a return error from her Kazakh opponent to prevail in a set that lasted 63 minutes.
That also marked just the second time where the bronze match was stretched to a deciding set, and the second in a row after the Rio Olympics in 2016, where Petra Kvitova saw off Madison Keys 7-5, 2-6, 6-2.
Svitolina's second resurgence propels Ukrainian to bronze medal
World number 20 Rybakina was the first to take charge in the final set, taking the break in the second game, whilst saving a break point in her first two service games to find herself up 3-0.
The next game saw the Kazakh enact two chances to extend her lead but Svitolina put both away as she next converted her second game point to get on the scoreboard for the first time in the set.
Two more service holds saw the score at 4-2, where Svitolina began writing another comeback of her own as she notched up her tenacity with a three-game winning streak to come within touching distance of the bronze medal.
In that stretch, the Ukrainian's surge saw her surrender six points and breaking her opponent twice, to find herself serving for the win, and it was in the final game where the match reached its climax
There, Svitolina came up with two match points but converted neither, and four more match points followed but Rybakina, time and again, found a winner to prolong Svitolina's bid.
The seventh match point, however, did it for the Odessa-born Ukrainian as she fell to the turf in emotions to relish a historic win for her country.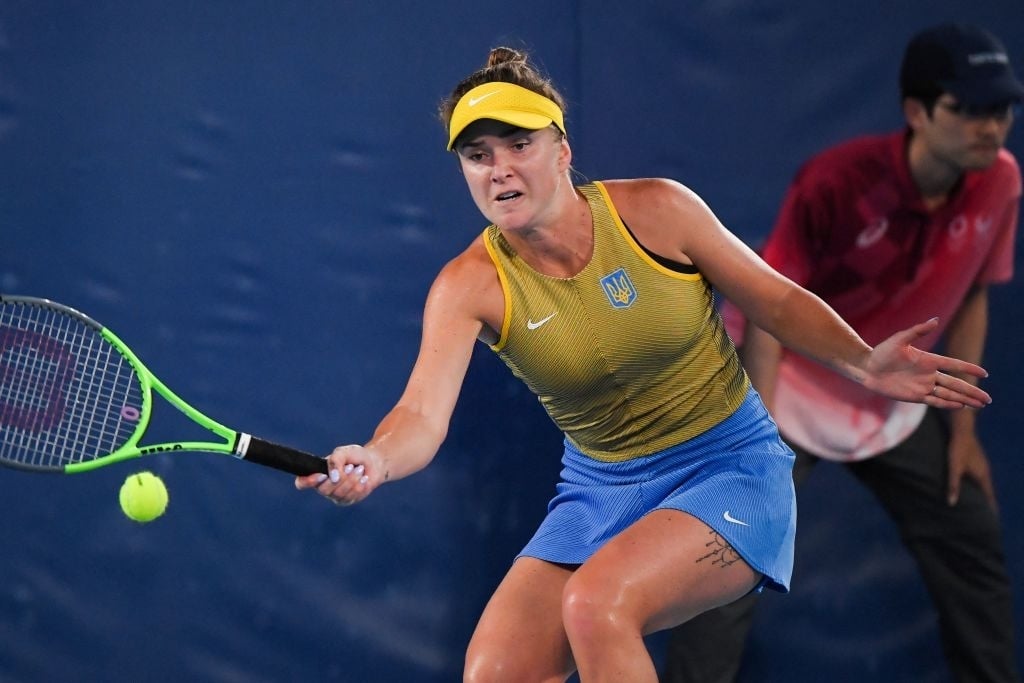 Each of the Ukrainian-Kazakh duo posted near similar numbers in the aces-double faults department, spreading four aces apiece with world number six Svitolina committing six double faults to Rybakina's five.
The above pattern also translated into their first serve percentages, Svitolina at 60 and Rybakina at 59, but the former played better on points behind her first serve, successful in 67% of such points, to her opponents 65%.
Rybakina, who outnumbered Svitolina in the total points won statistic (111 to 105), doubled her opponent's winner count (50 to 25), however, her big-risk game was reflected in her 57 unforced errors against Svitolina's cleaner tally of 29.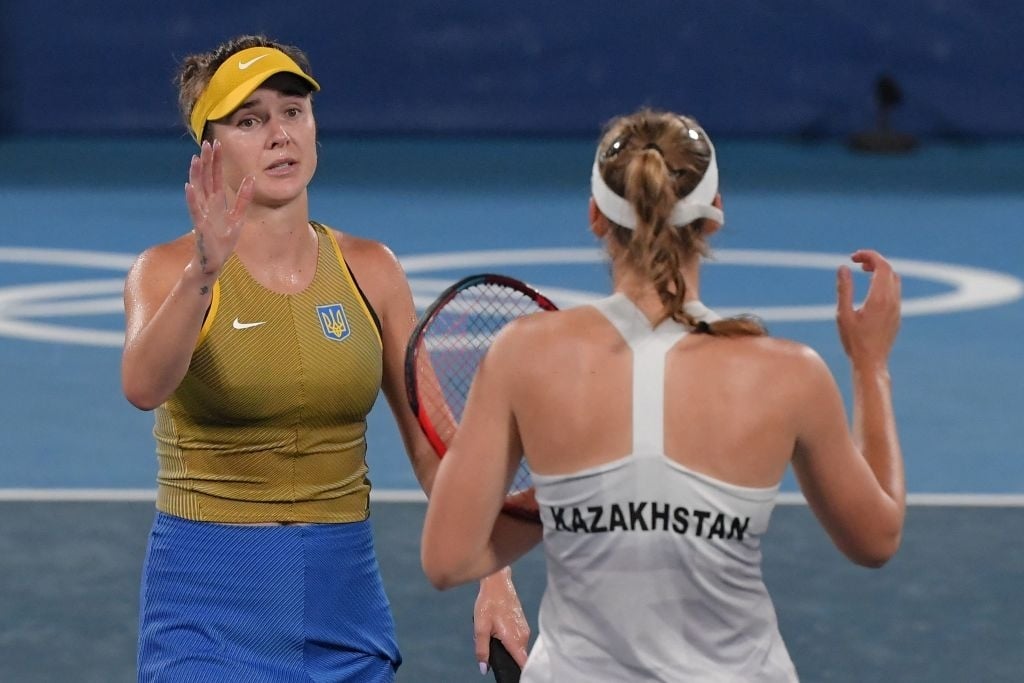 An ecstatic Svitolina spoke after the match: "Coming here, for sure my goal was to win a gold medal, and it was extremely tough to lose in the semi-finals and then try to regroup and come again against a top player who is playing really good."
"A lot of things crossed my mind, honestly – when you lose large in the first set, then miss your serves a couple of times. My secret is to overcome those bad thoughts with something more positive, so I can focus on the future and leave the bad things behind."
"I was upset in the beginning, but I got back, pulled myself together. This was a hell of a match for me, but fighting for a bronze medal meant a lot to me and I was focused on that."
"To win such a big battle for the bronze medal definitely means the world to me. Everyone in Ukraine is watching – we don't win so many medals, you know – so for sure, it's very special for me and for Ukraine," she closed.
Gold medal match at a glance
Following Svitolina's win, the final saw Belinda Bencic soar to Switzerland's third gold medal in tennis, a second in singles, and first for a woman, as she topped Czech lefty in Marketa Vondrousova in three sets.
This marked the second Olympiad in a row where both bronze and gold medal matches in women's singles went the distance.
There is more to celebrate for both the Swiss and Czech contingents as they are represented in the women's doubles championship, set for tomorrow.
There, Bencic and fellow Swiss Viktorija Golubic go up against multiple-time Grand Slam champions Barbora Krejcikova and Katerina Siniakova.