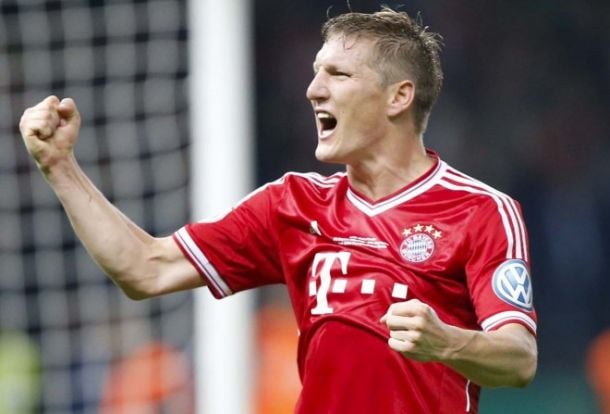 Manchester United officials are reportedly in talks with Bastian Schweinsteiger representatives, according to journalist Ben Fairthorne. The Daily Mail Sport further supports this, claiming Manchester United want the German midfielder.
If Manchester United are to go through with this transfer, it will be for a fee of around £20-£30 million and will be completed after the World Cup. Bayern Munich will not be willing to sell for anything less than this. However Pep Guardiola several months ago rubbished on rumours of a fall out, which is the given reason as to why Bastian Schweinsteiger wants to leave the club. The Catalan coach is quoted by Marca's Pepe Iniguez as saying: "There isn't any problem. He's been injured, but he's a great player."
The Observer has claimed on several occasions that Manchester United are still interested in long-term target, Kevin Strootmen. But his long-term injury issues may deter the club. Van Gaal has further been chasing Toni Kroos and Dutch youngster Jordy Clasie, according to reports in their native countries. Although Kroos has openly quashed these rumours claiming a move to Manchester United "Has never been on the cards."
According to the majority of English national papers such as the Guardian and The Daily Mail, Louis Van Gaal is desperate to improve the Manchester United central midfield position. He is reportedly of the belief that this is the weakest position, for his new side and they will have to improve here if they are to climb the table back to where they so often turn out to be. Van Gaal is also well known for his two altering passing systems during his managerial career. Either fast and furious or a less in depth version of 'Total Football' and with Guardiola having a large variety of wealth and depth available to him with players such as Kroos, it would not be hugely surprising if Schweinsteiger would be allowed to leave for a certain price.
Bastian Schweinsteiger scored 8 goals and contributed 4 assists to his club side Bayern Munich, who won the Bundesliga in record time this season. Schweinsteiger didn't play as often as one would expect, for a club legend still in his prime. Munich fans will demand a good transfer fee for the player, due to how attached they are to the player who has won several league titles and a Champions League with the German side. Even with his club future undecided and his season this year not being up to the high standards he is used to, he is still expected to play a major role in Germany's World Cup side in the coming weeks as Germany look to win another World Cup.