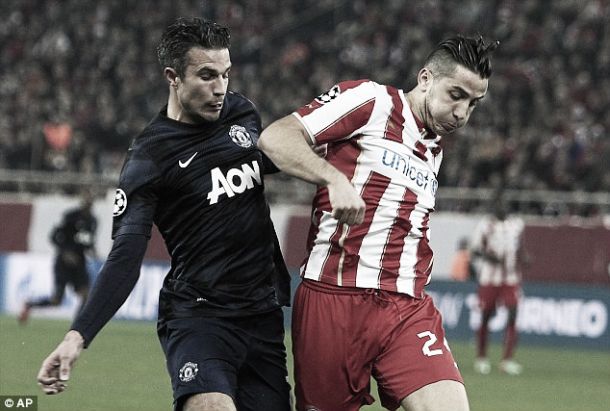 With out of favour club captain, Thomas Vermaelan reportedly on his way to Manchester United for between £10-12m, Arsenal are considering possible replacements. One such repplacement is 23-year-old Greek international Kostas Manolas. This is not the first time Manolas has been linked to the Premier League as Everton were close to signing him in 2012 however, the defender opted to stay with his beloved AEK Athens.
The promising centre-back is the nephew of Greek football legend, Stelios Manolas. Like his uncle, Manolas has played as a centre back for both AEK Athens and Greece and has the potential to surpass his uncle's legendary status. Manolas joined Olympiakos in 2012 as AEK were struggling to keep their star players due to financial difficulties. During his first season in Piraeus, Manolas won a domestic double including his first Super League title. The Greek defender has also played in Europe since the age of 19 and started playing in the Champions League at 21.
It's easy to suggest the standard of football in Greece isn't a good enough gauge on a player's ability, especially since the decline of Panathinaikos and AEK. Olympiakos ran away with the title last season and were on track to break personal league records for wins, goals scored and goals conceded. The Greek giants were so far ahead in January, they had the luxury of selling star striker Kostas Mitroglou to Fulham.
The undeniable gauges on Manolas's ability however, are Champions league and international competitions. Manolas has played two seasons of Champions League football to date including two meetings with Arsenal. The defender's most recent campaign in Europe was particularly successful as Thrylos reached the last 16, keeping clean sheets against Anderlecht, Benfica and Manchester United, narrowly missing out on the quarter-finals.
Manolas has also made 13 international appearances for Greece, recording seven clean sheets as a centre-half . Manolas was also a key contributor to Greece reaching the World Cup last 16. Greece are known for having a disciplined and hard to break defensive line which thanks to Manolas was as sturdy as ever. A notable performance came against Japan where Greece kept a clean sheet after losing captain Kostas Katsouranis to a red card and conceding 74% possession. Another notable performance came against Costa Rica who only managed a single shot on target in 120 minutes of football. Manolas and Papastathopoulos were at times the only defenders in the match, closing out Joel Campbell, allowing the remaining eight players to push higher up the pitch.
Arsenal have coincidently met Olympiakos on multiple occasions, with many of their players being linked to the Gunners. Manolas is another such player and also fits the need of a younger defender who can make an immediate impact but, will also be more willing than Vermaelan to wait for first team football.
Manolas is a defender who similarly to Mertesacker can read play well and use his size to bully attackers. At 23 he still has plenty of time to develop and will need to work on his decision making. Manolas occasionally makes risky and aggressive challenges, one of which cost Olympiakos a penalty against Manchester United in the away leg of their of the Champions League last 16.
Manolas's style would strongly favour Arsenal, with a physically imposing frame and the composure and confidence on the ball to make smart decisions. His vast experience after just turning 23 will also be a vital asset for the club. The Gunners will undoubtedly be looking to make bigger strides in Europe after some positive performances against strong opposition but, ultimately, a slightly premature exit in the competition. According to Metro a Manolas could be signed for a fee of around £10m with Juventus also interested.