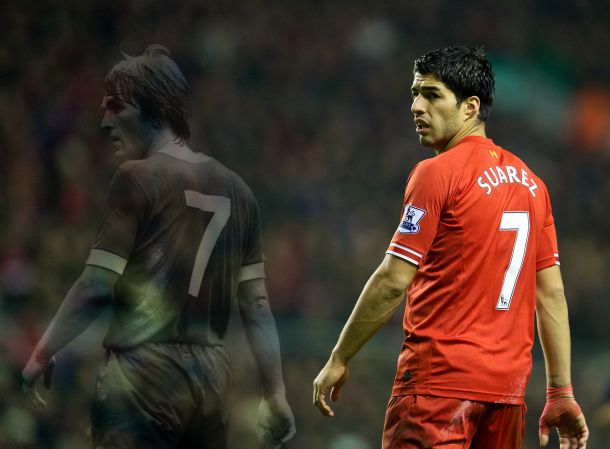 With the departure of Luis Suarez finally being completed, it means another legend that has worn the legendary number seven shirt, leaving it vacant for potentially another legend. In this article we look into the legends that have wore the number seven shirt previously for Liverpool.
The most recent legend to grace the Anfield turf wearing the number seven shirt was the Uruguayan Luis Suarez. Luis Alberto Suarez Díaz was born in Salto, the second-largest populated city in Uruguay behind the capital, Montevideo. As a youngster he began his professional career with Nacional in Montevideo and helped them to win the Primera División in 2005/06 while still a teenager. Inevitably, as with many other promising players from South America, he came to the attention of a number of European clubs and this led to a move to Groningen in Holland when he was still only 19 years old. In January 2011, Suárez transferred to Liverpool for €26.5 million (£22.8 million).
During his time with the 'Reds' he gave defenders torrid times, most notably the Norwich defence three seasons in a row, scoring twelve goals in just three years. Despite some controversial moments in a Liverpool shirt, Uruguay shirt and an Ajax shirt, which inflicted hefty bans for the player. After the ten-match ban for biting Branislav Ivanovic, he was named as the Football Writers' Player of the Year shortly after receiving a similar award from the Professional Footballers' Association for being top scorer in the Premier League and nearly leading Liverpool to the Premier League trophy. He ended the season with 82 Liverpool goals from 133 matches, scored 30 club goals for the second successive season.
To end the on-going transfer saga of Luis Suarez, Liverpool agreed a transfer-fee with Spanish giants Barcelona, believed to be £75million.
Luis Suarez Liverpool Career Stats:
Win ratio: 50.38% W: 67 D: 30 L: 36
Games/goals ratio: 1.62
LFC league games/goals: 110 / 69
Total LFC games/goals: 133 / 82
1st LFC Goal- vs. Stoke City in February 2011 at Anfield
50th LFC Goal- vs. Spurs in March 2013 at Anfield
Final LFC Goal- vs. Crystal Palace in May 2014 at Selhurst Park
Kevin Keegan
Joseph Kevin Keegan born 14 February 1951, in Armthorpe Doncaster played for clubs including Liverpool, Hamburger SV and Newcastle.
On 14 August 1971, Keegan made his Liverpool debut against Nottingham Forest at Anfield, scoring after 12 minutes. Although originally signed as a midfielder, his ability soon prompted manager Bill Shankly to employ Keegan upfront as a partner for John Toshack.
In 1973, Keegan won his first domestic honours. Keegan helped Liverpool win their first League championship in seven years as well as the UEFA Cup. Keegan scored twice in the first leg of the final as Liverpool overcame Borussia Mönchengladbach 3–2 on aggregate.
In 1977, Keegan helped Liverpool progress towards an unprecedented "treble" of League championship, League Cup and European Cup, though midway through the season he announced his intention to leave in the summer to play abroad. Nevertheless, Keegan was irrepressible as Liverpool clinched the title and reached the finals of both Cup competitions. Keegan's last appearance in a Liverpool shirt on home soil, however, saw Liverpool lose the FA Cup final to bitter rivals Manchester United, ending the possibility of the "treble". The European Cup final in Rome against Borussia Mönchengladbach was four days later. Keegan did not score, but he did make a late run, which led to a foul inside the penalty area by Berti Vogts. This led to a penalty, which was successfully converted by Phil Neal, sealing a 3–1 win.
After 323 appearances and exactly 100 goals, Keegan left Liverpool as promised. He had been made offers from clubs across Europe, and chose to join Hamburg SV in the West German Bundesliga for £500,000. Liverpool replaced him with Kenny Dalglish. Of his time in Liverpool, Keegan later said, "The only thing I fear is missing an open goal in front of the Kop. I would die if that were to happen. When they start singing 'You'll Never Walk Alone' my eyes start to water. There have been times when I've actually been crying while I've been playing."
Kevin Keegan Liverpool Career Stats:
Win ratio: 54.8% W: 177 D: 88 L: 58
Honours: League Championship: 1972/73, 1975/76, 1976/77; FA Cup: 1974; European Cup: 1977; UEFA Cup: 1973, 1976; FWA Footballer of the Year: 1976
Games/goals ratio: 3.23
Total games/goals opposite LFC: 7 / 1
LFC league games/goals: 230 / 68
Total LFC games/goals: 323 / 100
Ian Callaghan on Keegan
"The lap of honour was fantastic. I am so pleased for them. Tonight was great and tomorrow for the homecoming will be tremendous. This was the perfect ending for me. I have played my last game for Liverpool. I have no regrets. It is a fantastic way to finish. I have only stayed on for this season because the club chairman asked me to stay to help to try to win the European Cup. I have kept my side of the bargain."
Shankly on Keegan in late August 1971.
"The self-appointed representative of the Kop came on the field to greet me. He gave me a kiss, and the smell of booze on his breath almost knocked me off my feet. He needed a shave as well as his beard was rough. The police accepted this ritual whenever there was a new player. This Kopite was a nice old fellow with no harm in him. He kissed me, then kissed the grass in front of the Kop and went back to join his mates in the crowd."
Kenny Daglish
Finally, arguably the best Liverpool player of all time, Kenny Daglish graced the Anfield turf in the number seven shirt for thirteen years, making 501 appearances.
Kenneth Mathieson Dalglish was born in Dalmarnock in the east of Glasgow only a short distance from Celtic's Parkhead. Dalglish was signed to replace Kevin Keegan, and Liverpool supporters were initially sceptical that he could perform this task.
He scored his first goal for Liverpool in his league debut a week later on 20 August, against Middlesbrough. Dalglish also scored three days later on his Anfield debut in a 2–0 victory over Newcastle United, and he scored Liverpool's sixth goal when they beat Keegan's Hamburg 6–0 in the second leg of the 1977 UEFA Super Cup final. By the end of his first season with Liverpool, Dalglish had played 62 times and scored 31 goals, including the winning goal in the 1978 European Cup Final final at Wembley against Bruges.
After becoming player-manager on the retirement of Joe Fagan in 1985, Dalglish selected himself for just 21 First Division games in 1985–86 as Liverpool won the double. On the last day of the league season, his goal in a 1–0 away win over Chelsea gave Liverpool their 16th league title.
With the sale of Ian Rush to Juventus in 1987, Dalglish formed a new striker partnership of new signings John Aldridge and Peter Beardsley for the 1987–88 season, and he played only twice in a league campaign which saw Liverpool gain their 17th title. Dalglish did not play in Liverpool's 1988–89 campaign. His final goal had come three years earlier, in a 3–0 home league win over Nottingham Forest on 18 April 1987.
Daglish has managed Liverpool twice one in 1985-1991 and again in 2011-12. Now, his role is a non-executive director.
Kenny Daglish Liverpool Career Stats:
Win ratio: 60% W: 309 D: 120 L: 86
Honours as a player: League Championship: 1978/79, 1979/80, 1981/82, 1982/83, 1983/84, 1985/86; FA Cup: 1986; League Cup: 1981, 1982, 1983, 1984; European Cup: 1978, 1981, 1984; FWA Footballer of the Year: 1979, 1983, PFA Player of the Year: 1983
Manager: League Championship; 1985/86, 1987/88, 1989/90; FA Cup: 1986, 1989; League Cup: 2012; Manager of the Year: 1986, 1988, 1990
Games/goals ratio: 2.99
LFC league games/goals: 355 / 118
Total LFC games/goals: 515 / 172
Dalglish on the day he signed for Liverpool.
"I was such a competitive player that I have punched defenders in my desire to win. It's not something I am proud to admit, but in the heat of matches it's easy to get carried away. My second worst moment of retaliation came in Europe against the Belgian defender Renquin. I couldn't believe he hadn't been dismissed. He had a tug at me, so I just swung my elbow, caught him right in the mouth." said Daglish. "Two teeth came out and landed in the grass. I just kept running. Renquin was lying on the pitch. He got up and wasn't too pleased. There was a gap in his teeth. Elbowing him hurt me as well. My arm swelled up and there were two holes where his teeth had been, the impact had punctured my skin."
Paisley on Daglish
"They set me up. Kenny got me booked and Souey got me sent off. They certainly set out to wind me up and they succeeded. They were crafty. I was wound up anyway going back to Merseyside and they did me a treat."
Also to wear the infamous number seven shirt- Peter Beardsley, Vladimir Smicer, Nigel Clough, Steve McManaman, Ian Callaghan.
(Quotes and stats from http://www.lfchistory.net)