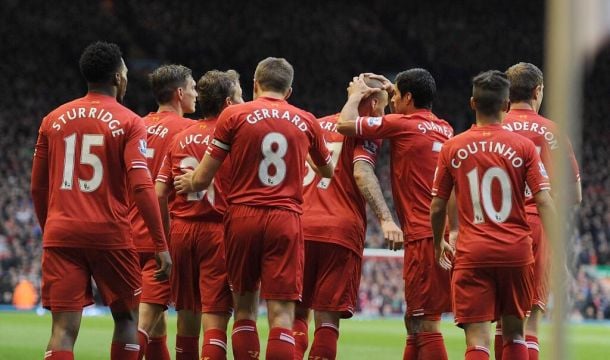 Sunday 19th May 2013, 4:49pm: The final whistle blows in Liverpool's 38th league game of the 2012-13 season. Fans look to the ground, relatively disappointed with the mediocre season the legendary club has had. Jamie Carragher walks off the pitch, applauded by everyone in the ground. Fans stand and applaud in their living rooms. The career of a legend has come to an end. But that does not hide the fact that Liverpool should be doing better than they did this season, even during a transition period.
Just 90 days down the line and Liverpool are beginning their 2013-14 campaign with a home game against Stoke City. The Reds edged out a 1-0 victory over the Potters, however, it was far from easy. Debutant Simon Mignolet, who signed from Sunderland for around £9 million, was forced into emergency action late in the game, denying a Jonathan Walters penalty in the 89th minute. Liverpool hung on for a narrow victory, their first opening day victory at Anfield since 2001.
They made it 6 points out of 6 with a tight victory over Aston Villa at Villa Park, with Daniel Sturridge scoring the only goal of the game. This was his 2nd goal in as many games, and it gave Liverpool their best start to a season in 5 years. However, it was evident that defensive additions were needed whilst the transfer window was still open, with Kolo Toure not being enough in defense to stop Christian Benteke, who is far from the best attacker in the league.
Liverpool's next game saw Notts County take them to extra time in the Capital One Cup, before crumbling under the pressure of the Premier League side. Liverpool ended up winning the game 4-2, with Daniel Sturridge and Jordan Henderson scoring in extra time to lead Rodgers side into the next round. 5 days later, Liverpool played host to long term rivals Manchester United. Again, it was Daniel Sturridge who gave Liverpool a narrow 1-0 victory, scoring early in the match to secure a 3rd successive victory.
However, the 100% start soon came to an end for Rodgers and co, with a 2-2 draw to Swansea City at the Liberty Stadium, and ex-Red Jonjo Shelvey played a huge part in all 4 goals, scoring one, assisting one and gave away 2 with very costly mistakes. The Reds then dropped more points in their following game, against Southampton, losing 1-0 to the Saints at Anfield. Dejan Lovren scored the only goal of the game in the 53rd minute, meaning the south coast side had a happy trip home. The next game saw the return of star man Luis Suarez, after a 10-game suspension for biting Chelsea's Branislav Ivanovic. However, it would not be an easy game, with the Reds having to face Manchester United again, this time in the Capital One Cup. Unfortunately, Suarez could not win the game for Liverpool, and they crasged out in the 3rd round after a 1-0 defeat. Sunderland were next on the agenda, and Liverpool were determined to get back on form, after a poor run of results. The Reds left the Stadium of Light with 3 points, after a dominant 3-1 win over the Black Cats.
Through October, Liverpool kept up results, bagging 7 of a possible 9 points. They achieved this with a 3-1 win over Crystal Palace, a 2-2 draw with Newcastle and a 4-1 victory over West Bromwich Albion. This meant they scored a massive 9 goals in just 3 matches! However, they conceded 4, so even with last minute defensive additions Mamadou Sakho and Tiago Ilori, the Reds could not plug the gap in their defense!
November was not quite as successful for Rodgers side, with Liverpool dropping 5 points, only gaining 4! However, they had a more difficult draw, having to face Arsenal (2-0 loss), Fulham (4-0 victory) and Everton (3-3 draw). This just about kept Liverpool in 2nd, but only on goal difference over Chelsea. Liverpool approacheda hectic December needing to pick up form again if they wanted to continue their fight for Champions League football.
They entered December with an away game at the KC Stadium, a sure fire win. But Hull City came out storming, and brushed the visitors aside with a 3-1 win! But Liverpool, determined to please fans, found momentum from somewhere to get 12 points from their 4 games that followed Hull. With a comfortable 5-1 home win over Norwich, a 4-1 win over West Ham, a stunning 5-0 victory at White Hart Lane and a 3-1 win over Cardiff back at Anfield, the Reds were on fire heading into Christmas. After their recent run of results, Liverpool had forced their way to the top of the table by Christmas day. But they had their most difficult portion of the season yet to come.
First up was a difficult clash with Manchester City at the Etihad Stadium on Boxing Day. The Reds took the lead through Philippe Coutinho early on but Machester City prevailed to win the game 2-1, with goals from Kompany and Negredo defeating the visitors. Next up, Liverpool had another difficult away game, this time at Stamford Bridge. Again, the Reds gained an early lead, this time through Martin Skrtel, but were again down 2-1 by half time. This is how the match ended and Liverpool were now on the verge of leaving a Champions League spot behind.
The reverse fixtures now began and the Reds began the new season looking for revenge against Hull City. Goals from Daniel Agger and Luis Suarez gave Liverpool a 2-0 victory, momentum much needed entering the New Year. This was followed up by a 2-0 victory over Oldham Athletic in the FA Cup 3rd round. A 5-3 away victory at Stoke and a 2-2 draw at home to Aston Villa kept the Reds pushing on before yet another FA Cup game, this time away to Bournemouth at the Goldsands Stadium. Another 2-0 victory pushed Rodgers side on to the 5th round, and on to a Merseyside Derby. Liverpool raised the roof on the chilly January evening, thrashing the Toffees 4-0!
February arrived and Liverpool carried on powering through any obstacle. They had a tricky moment with a 1-1 draw to West Brom, but after that, they drove forward. A 5-1 victory over Arsenal pushed them on, and a 3-2 win over Fulham followed, although Arsenal got their revenge, with a 2-1 win over Gerrard and co in the FA Cup 5th round, Liverpool's first defeat of 2014. The Reds finished February on a high with a 4-3 victory over Swansea.
The Reds continued to march towards Champions League and a possible league title through March, with an astonishing 15 points out of a potential 15! A 3-0 victory over Southampton began the month, their first victory over the Saints since they got promoted from the Championship in 2012! Another 3-0 victory followed, this time over Manchester United, a result Liverpool fans didn't mind shouting about. A scrappy 6-3 victory over Cardiff was next, before another lucky 2-1 win over Sunderland was won by the Reds. Their final game in March saw Tottenham visiting Anfield, awaiting another possible thrashing. That's exactly what Liverpool gave them, winning 4-0 this time round.
April began and Liverpool fans started realising a title was looking more and more likely, although Manchester City and Chelsea still stood in their way. The first hurdle was West Ham. The Reds won the game 2-1 to keep their title hopes alive. Next was Manchester City, although this time round, the game was at Anfield. Liverpool came out on fire, gaining a 2-0 lead by half time, although soon after, City had pulled it back to 2-2. But then, with less than 10 minutes left, Brazilian playmaker Philippe Coutinho fired Liverpool back into the lead. That was the last goal of the game, but more action was to come, with Jordan Henderson getting sent off in injury time for a reckless challenge on Frenchman Samir Nasri.
Liverpool came out next week, still on fire from the dramatic 3-2 victory over Manchester City to defeat Norwich by the same scoreline. As soon as that match was over, players and fans alike were thinking ahead to the difficult fixture against Chelsea the following week. The game arrived quicker than anyone expected, and Jose Mourinho played his usual mind games with the opposition. However, with this game most likely being the title deicder if Liverpool won, Mourinho decided to play defensive. His tactics worked and Chelsea left Anfield victors, after a 2-0 win.
Liverpool began May with a trip to Crystal Palace. Liverpool looked certain to win, being 3-0 up until the 79th minute. But Palace gave it everything they had, and pulled it back to 3-3! This was a huge dent in Liverpool's title challenge and ultimately cost them the title. Liverpool entered the final weekend knowing all was still to play for, provided West Ham defeated Manchester City. The Reds had Newcastle, who took a 20th minute lead through a Martin Skrtel own goal. However, Liverpool turned it around in the second half with 2 goals in quick succession. However, it wasn't enough and Manchester City defeated West Ham United 2-0 to win their 2nd title in 3 years.
Despite narrowly missing out on the title, it was far from an unsuccessful season for Liverpool. They climbed 5 places from their 2012-13 finish, and the squad was not neccessarily stronger than the previous season. Brendan Rodgers style seems to have stuck in the players minds, with it being second natire to a majority of the squad by now. Rodgers has also shown faith in many of his youth talents. 19-year old Englishman Raheem Sterling featured heavily for the Liverpool squad throughout the season, especially in the latter stages. His creativity and flair gave him the edge over other players, such as Iago Aspas, who very rarely featured for Liverpool, spending most of his time on the bench.
Another surprise youth player to be included regularly in the squad was Jon Flanagan. The young Englishman has not been fantastic for Liverpool, playing most of his games at left back, but he's the best option they have had, with Aly Cissokho being below Flanagan's level and Jose Enrique being out of favour when not injured. His contributions to Liverpool's title fight have put him on the standby list for Englands World Cup Squad.
However, even though Liverpool finished in 2nd palce, there's numerous weaknesses in the squad. Many fans would appreciate a defensive shopping spree, with 2 new full backs and at least one new centre back being on the shopping list. New defensive and attackive midfielders would also be welcome. One man to be strongly linked with a move to Anfield this summer is Englishman and Bournemouth-born Southampton star Adam Lallana. A £25 million price tag is being rumoured, although most fans are cautious about paying this much due to the disappointment of previous big money signings such as Andy Carroll and Stewart Downing.
Rodgers is also trying to adapt his players and find their best positions, having experimented with numerous formations this season. Early on, a 5-3-2 was used, with wing backs and 3 centre backs used per game. However, as the season went on, it was evident that 4 at the back was best for Liverpool. 4-3-3 has been used, with an attacking trio of Suarez, Sturridge and Sterling being extremely effective in front of goal. But Rodgers has also enjoyed using a diamond midfield in a 4-1-2-1-2 to exploit space down the middle of the park. However, formations could most certainly change again next season, but it all depends on who comes and goes throughout the summer.
Brendan Rodgers has been given a transfer fund of £60,000,000 (£60 million) to spend during the summer and Managing Director Ian Ayre has confirmed that the Northern Irish manager will be given a say in who the club bring in this summer. But will Liverpool be able to improve on an incredibly strong season? Many believe so, but many transfers will be needed to give the squad enough depth to perform well at both Premier League and Champions League level throughout the next season.
Although the squad may have had many faults in the past season, there has also been a number of positives to comment on. They were extremely clinical in front of goal, scoring 101 goals in the Premier League. In addition, they have a world renowned attack in Suarez and Sturridge, which will be feared in club and European football next season.
But how well will Rodgers side do next season? Many beleive they'll have a season similar to the one they had this season, but they also have the added pressure and fatigue of the Champions League, which will not be dealt with well unless Liverpool can improve their squad size. This season has been a much more successful one for the Reds, one the fans will be proud of, and one the club are pleased with. Liverpool fans are finally finding their voices and are once again, able to shout about current success at their club.