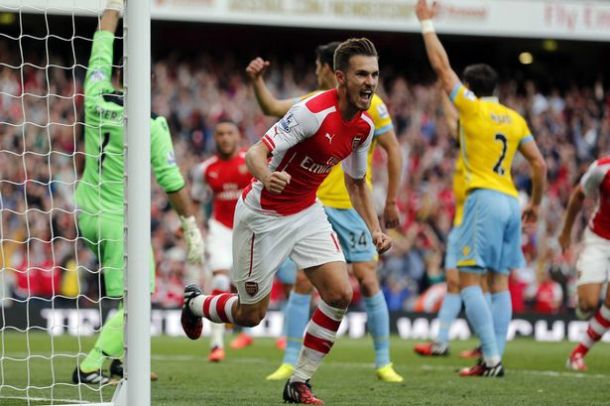 Mikel Arteta was handed the Arsenal captaincy following the departure of Thomas Vermaelen to FC Barcelona. The Spaniard belives that Aaron Ramsey will be the key to Arsenal's success this season, following a remarkable development over the previous year.
The Welshman scored the all important winner in the dying minutes of their opening Premier League tie against Crystal Palace. Ramsey, showed his desire as always, to score goals and give 100 percent in every game that he plays, topping off his performance with a goal.
Mikel Arteta on; Comparisons with Cesc Fabregas:
"He reminds me a little of Fabregas when he was here. At his best, he was coming off the front, making the final ball and scoring very important goals.
"I think his confidence is really high at the moment, physically he can do whatever he wants and technically he is in a very good state so he is one of the most important players in the team.
"He has shown in the past two seasons how much he is able to improve so I think he can do even more."
Arteta on; Ramsey's difficult period:
"First of all, he showed great character because I remember the days when he used to come here and some people used to be against him. To get through that and feel the love that he feels now is very important.
"The manager has also backed him big time. If you have someone like that then you need to give something back, and that's what Aaron is doing."
Arteta on; Ramsey this year:
"Aaron is on fire. When you have a player like that coming from midfield to score that many goals, it gives you something extra.
"We don't really have a 30 or 40-goal player at the moment so to have players who can score from the middle of the park is very important."
Both Arteta and Ramsey have travelled with the squad to Turkey for tomorrow's first leg of the Champions League play-off where the Gunners will face Besiktas, who now have former-Chelsea striker, Demba Ba.
All quotes taken from Arsenal.com