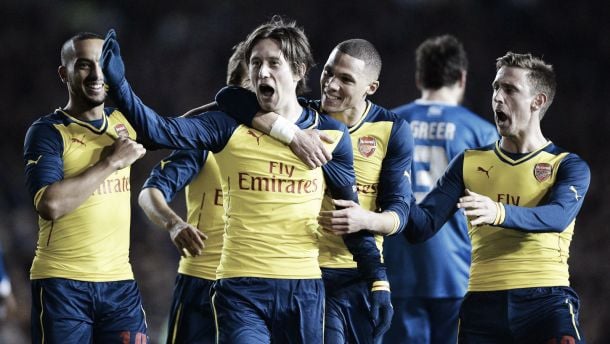 Arsène Wenger lavished praise on his veteran midfielder Tomas Rosicky, after the Czech produced a man of the match performance in Arsenal's 3-2 FA Cup fourth round victory over Brighton. The 34-year-old recorded a goal and an assist as the Gunners kept alive hopes of retaining their trophy.
Speaking after the enthralling cup tie, the Arsenal manager was full of praise for former Borussia Dortmund midfielder, saying, "He was wonderful. A player we all love. If you love football, you love Rosicky. On top of that, he's a fantastic character and I'm very pleased for him."
Rosicky set up Arsenal's second goal of the game with a fantastic 'no-look' pass to Mesut Ozil, allowing the World Cup winner to mark his return to the starting line-up with a goal. With Brighton threatening a potential comeback at 2-1, Rosicky scored the winner, by retrieving possession and playing in Olivier Giroud on the left hand side. The Frenchman then returned the favour, delivering a delicate chip into Rosicky's path; the Czech's sweetly struck volley gave Brighton keeper David Stockdale no chance.
It was a typical 'Rosicky' performance, full of energy, drive, finesse and quality. Arguably one of his most impressive attributes is the youthful exuberance he possesses. In such a physically demanding league and at the age of 34, his energy levels are remarkable; particularly given the injury problems that have plagued his career at the Emirates.
His unrelenting energy was exemplified in added time on Sunday. In the 94th minute, with Arsenal on the verge of victory, players from both sides were rather weary, but Rosicky's energy remained firmly intact. With Stockdale poised to make an up-field clearance, Arsenal's diminutive midfielder scampered towards the keeper with such intent and tenacity, which was a refreshing mentality. If you were none the wiser, you would suspect Rosicky was about 25-years-old and had just come on as a substitute.
In over eight years at the club, Rosicky has made just 156 starts in all competitions, which equates to around 20 per season; for a man of his ability, this is incredibly frustrating. Until the Christmas period ensued, Rosicky had been an absent figure for much of the campaign.
The Czech suffered a minor injury setback in October and due to Wenger's plethora of midfield options; Jack Wilshere, Aaron Ramsey, Mesut Ozil and Santi Cazorla, he had largely been unable to claim a starting berth. His first league start of the campaign came against Queens Park Rangers on Boxing Day, where he scored the winner. He has since started four matches and featured prominently in his preferred midfield role.
Many people use data analysis to justify a player's impact within their respective side, but Rosicky's impact is measured by more than simply statistics. You cannot objectively analyse or measure a player's passion, desire or the way they impact upon a team's attacking fluidity. Their predictable build-up play from the midfield was a criticism occasionally levelled at the Gunners. However, it could be argued that Rosicky was the oil within Arsenal's midfield engine.
Wenger's side have been known to struggle against sides that set up primarily to be disciplined and unadventurous. However, with Rosicky in the side, Arsenal play with more fluidity and confidence; he manages to inject tempo within their game, which is absolutely pivotal. It is important to have balance within the side, with Rosicky's versatility an invaluable quality for Arsenal's experienced manager. He has the vision and ability to perform adeptly in a playmaker role, but he also possesses a combative and tenacious nature to his game, which allows him to sometimes operate in a slightly deeper and more defensive-minded role.
Arsenal's skipper Mikel Arteta has been touted by many, including Wenger, as a top manager in the making, due to the way he analyses the game. The Spaniard speaks very highly of Rosicky and the value he provides to the side: "It's hard to find players like Tomas who can be that clever and do things so simply and lively on the pitch. He can carry the ball and he's got that 10-yard spurt where he can change direction, his vision and his final ball," he added.
Rosicky, affectionately known as the 'Little Mozart' among the Arsenal faithful, will have to be managed and rotated efficiently by Wenger. Despite the fact Rosicky performs with raw dynamism there are so many attacking options returning to the fold, therefore the Czech's workload should not be too arduous. His susceptibility to injury is an obvious reason as to why Arsenal's veteran boss has managed Rosicky's fitness cautiously, but in the second half of the season, as the fixtures begin to mount and certain individuals become fatigued, your squad players became absolutely invaluable. Rosicky's quality, character and experience will be crucial if Arsenal are to achieve Champions League football and possibly silverware at the end of the season.
Wenger deserves great credit for the faith shown in Rosicky. It is no secret that Wenger is particularly fond of diminutive attacking midfielders, this has played an integral role in his footballing philosophy over the past decade. His constant niggling injury problems were a source of great frustration for the Frenchman, but he remained stoic over his belief in Rosicky. His unwavering trust in his players can be perceived as both a strength and weakness, but in this case, his faith has been justified. Arsenal fans have arguably seen Rosicky mature like a fine wine, as his best performances in an Arsenal shirt have come within the last three years. If he is able to replicate performances like last Sunday, the love affair with Tomas Rosicky will surely continue.