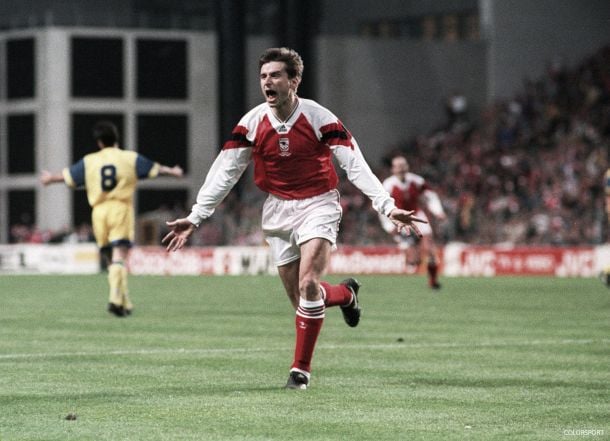 In light of Arsenal's recent Premier League victory over Leicester City, let's take a look at a player who has plied his trade for both teams in the past. He's one of Arsenal's all time greats who had the qualities to bring others into game, and had the knack for important goals from time to time. His headed goals and passes were ones to watch out for and, although he didn't look too strong because of his lanky frame, the opposition could not take him lightly because his presence was immense and he fought for every ball. He was Arsenal's target man for the period between 1987 and 1995. He's none other than Alan Smith.
Alan Smith began his career as a professional player with Leicester City in 1982 and then transferred to Arsenal five years later, having proven his talent with the Foxes. His first season with Arsenal wasn't too impressive as he managed to score 16 goals in 50 overall appearances. However, he found his form and showcased his talent in the next season, which is highly regarded as one of the greatest seasons in Arsenal's history. Alan Smith ended the 1988-89 season with the Golden Boot award as he helped Arsenal win the league at Anfield in a historic 2-0 victory. He accumulated 23 goals that season and made it to the Team of the Year as well.
His next season was easily forgettable, which acted almost as an exact contrast to the success achieved in the season before. However, in 1990-91, with the "Almost Invincibles" team, Alan Smith got his stride once more as he netted 23 times in the First Division again. That would prove to be the last season where Alan was prolific in his goal scoring attributes, but he was yet to score one of the most important goals in his Arsenal career.
Moving onto the Premier League era now and into the 1993-94 season; as Arsenal battled away to the UEFA Cup Winners' Cup final for the first time and were up against the then favourites Parma. Smith's strike partner Ian Wright was suspended for the game and the onus fell on the aging, yet determined, English striker to lead the forward line and that's exactly what he did. With a thunderous left foot volley he scored the only goal of the final as Arsenal lifted the UEFA Cup Winners' Cup for the first and last time.
Injuries plaguing his aging career made the decision for Smith easier as he chose to retire in 1995. Alan Smith wasn't the stereotypical English forward or didn't have the qualities of a modern striker for that era. He lacked the flair of Ian Wright, he lacked the speed and agility of Kevin Campbell and yet, he was one of the perfect target men Arsenal has ever had. He was brilliant at hold-up play, getting his team mates into the attack with flick-ons or cute passes and as such, kept the attack flowing. You could say he was Olivier Giroud's predecessor.
He doesn't feature in the top 10 all time goal scorers list for Arsenal but the Gooners never forget heroes and, when Arsenal FC held a poll to decide who the 50 greatest Gunners of all time were, Alan Smith rightfully and deservedly found a place on that list. He was placed 27th.