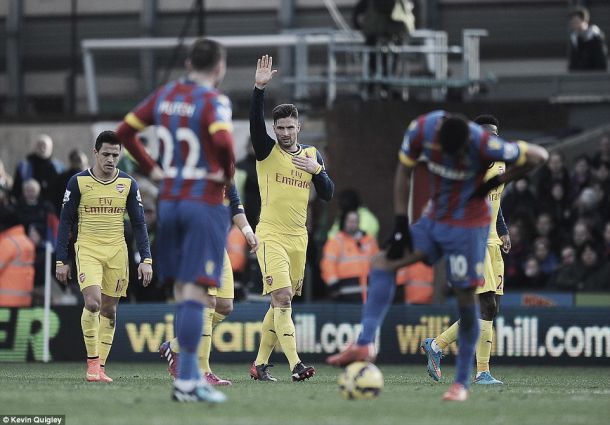 Against Crystal Palace on Saturday, Olivier Giroud scored his 50th goal for Arsenal, becoming the 48th player to reach this milestone. Only one member of the current Arsenal squad has scored more goals than him, not bad for a "£10 million lamppost"! So, when did Giroud's 50 goal haul come from, who has he scored against?
Giroud took seven games to grab his first Arsenal goal and it came against Coventry. Arsenal went on to thrash Coventry 6-1 in that League Cup match, which wasn't the only high scoring League Cup match that Giroud went on to score in as we'll find out. Giroud's first Premier League goal came against West Ham a few games later. Giroud went on to score against Reading (in Arsenal's 7-5 League Cup victory at the Madjeski Stadium and in the league at the Emirates), Schalke, Bayern Munich, Norwich, Liverpool and Spurs (in the second of two consecutive 5-2 over them). The Frenchman also scored braces against Fulham, Newcastle, West Ham and Brighton. He finished his debut season in English football with 17 goals in 47 games.
At the beginning of his second season at Arsenal, Giroud scored five goals in the first six games of the season, netting against Aston Villa, Fenerbache, Fulham, Spurs and Sunderland. Giroud went on to score against Dortmund, Napoli, Crystal Palace, Aston Villa, Southampton (a brace at home and a goal away), Newscastle (Two goals - one away and one at home), West Brom, West Ham and Swansea. During Arsenal's FA Cup run, Giroud scored twice against both Coventry and Everton as Arsenal won the Cup. Giroud finished the season with 22 goals and the FA Cup.
Giroud has had quite a good season this season, especially when his injury earlier in the season was put into account. He started the season with a Big Bang, scoring a wonder goal at Wembley as Arsenal beat Manchester City to win the Community Shield. Giroud also scored against Everton before missing three months due to injury. On his return from injury, Giroud scored in Arsenal's loss against Manchester United. Giroud has gone on to score against Liverpool, Manchester City and Aston Villa. He also scored braces against Newcastle and Middlesbrough. On Saturday, Giroud scored goal number 50 against Crystal Palace. How many more could he get now?