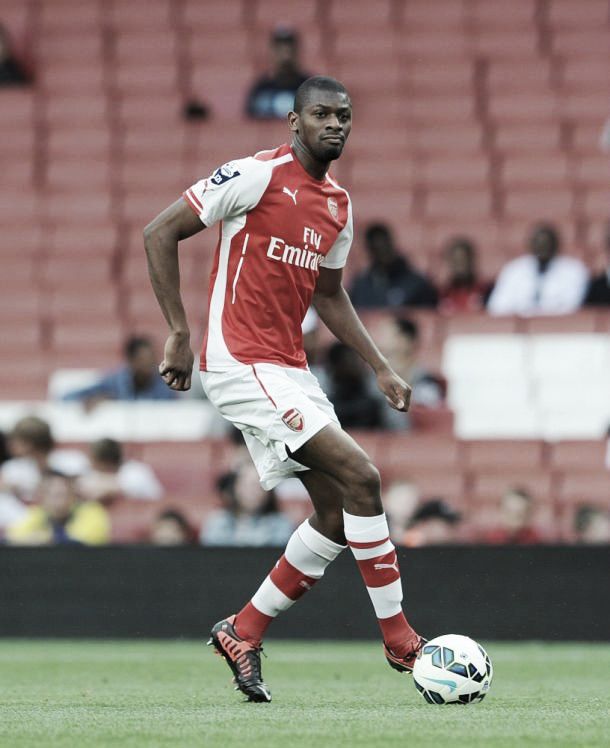 Vassiriki Abou Diaby, or known simply as Abou Diaby. A player admired by so many, one that promised so much but was cursed with injuries at Arsenal. Abou Diaby signed for Arsenal from French side Auxerre for around £2million pounds and he immediately joined the first-team ranks. Arséne Wenger was believed to be a huge admirer of his fellow countryman, and likened him to the club's former captain, Patrick Vieira.
Diaby had a promising start for The Gunners, until that nightmare challenge from Dan Smith, the ex-Sunderland player. That tackle on Diaby was meaningless and he sustained a severe ankle fracture in the process. Injuries started from there for Abou, and Gunners fans had to wait until he was fit, too long that they forgot how he played and his style of play.
So, with all those injuries and with Arsenal desperately needing a physical holding midfield player, why has Arsene Wenger kept so much faith in Diaby? And why has he not sold him or let him go?
Wenger is a loyal and respectful manager, he does not let go of his players easily. He sticks with his players and tries to show them the loyalty needed in football so they can return it later on. "Le Prof" has always shown his loyalty to the club and all his players, it showed when he helped Tony Adams defeat alcoholism. It helped when he taught Robin van Persie to be the player he is today. It showed when he nurtured and was a father figure for young Cesc Fabregas, then made him club captain at the tender age of 21 years old. It was also emphasised when despite all of his off-the-pitch antics and controversy, the experienced Frenchman kept Nicklas Bendtner in the squad for another year and gave him the chance to prove his worth - before he was sold to Bundesliga side VfL Wolfsburg last summer. Wenger gives his players a chance, a great thing to have.
Abou Diaby deserved it. He deserves a manager like Wenger to help him in life and help him through his injuries. It is a huge doubt that Abou Diaby will sign a new contract, as this is his last and we are yet to see him feature regularly for the side. The Liverpool - Arsenal game in 2012 will always be one of the best games played by the big tall powerhouse. His performance on that day was just spectacular and his stature in that midfield is just what Arsenal have been missing for the past few years in that part of the pitch.
Abou, your talent doesn't deserve your on-going injuries, and every Arsenal supporter would love to see you play for The Gunners "regularly" again.