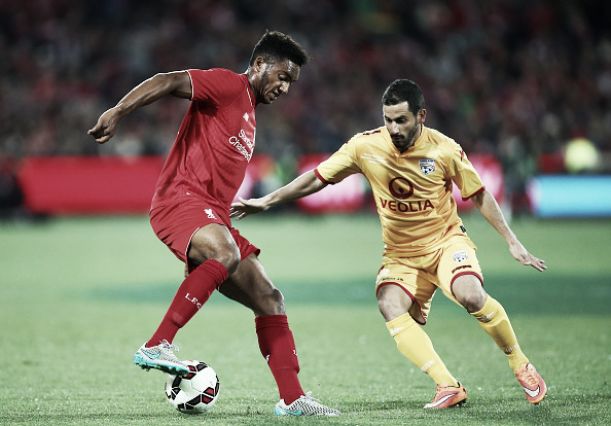 After Liverpool signed Joe Gomez from Charlton Athletic for just £3.5million, many fans didn't expect to see the 18-year old feature as a Liverpool player for a few seasons.
However, after being selected to join the pre-season tour, he has excelled in the games he has featured in and has showed he is not just a promising centre back, but a fantastic left back as well.
As a result of his encouraging performances, Brendan Rodgers ruled out a loan move for the English defender and will allow Gomez to challenge for a place in the first team, once the season commences.
How has he done so far?
Gomez made his debut for Liverpool against the Thailand All Stars, where he featured for 45 minutes as a left back. He started to catch the eye of a few fans after looking comfortable on the ball and looking like a player with bags of experience.
But it was in Australia where he started to show glimpses of the huge potential he has. In both the games in Australia, he played as a left back and played as it was natural role.
He had the ability to get forward and cause problems down the wing, but also knew when he was needed at the back and was as solid as a rock, when the opposition came at him.
Many fans are tipping him to challenge Alberto Moreno for a place in the starting XI next season, after Moreno suffered an unsteady first season.
Should Liverpool fans remain optimistic?
Pre-season is a time for new players to gel into their new teams and show fans a glimpse of what they can offer.
Liverpool often play teams that are not on the same level as other Premier League teams and when Liverpool do get positive results, it can often give false hope for fans.
Similarly, when players perform exceptionally against these teams, fans are quick to hype them up and they can then be in for a real shock for when the season actually starts.
An unfortunate example of this is when Iago Aspas signed for Liverpool. The Spanish striker signed from Celta Vigo and wasn't really a player many fans had heard of. Nobody knew what to expect from him, but he managed to show fans quickly he had what it took to play for Liverpool.
A debut which included a goal and an assist, then led to a pre-season form of 4 goals and 4 assists. These performances led fans to believe Aspas could be the next big thing at Liverpool, but they soon realised, that Aspas was not a Premier League player.
Only time will tell
Joe Gomez has got off to a fantastic start to his Liverpool career and also has a few more games, during pre-season, to show what he can offer Liverpool.
However, Liverpool fans will only know how good he really is, once he steps out onto the pitch, in a Liverpool shirt, once the Premier League season starts again.