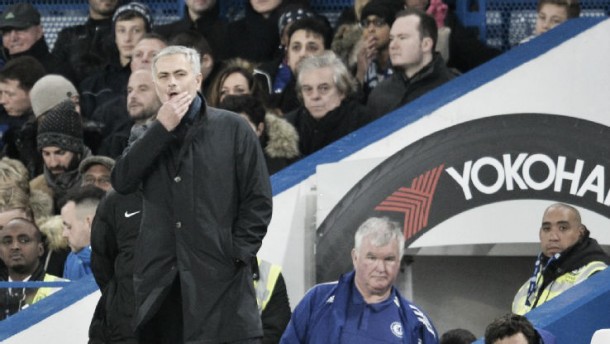 Chelsea's shocking 0-1 loss to Bournemouth on Saturday has left the champions with 15 points in as many games, three points clear of the relegation zone.
This loss was their fourth at home this season and their eighth Premier League loss total. The Blues have looked abysmal this season, and the boos that rang out around the stadium after the final whistle show the fans' growing discontent with the players and the manager.
Chelsea desperately need a win or two but as current leaders Leicester City are their next opponents, the Blues may be pointless next weekend as well.
Blues lack in attack
Surprising to most, Bournemouth looked the better side in the first half with the Blues struggling to mount a decent attack. The champions looked lifeless, clueless, without ideas, and devoid of creativity in front of goal. Boos rang out from the home fans after the half-time whistle.
Chelsea were more aggressive in the second half, looking shades better than before, but the away side defended well and stopped the Blues from sealing a much-needed victory.
The only goal of the game came in the 82nd minute. Bournemouth earned a corner kick, and substitute Glen Murray received the ball at the back post and found the back of the net, giving Bournemouth the lead. From there, the game was all but decided with Bournemouth's defence easily sweeping away any Chelsea attempt.
Jose Mourinho's decreased confidence
Whereas Chelsea manager Jose Mourinho's post-match comments are often loaded with confidence and, some might say, arrogance, he seemed much more unsure after Chelsea's embarrassing defeat on Saturday.
"I am concerned obviously. I was concerned before this game because I am not happy with the position. You can imagine now with this defeat at home, obviously Chelsea will never be challenging for relegation.

"This defeat puts us in a position and I repeat it is not a dangerous position. But our objective is not to fight for relegation. Our objective is to fight for top four but maybe we have to think about top six."
Concerned? Top six? Hoping for Europa league football? The Special One seems to have learned that, when results are this bad, a more realistic approach is necessary. He continued:
"I only know one way which is what I know since day one - to work and give my maximum every day and every match. If some player is not capable of that, of that routine, is quite an individual problem. But I feel as strong as ever, I don't know another way.

"I cannot laugh because I am not happy. I cannot cry because it's not my style. I can just work and that is what I will do tomorrow to try and get us the result on Wednesday to get through to the next phase of the Champions League."
Naturally, Mourinho pointed out certain factors that could have affected the outcome of the game. On a perceived handball and the possibility of Murray being offside, he said, "The ref made an important mistake but it's a part of the game."
He said little about Bournemouth's time-wasting, commenting, "In the basketball they are more then ready for that. I think they did very well."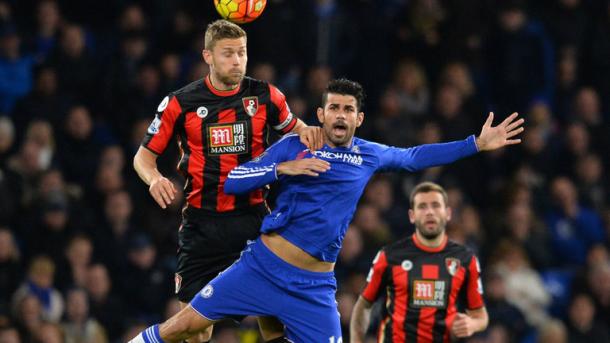 He then spoke up about how his side performed:
"We didn't deserve to lose the game. Especially in the second-half we did more than enough to win the game. We created chances to win the game.

"I think it is a clear penalty. I think it is a clear handball at a moment where the result is 0-0. But that is part of the game.

"In the first-half we were not aggressive enough, we had a couple of shots, a couple of chances but in the second-half we were much more aggressive.

"In a period where we are stronger than ever in the game is exactly when they score a goal, with five minutes to go.

"A team that was defending and being, some people call 'intelligent' and some people call 'lack of fair play'. Time-out, stopping the game, asking for the medical department to go on, to have a drink like a minute out in basketball. They were more than ready for that and they did very well."
Was Chelsea's better form in the second half because of Diego Costa?
"I don't think so. It was not because of Diego. It was because of the attitude, the aggressiveness, the intensity, the pressing much higher, we start pressing sooner and recovering the ball in high positions and we give a complete different dynamic to the game that I don't think was especially because of him."
And finally, on whether or not he and the players are still in this together, he said:
"I think we are. I have no doubts about that but I think if you analyse matches and especially match after match, you can clearly identify a few players who find it difficult to be consistent.

"To get the result to put you in that position where you need to be, you need to be consistent. We are not being consistent because of so many individualities."