Roberto Martinez's experiment at Everton is over. The Catalan was relieved of his duties by the Toffees this morning after another sub par season in charge.
Martinez was brought in from Wigan Athletic and promised the Everton board and Everton fans alike that he would break through the glass ceiling between them and the Champions League places and deliver Champions League football to Goodison Park.
His first season showed that potential for success was there - a record points total and pushing Arsenal all the way for fourth place - but ultimately Martinez was unable to replicate that success and has been on a downward slide since.
The Blues find themselves in 12th position in the Premier League with a finish as low as 16th still very possible.
It is reported that Everton under 21's manager David Unsworth will take charge for the remaining game while Everton first team coach and club icon Duncan Ferguson will assist him.
The Everton board have reportedly sounded out a number of long term managerial replacements and may have already spoken to Martinez's eventual successor. Manchester City manager Manuel Pellegrini is the current betting favourite and will be looking for a job this summer.
Everton fans grew tired of Martinez
At first, Martinez's positivity even after poor performances was accepted by the majority of Everton fans because the improvement could be seen on the pitch.
The honeymoon period was quickly over during Martinez's second season in charge after many fans grew tired of hearing positivity after repeatedly poor performances. Rumours of a dressing room split between Martinez and long term defender Sylvain Distin didn't help the manager's cause but everything was put down to second season syndrome.
After a bright start this season, Everton have resorted to type and put in poor performances, throwing away leads on a regular basis and look like they don't train on basic defending, especially regarding set pieces and crosses into the box.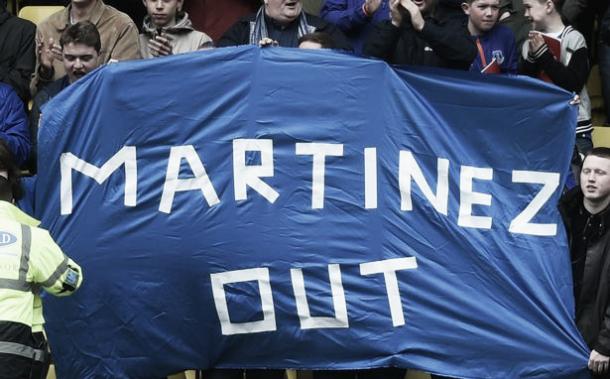 Martinez's defining week his downfall
Roberto Martinez's 'defining' week was when the Blues had to play a Merseyside derby and a FA Cup semi-final within a few days of each other. The defining week ultimately defined Martinez's tenure as a failure as the Blues lost both games.
Another number of losses in a row signified the end was near for Martinez but a dismal 3-0 loss away to Sunderland last night signalled the end.
Martinez talks a very good game but with little being shown to back that up, a once promising reign as Everton quickly turned sour. With fan protests being organised ahead of Sunday's final Premier League game with Norwich City, the board prevented any more scenes at Goodison Park such as fans storming the pitch in the direction of the manager.
Any new manager is going to have to instill confidence back into a fragile dressing room. The potential is still there with this Everton team, it just needs the right man at the helm to steady the ship and lead them forward into the near future.