Middlesbrough have made an impressive start to the Premier League season, and fans are keen to see this continue.
Many from outside of Teesside may have doubted Boro after they were promoted on goal difference after drawing with Brighton on the last game of the 2015/16 season.
But a successful transfer window and unbeaten start to the season has made many think twice about the Teessiders, and Aitor Karanka's side are determined to perform well on Boro's Premier League return.
This unbeaten start, however, is no luxury. It is integral to Middlesbrough staying in England's top flight.
Difficult games are like London buses for Boro
When the Hurworth hierarchy received Middlesbrough's fixtures for the 2016/17 season, it was notable how the hard games for Karanka's men came in a cluster.
Boro's penultimate game in October is away to Arsenal. November then consists of visits to the Etihad and to the King Power, while Antonio Conte's Chelsea travel to Teesside in between. Liverpool and Manchester United also play Boro in the following month.
This abominable congestion of fixtures is repeated at the end of the season as Anfield is the setting for Boro's last game of the season.
It is important that Middlesbrough build up a head of steam before going into these matches, as it is unlikely that they will pick up a handful of points against these kinds of opposition.
This is why a good start to the season is highlighted. If Boro have around 15 points before facing off against Arsenal, then fans will be over the moon.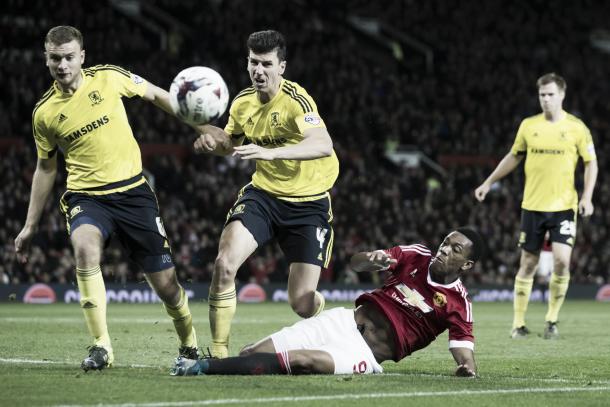 What can be expected from the season?
Fans on Teesside aren't used to losses under Aitor Karanka, after having two seasons at the summit of England's second tier.
After making the step up to the Premier League, fans known that the team will encounter more losses this year.
One thing they hope for is a good team performance. After the drab draw with West Brom, Karanka praised the 'spirit of the team.' As even though there will be times that the team is outclassed, if the players have given their all then there is not more fans could hope for,
Karanka will hope that, even after the step up, his defence will still be solid.
Boro's backline was the foundation for their promotion and Karanka will hope that his sides good defensive record will carry on into the Premier League.
The Riverside only saw eight goals scored by opposition teams, and Karanka will be hoping the ground can be come a fortress for his team.
Boro will need a good record at home to ensure survival.