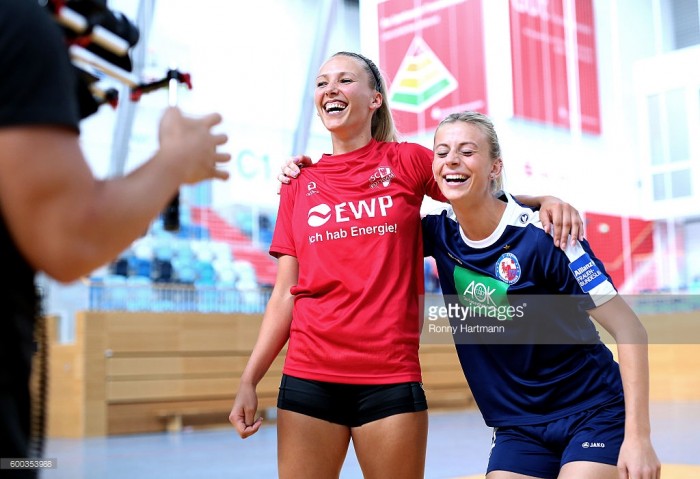 An ever-present for Matthias Rudolph this season, defender Johanna Elsig has penned a new deal to keeper her with six-time Frauen-Bundesliga champions Turbine Potsdam.
Dependable
Having started life at Bayer 04 Leverkusen, the former youth international Elsig made the switch to Potsdam for the 2012-13 season and has featured on and off for the Brandenburg team.
Fully fit this season, Elsig is enjoying a solid and consistent run in the side having worn the armband when both Lia Wälti and Felicitas Rauch have been injured.
Clearly with Rudolph's faith in her, Elsig has been a dependable part of the backline which has conceded a joint league low of four goals this term and was rewarded by her coach with a new contract the day after her 26th birthday.
Now in her fifth season with the Turbines, Elsig cited Rudolph in her reasons for extending her current deal, the team with a renewed confidence this season coming together well in training and transferring the good feeling onto the pitch. Still looking to develop, Elsig has glad to have her coach's confidence in her abilities.
Club president Rolf Kutzmutz saw the new deal as a positive for the club, happy to have the defender on board for the future, he views the long-serving defender as a good role model in the team.
Also speaking on the extension, Rudolph expressed his delight at Elsig having committed to furthering her progress with the team, echoing Kutzmutz' sentiments about the defender being a "pillar" in the side. Very literally building from the back, Rudolph praised Elsig's leadership both on and off the pitch.
As well as leading the team in defence and well as captaining the side when asked, Elsig also popped up with a vastly important opening goal in Potsdam's narrow 2-1 victory over Bayern Munich, in six-point game at the end of the year. Another body to aim for at set-pieces, the defender is equally important in both boxes.