The Liberty Stadium played host to Southampton on a weary Tuesday night in the Premier League, as Swansea looked to build on the momentum from their shock 3-2 win in Liverpool just over a week ago.
Claude Puel's side were also searching for form - something that has been seriously lacking in both camps as they kicked off the first half.
Those 45 minutes provided little in quality; only an Alfie Mawson header separated the two teams.
One towering header over and into Oriol Romeu off the back of a whipped-in corner clanged in off the post. Sofiane Boufal's introduction to proceedings – at the 56th minute - sparked a fuse for a Southampton side in need of one; just a minute later the score was levelled.
Steven Davis' slick through ball set free Ryan Bertrand on the left hand side, whose first-time ground-cross to Shane Long was met with an emphatic finish.
Saints pounded on the pressure following the equaliser. But, as the script has shown this season – start slow, concede, create chances, misfire - that'll never be enough if a goal isn't the result of fine play.
Bodies were thrown forward on a corner; Swansea made the most of the opportunity. New signing Luciano Narsingh broke away from the crowd, dinking a pass that seemed to be just behind Gylfi Sigurdsson. Awkwardly, on the turn, the latter managed to poke the ball narrowly home past the outstretched hand of Fraser Forster.
Historically, Southampton sides have never been potent at mounting comebacks; this happened to be the case once referee Roger East called time on a final score of 2-1.
Frustratingly for Puel and Southampton fans alike, a win last night could've taken them above Stoke and West Ham – two teams who lie one point adrift and also face tough opponents tonight.
Meanwhile Swansea pull out of the relegation zone and sit level on points with Leicester and Middlesbrough, surprisingly.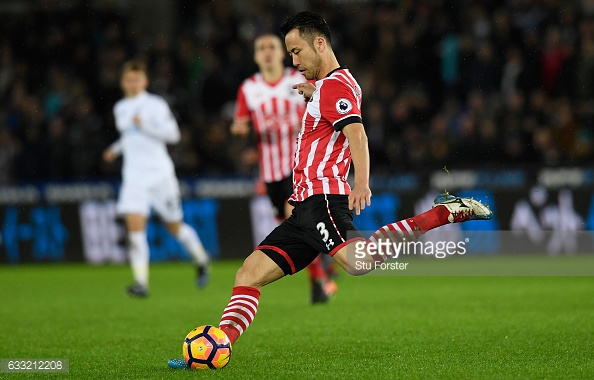 Goalkeeper and defence
Fraser Forster (8) - The big man has come under unfair criticism and mocking by some of his own fans this season; he showed rare signs of return to confidence amidst a disappointing defeat. His saves from long-range efforts by Leroy Fer and Sigurdsson actually keep his side in the game.
Cedric Soares (7) - One of the bright sparks in a first half that summed up Southampton's season, he matched any attacking threat Martin Olsson and co. offered with solid defensive work. Not only that, his passing down the right flank was the one positive in an otherwise toothless attack. Soares' forward drives were direct and with the help of Dusan Tadic space could be created from Swansea's disciplined defence.
Jack Stephens (6) - Filling Virgil van Dijk's boots poses an impossible task, however in the 1-0 win at Anfield the 23-year-old showed he can go some way to doing that. Although, the physical presence of Fernando Llorente provided an alternative challenge – one that Stephens wasn't always completely comfortable with, in truth. Just before Mawson's opener, the inexperienced defender was also the centre of attention and controversy when a cross clearly struck his hand. Whether it was intentional or not, you'd have to say this was a lucky escape.
Maya Yoshida (6) - Unlike Stephens, Japan's most notable centre-back didn't look troubled - a clear result of Llorente swaying more to the right side of Saints' defence. Instead, Yoshida's night was mostly filled with passing sideways to Bertrand, with a sleek pass accuracy of 90 per-cent. Perhaps if his towering header at the back-post towards the end met the back of the net, his rating would've seen a spike towards eight or nine.
Ryan Bertrand (7) - Barely having anything to deal with defensively from the likes of Wayne Routledge; Bertrand found himself having lots of time on the ball deep in his own half. His perfectly timed and beautifully weighted assist to Long was a highlight in an otherwise average performance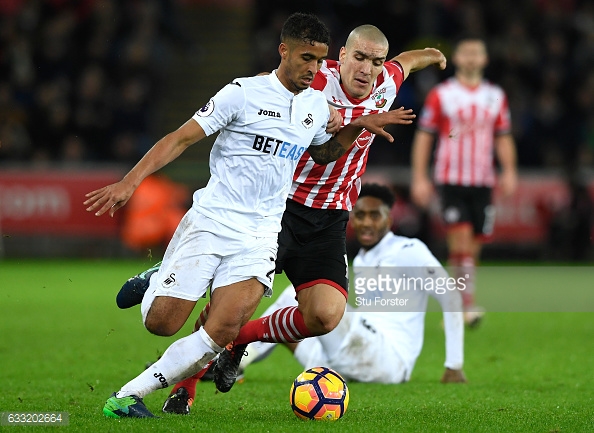 Midfield
Oriol Romeu (8) - Most of Southampton's play was born in the heart of midfield when they did pose a threat – this heart was Romeu. His on time interceptions and ability to hold onto the ball amongst pressure from Tom Carroll and Fer was masterful. With seven key tackles and a 92 per-cent pass accuracy, his quality on the night was overshadowed by the general lack of such from his teammates.
Jordy Clasie (5) - An average performance that could sum up the problem lying in Puel's losses; lack of cutting edge, sacrificing risk for safety and being powerless to midfields showcasing more tenacity and drive. This isn't to say that Clasie is a bad player; at home to Liverpool in the first leg of the EFL Cup semi-final he was outstanding, before being subbed off with injury – a common issue with the Dutch international. In games like these, however, Clasie should've shown more intuition, striving to move the ball forward quicker as opposed to moving it sideways.
Steven Davis (6) - The newly berthed captain may not show as much passion as his predecessor – Jose Fonte – but his propensity for keeping the game ticking is valuable. However, when it's met with similar ideals in Romeu and Clasie, it shows up Davis' lack of offensive potency. This was compounded when the ball fell nicely to the Northern Ireland captain and his shot flew miles high into the home crowd.
Dusan Tadic (6) - Only mustering 30 touches in 56 minutes of a lacklustre display, his team's inability to shift the ball towards him in good areas showed up. Tadic is the sort of player who favours the ball into feet with his back to goal – one thing that Swansea's closely knit eleven didn't allow him on many occasions. Coupled with the fact that Nathan Redmond enjoys a similar situation, it just didn't work for Puel as these two kept the ball going backwards instead of over the top of said-defence. His substitution still was harsh on the face of it; the Serb is one of a small group of Saints players who can turn a game with one bit of quality.
Nathan Redmond (5) - That bit of quality that Redmond did not show at any point in the loss. His poorly skewed attempt at goal is not something he'll be looking back on, nor the night overall. In any case you should be placing that hit off the back-placed pass – not whacking it. Poor shot selection aside, the newly crowned U21's player of the year had a mere 31 touches, in 75 minutes of play. A shocking stat but a summary of the season, lots of midfield play leading to little action up top.
Attack
Shane Long (7) - Although his brilliant movement for the goal provided a moment of joy for Southampton, the same couldn't be said for the majority of his performance. He must be as unsure as many of his fans as to why Puel chooses to deploy him up front on his own – Long is not a target man. Where Jay Rodriguez is somewhat adept at holding the ball up and bringing others into play, his Irish teammate is not, at all. Long is skilled at getting ahead of his man in attacking positions, for example in his goal, positioning himself ahead of defenders, further up the pitch – something he's skilled at and attempted later on in the night from Josh Sims, to no avail that time. If Saints are counter-attacking, Long is also useful; in games like this though his frailties are shown up. Instead of being able to do what he likes in running past defenders from long lofted passes, Swansea forced him to come short leading to a lack of threat for large portions of the night.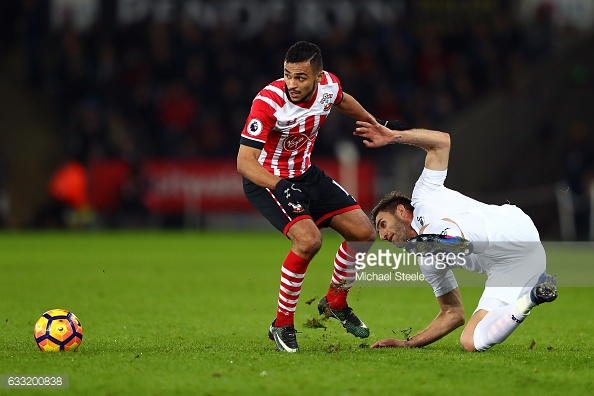 Substitutes
Sofiane Boufal (7) - Where to start? Returning from an injury that kept him out of Morocco's AFCON campaign, Boufal made an unimaginable comeback in his half hour of play. Akin to some of the best players in the league, Boufal took over the game, picking up loose balls and driving the possession forward into more threatening positions. Not many in the Saints squad know how to dribble past the opposition quite like their record signing; the ball sticks to his feet, making fans reminisce of the Le Tissier years. His entrance impacted the game massively, since the key to breaking down tough defences is going beyond the first line of defence – a tight midfield. If a previously mentioned Redmond managed to direct his pass into goal, perhaps this substitution would've been even more revelled.
Josh Sims (6) - Many have been surprised with the aura of confidence that surrounds Sims – most notably former-boss Ronald Koeman who had not heard of him. This showed on the night, as the 19-year-old created time and time again down the right hand side, opening up Swansea with smart runs along the touchline. Unfortunately, in 14 minutes it's always going to be tough to impact the game positively, but Sims did work harder than the likes of Redmond and Tadic.
Sam McQueen (5) - It's hard to really judge what McQueen did, when looking back, as his position was on the left, close to a more eye-catching Boufal. Although when the local-born winger did find space, his crosses did not find anything over than a Swansea man.