 Bournemouth boss Eddie Howe says his side will not be 'fearful' of opponents Manchester City when the two clash sides on Monday night.
The Cherries go into the game on the back of two defeats and without a win in five, but the 39-year-old coach believes his side can take confidence from their performances against the division's big boys this season.
"We have done well against some top teams this year" said Howe. "There has been no problem there, we've been able to be very competitive and inspire ourselves to some great performances", something which they will have to once more against an opponent who seem to be finding their form.
Bournemouth players 'aspire' to play at City's level
Pep Guardiola's men ran out 4-0 winners when the two sides met at the Etihad Stadium back in September and will be looking for their fourth straight victory when they visit the South-coast on Monday evening.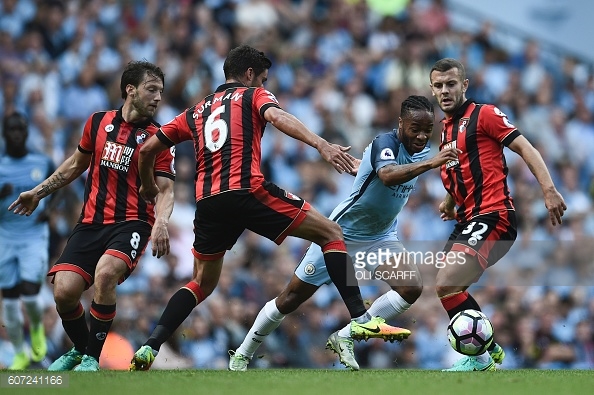 However, Howe insisted that his players are not in awe of their opponents, admitting that,"We're going to need to be very good this week to get anything against City.
He continued by adding that, "We respect their players but we can't be fearful. The times we've played Manchester City they've been excellent. We've aspired to play at their level and the challenge is to match them."
How praises players mentality as teams below them begin to pick up points
Howe, who was awarded manager of the decade in 2015, says he is not concerned with his side's recent decline in form.
Bournemouth have slipped down to 14th in the Premier League table after recent disappointing defeats to Hull and Crystal Palace as well as conceding six at Goodison Park last time out.
"The challenge for us is to get the points we need as quickly as possible" said the manager.
"Nothing changes in terms of how we play. I don't think there will be any lasting impact with the players, their mentality is strong. We have been in this position before - it is nothing new for us."
Bournemouth need some much-needed confidence starting on Monday evening.