 James Ward-Prowse insists Southampton's fans will have a huge part to play in the EFL Cup final.
More than 32,000 supporters are heading to Wembley to cheer on their side against Manchester United next weekend, and Ward-Prowse believes they can help make the difference.
Wall Of Noise
Speaking about the fans, Ward-Prowse said, "They can be massively important."
"I've lost count of the number of occasions over the years where the fans have really got behind us and made sure that they are that 12th man, and they do help us."
Saints booked there place with a 1-0 win at Anfield against Liverpool, and they took over 3000 fans to that fixture which was a big part of the resolute performance, and they could do with the wall of noise again.
"I think they will play a big part, but hopefully the way we perform and the way we play can get them off the edge of their seats and make sure that they're cheering us on," Ward-Prowse said.
"Really giving us that last bit of support that we need to get over the line."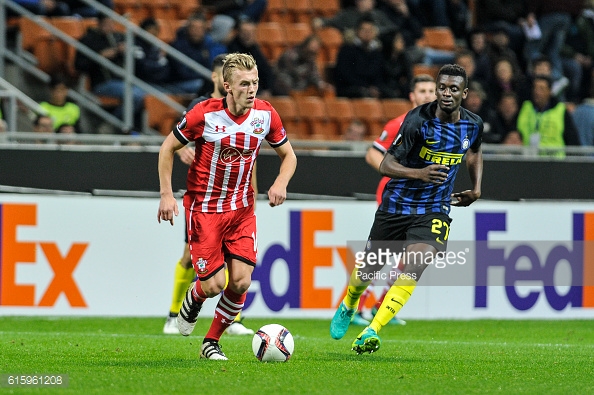 Manchester United are the most in-form team at the minute and will challenge the Saints, but the captain assures the fans that the focus is on their own game rather than the opposition.
"I think we have to be solely focused on ourselves." he said.
Pastures New
This is Saints' first appearance at Wembley since 2010 when they won the Johnstone Paint Trophy against Carlisle, while the club sat at the top of League One.
"I think there's got to be an element of what the opposition does and how we can counteract that, but we have to be focused on ourselves and make sure we assert ourselves, especially early in the game, to be on the front foot and let them know they're in for a game," claims Ward-Prowse.
Jose Mourinho and his men are no strangers to playing at Wembley and that experience could prove dividend.
"Obviously, we have to show them respect, but we ultimately want to win the match and we'll do everything to make sure we can do that."