On the surface, 2016/17 was another solid season for Southampton. An-eighth place finish in the Premier League, a group stage debut in the Europa League and a cup final at Wembley all suggest that manager Claude Puel's inaugural nine months in English football were successful.
However, if one digs a little deeper, then it will become clear that the Saints' campaign this time around was probably the most disappointing since the club were relegated to League One all the way back in 2009.
Since the dark days of playing in the third tier, the Southampton faithful have been spoilt with consistent progression, but that run has ground to a halt this season, as the Saints slipped back two places from their 2015/16 campaign.
Yet the criticisms of the South Coast outfit's season go far beyond their league finish. The squad got weaker over the summer, the European adventure was a catastrophe and, above all, and the turgid style of play under Puel has failed to excite fans all season, leading to many calling for his head this summer.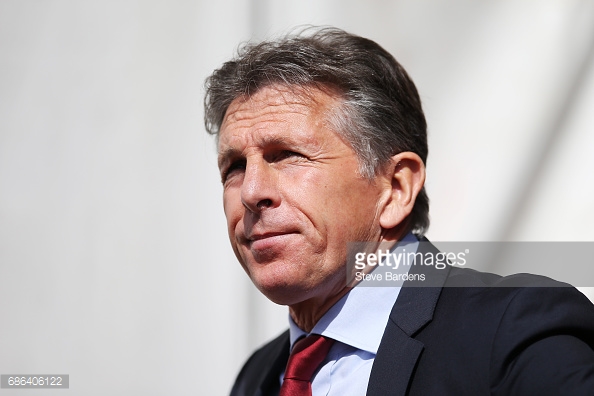 Looking back, Southampton's season can be defined in a series of events which have once again assured that there is rarely a dull moment around St Mary's, at least off the field. This amalgamation of hits and misses explain why the Saints were not able to perform as well as they had in previous years, and how they have got themselves into such a mess.
Miss: The 2016 summer transfer window
Undoubtedly, the root of Southampton's current problems is their lack of activity in the transfer window. Sure, the losses of Victor Wanyama, Sadio Mane, Graziano Pelle and even manager Ronald Koeman were perhaps inevitable, due to wealthier clubs offering them a cheque with a couple more zeroes on it, but the subsequent replacements were insufficient, both in quantity and quality.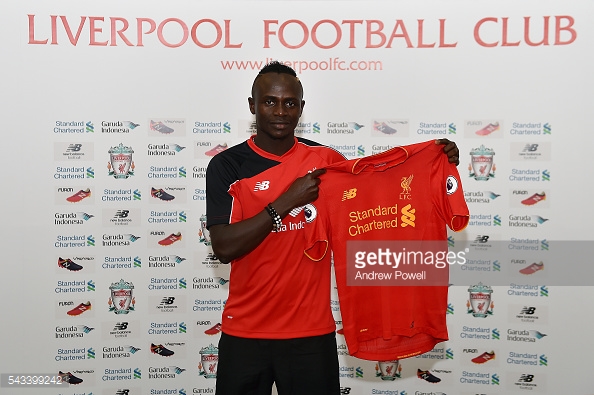 Winger-turned-striker Nathan Redmond has been by far the signing of the season, but the likes of Pierre-Emile Hojbjerg and Sofiane Boufal have so far been unable to fill the boots of the big names who had set sail from the South Coast.
Similarly, when considering that Southampton would be playing twice a week until Christmas due to their Europa League commitments, it is baffling that Puel, or whoever oversees transfers, did not purchase valuable assets to bulk up the squad. When injuries and fatigue arrived, the Saints were horrendously under-prepared for the packed fixture list, in spite of the bundles of cash they had sitting around from selling top players and the new Premier League TV deal.
This poor transfer window meant that Southampton had handicapped themselves from the start, ensuring they on the back foot from the first game.
Hit: Beating Goliath
By November, after a sluggish start, things were looking up for Puel and the Saints. Their league form had improved, and they welcomed European giants Inter Milan to St Mary's, knowing that a win would give them one foot in the last 32 of the Europa League.
After somehow losing 1-0 in the San Siro two weeks earlier, Southampton would not be denied a second time, as an emphatic Virgil Van Dijk finish and a Yuri Nagatomo own goal gave them a momentous victory.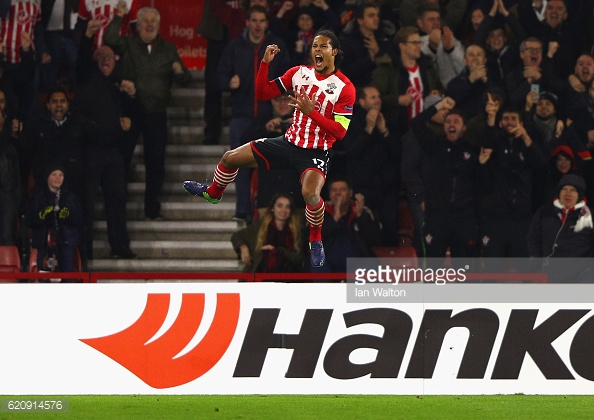 Although Inter may not be the transcendent force they once were, beating a club of their status was quite simply an incredible achievement for Southampton, and put them in prime position to qualify for the knockout stages.
Miss: Losing to David
Back at St Mary's a month later and, although not an ideal situation, Southampton just needed to beat Israeli minnows Hapoel Be'er-Sheva, or even draw 0-0, to seal qualification.
A 1-0 defeat at Sparta Prague meant that the Saints had failed to score in each of their three away games in Europe, a common theme throughout the season, but it mattered not. A routine win at home was all that was required.
However somehow, the inexcusable happened. Rather than playing their normal game, a timid, lethargic Southampton laboured their way to a 1-1 draw, which meant their opponents on the night went through at their expense. Out of nowhere, the European dream was shattered, and the pressure on Puel was mounting.
Miss: Centre-back crisis
January was poignant month for Southampton, as they said goodbye to club captain Jose Fonte, who departed for West Ham after seven unforgettable years. The Portuguese international had epitomised the Saints rise up the English football ladder, and so letting him go very much marked the end of the era.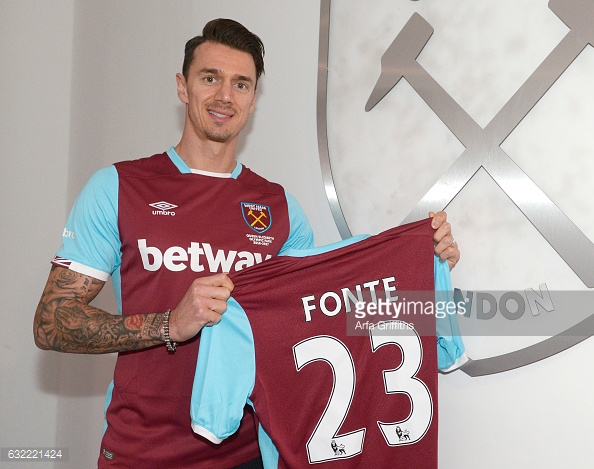 In a more practical sense, Fonte's sale left Southampton with just three recognised centre-backs. This soon became two as talisman Virgil Van Dijk picked up what would be a season-ending injury in the 3-0 victory against Leicester.
All of a sudden, the Saints had lost both their heart and soul, and their best player by a street, leaving them vulnerable at the back.
Hit: A trip to Wembley and Gabbiadini hits the ground running
Southampton should not have been too concerned about their issues in defence as in the game after Van Dijk's injury, centre-backs Maya Yoshida and Jack Stephens put in the perfect performance against Liverpool at Anfield in the EFL Cup semi-final second leg, taking the Saints to Wembley.
After defending their one goal advantage from the first encounter, Yoshida and the young Stephens led an epic defensive display, booking Puel's side's place in the final against Manchester United.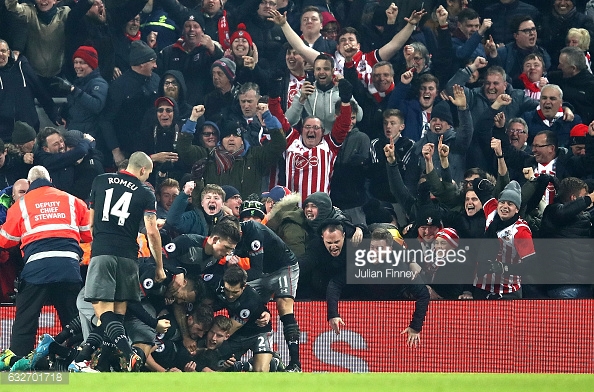 By the time the final rolled around Southampton had plenty of reasons to be optimistic, none more so than the fact that it looked like their goal-scoring problems, which had mounted since the injury to top-scorer Charlie Austin, were solved. Italian striker Manolo Gabbiadini, bought from Napoli on deadline day, had scored three times in his first two appearances in the red and white stripes, and didn't disappoint on the big stage. He netted another couple of fine goals against the Red Devils in the final under the arch, but...
Miss: Cup final heartache
The 25-year-old's brace was in vain as, after coming back from 2-0 down, a late Zlatan Ibrahimovic header won the cup for Jose Mourinho's men.
It was a bitter pill to swallow for the Saints, and some will surely never be able to forget how they should have taken the lead, if a Gabbiadini tap-in had not being inexplicably disallowed for offside, denying him what would have been a Wembley hat-trick.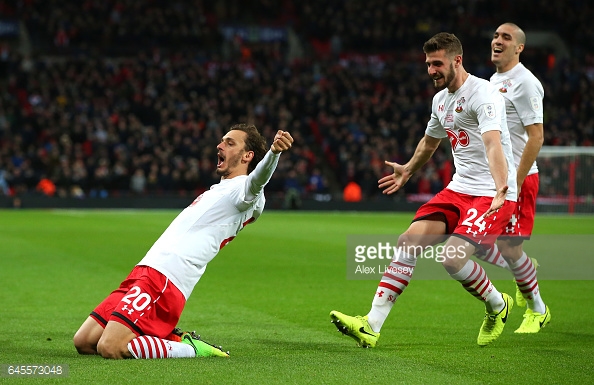 Regardless of this atrocious refereeing decision, Southampton were not quite good enough to get over the line, despite arguably being the better team, meaning the EFL Cup run can only be classified as a heart-breaking failure.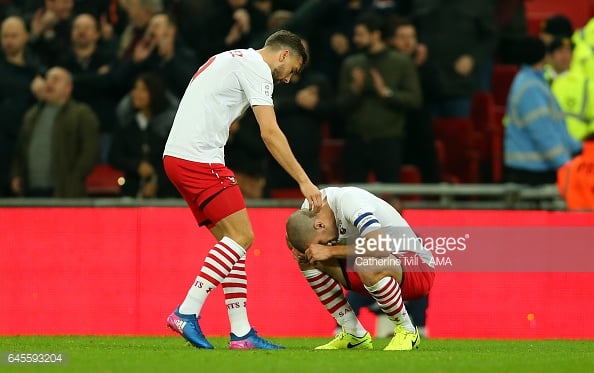 Miss: Season fizzles out
Following the cup final defeat, the remainder of the season was uneventful, underwhelming and under-achieving for the Saints. Their form in the league wasn't great and, despite the odd win here and there, the campaign very much finished on a sour note.
This disappointing end was personified by the reaction following the last game of the season just a few days ago. Southampton had just lost at home to Stoke, Gabbiadini's hot streak was becoming a distant memory and many were beginning to believe it was time for Puel to go. With the Saints playing the dullest football imaginable and failing to score in each of the last five home games, it is not difficult to understand the fans' frustrations, even if their side did manage to finish eighth one way or another.
After the final-day defeat, the customary lap of appreciation was subdued, half-hearted, surrounded by a mix of applause and boos, and a stark contrast from 12 months earlier, confirming that Southampton have taken a backward step.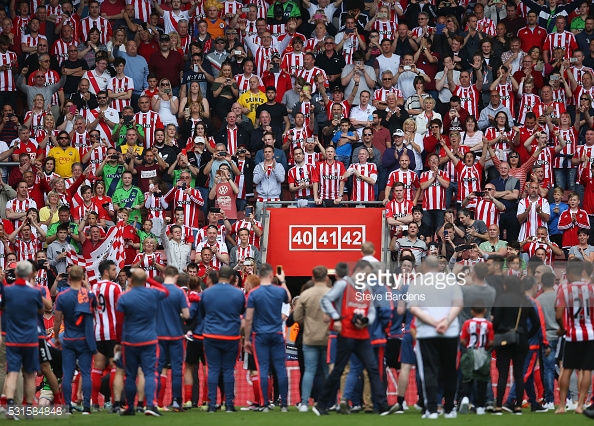 Conclusion: What next?
Many on the South Coast have been crying out for stability over the past few years, but another summer of change is on the horizon, although for unfamiliar reasons.
After a season with more failures than successes, it looks likely that Puel could get the chop, and many others could follow. The likes of Shane Long and Dusan Tadic could move on after poor campaigns, while Van Dijk is almost certain to move on to bigger and better things, even though his French manager has claimed he is going nowhere.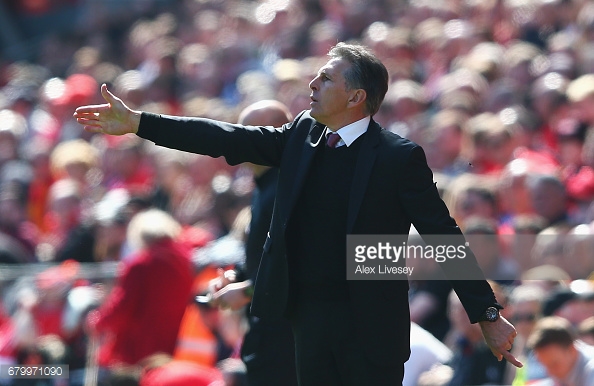 Of course, Southampton are by no means in a crisis, and there were some outstanding individual performances over the season. Midfielder Oriol Romeu was exceptional from start to finish and seemed like the de facto captain of the side, Gabbiadini has shown what he is capable of and youngsters Stephens and Josh Sims have shown that the future is still very bright.
However, Puel's uninspiring tactics, lack of goals, the European disaster and dreadful end to the season means that another series of comings and goings are likely at Southampton this summer. Yet after three years of constant altering to the squad and manager, are the Saints prepared to risk doing it all again? Only time will tell.