 Hornets boss Marco Silva said that his Watford side deserved a point in a thrilling 3-3 draw against a strong Liverpool side.
It was the Hertfordshire side that took the lead in the eighth minute with a close range header from Stefano Okaka.
Sadio Mane made it one all with a brillaint shot which Heurelho Gomes could do nothing about.
Watford went into the break with a one goal advantage with a close range effort from Abdoulaye Doucoure but started the second half slowly with strikes from Roberto Firmino and new signing Mohamed Salah putting Liverpool in the lead.
Miguel Britos late header earned Watford a point on the opening day and Silva believes his side fully deserved that.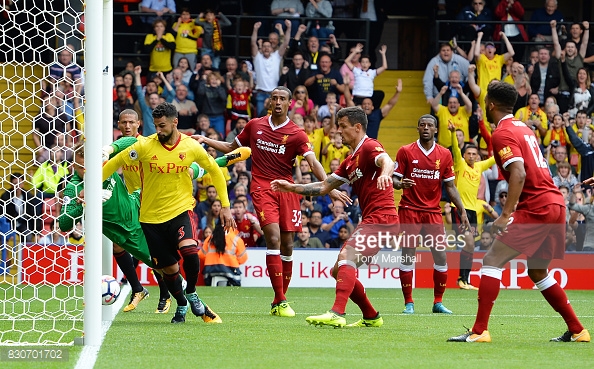 "It is a good and fair result for us" says Silva
Speaking after the game, Silva said: "Of course I think it is a good result for us and a fair result." He then went on to add: "It was a very good first half for our team, good rhythm. I didn't like the first 25 minutes of the second half."
Watford went into the game underdogs and proved everyone wrong by earning a point against a very good Liverpool side.
Silva said they expected a good reaction from their oponents and felt like they played with the same intensity as them.
"We reacted well and left it until the end, it is really important to us and we really, really deserved the result as well."
Watford will next travel down to the south coast for their first away game of the season when they take on Bournemouth next Saturday.
The Cherries suffered a 1-0 away defeat to West Brom yesterday so they will be urging to get all three point next weekend, meaning a tough game on the cards for Silva.