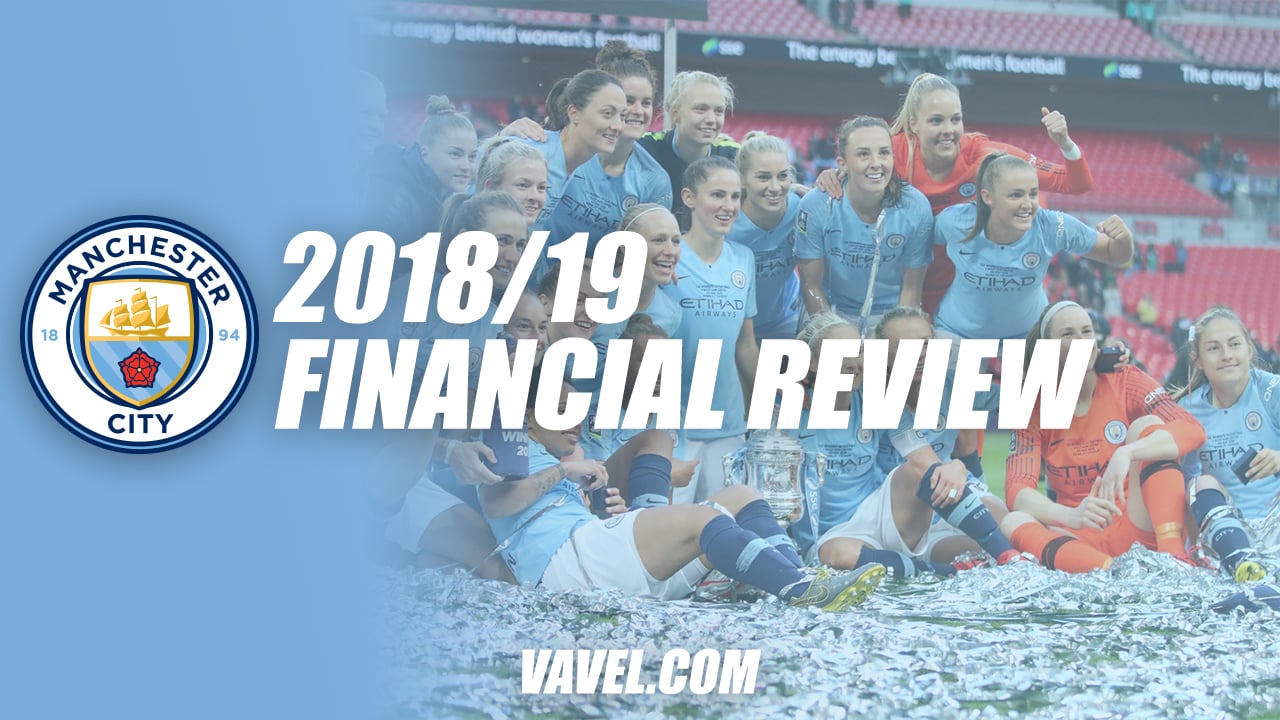 In the first season that the Women's Super League was made fully professional, Manchester City finished second in the division whilst lifting both the Women's FA Cup and the Continental Cup trophies. With the footballing world currently at a standstill amid the global Coronavirus crisis, the club have recently filed their financial report that covers the 2018/19 campaign. Here's a look at the figures:
Loss - £910,000
The club may have made an overall loss across the 2018/19 campaign, but this is a decrease of over 70% compared to that of the year before, where they lost £1,106m.
Unlike the previous year, the club made a small profit on disposal of player registrations of 93,000 although this did not make a large difference as to the overall turnover of the club.
The overall operating expenses of the club for the year were £3,361m, up from £3,210m the year prior.
Wages
The largest cost incurred by the club was the cost of employees, rising by over 10% and totalling £2,125,000 across the financial year, 36% of the costs that the club paid in the 2019 financial year.
Of the cost of employees, £1,914m of this was in the form of wages and salaries, with the £211k was spread across social securities and pensions.
Other costs
'Other external charges' totalled the value of £1,191m, down from £1,264m. A further £30k was spent on the amortisation of player registrations, £7k on audit fees and £6k on cost of sales.
Turnover - £2,048,000
In the first season with a fully professional Women's Super League, City's turnover increased by over 17% compared to the previous year, from £1,741m to £2,048m.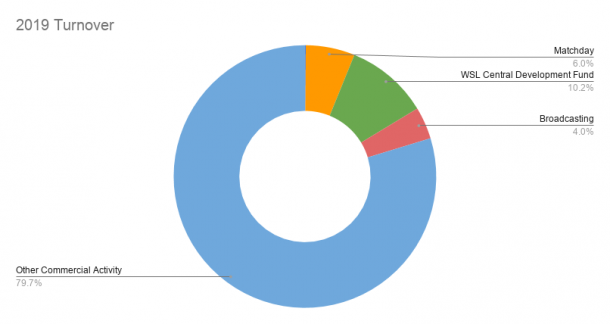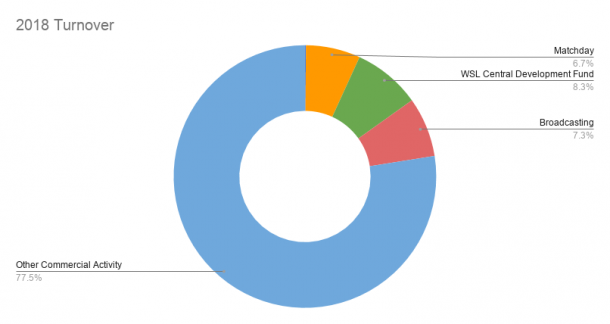 As the graphs show, the vast majority (nearly 80%) of the club's turnover came from other commercial activity that they took part in. Matchday revenue rose from £117k to £124k, but this took up a lower percentage of the overall turnover compared to the year before. Despite reaching both a Continental and FA Cup final, the club's revenue relating to broadcasting dropped from £128k to only £81k.
Post-report transfers
Since the end of the financial period that is covered in these reports, Ellen White, Matilde Fidalgo, Aoife Mannion, Laura Coombs, Karima Benameur and Lee Geum-min were acquired by the club for a total cost of £8,000.
Conclusion
Despite suffering a loss, it is nothing that will be worried about for the blues, backed by a men's side that is ranked fifth in the world by the Brand Finance Football 50 and that made £535.2m in revenues in the same financial year.
The increase in revenues is a positive step, and this is only expected to rise in the 2020 figures given the introduction of Barclays' landmark sponsorship deal (of course without the effects of COVID-19.)