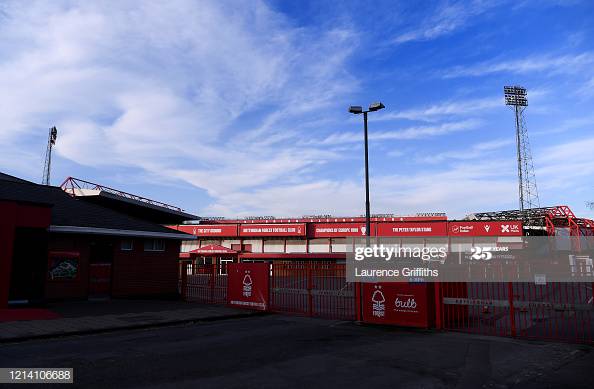 When Nottingham Forest kick-off the restart against Sheffield Wednesday on Saturday, it will mark 106 days since that turgid 3-0 home defeat to Millwall back in March - a loss, don't forget, that left the Reds with just one win in six.
Put in that perspective, perhaps the coronavirus couldn't have arrived at a better time for Forest, who will be hoping the resumption isn't a resumption at all, but rather a fresh start.
Luckily for Sabri Lamouchi's men, the hopes may yet materialise as, with Samba Sow, Tiago Silva, and Tendayi Darikwa all returning from injury, there is plenty of cause for optimism as Forest look to end their 20-year exile from the Premier League.
However, across the league, clubs are far from content, even if they can agree on the principle motives behind the restart.
Heightened injury risk remains a clear issue, with less than three weeks of contact training being afforded to players before they dive into a compressed fixture list.
In many instances, too, negotiations surrounding contract extensions to the end of the season remain balanced on a knife-edge, while some players, such as Charlton Athletic's Lyle Taylor, have rejected the restart altogether in fear of incurring an injury that could jeopardise a future move. The deadline for finalising the short-term agreements is June 23.
None of the aforementioned setbacks are problems that Forest are immune from.
The gaping, unavoidable hole in the fabric of the restart, though, is the absence of fans, a pertinent issue in Forest's case as the second-best supported club in the Sky Bet Championship.
With various figures constantly floating around about how much revenue clubs will lose out on in gate receipt, the impact on finances are well-documented. Ironically, though, the 'million-dollar' question on the lips of fans is this: how will empty stadiums affect the players?
Winners
Plenty of men have come and gone at the City Ground over the past decade, but few have divided opinion like Joao Carvalho.
Despite flickers of entrancing technical prowess, not least in the 3-0 victory against Middlesbrough in April 2019, the club's record signing from Benfica has, on the whole, flattered to deceive in the East Midlands.
Yet, where some consider the 23-year-old a lost cause, others view him as a player who needs faith from the manager and consistent game-time to fulfill his potential, neither of which he has been granted this season.
A loan spell at sister club Olympiakos has previously been mooted, with it being a move to a weaker league that could potentially help Carvalho rebuild his confidence - something that has gradually diminished since arriving in the summer of 2018.
For the time being, though, Forest are going to need their whole squad for a run-in that is bound to stretch resources, and that includes bit-part players like Carvalho, who has seen his game-time mostly confined to the backwaters of the FA Cup and League Cup this season.
A common criticism levelled at the Portuguese playmaker is his tendency to wilt under pressure, but could things change in the dialled-down atmosphere of an empty ground?
Not only is the pressure from the terraces alleviated, but pressing and tackling are also likely to be less ferocious, particularly as games will be taking place during the summer months. Carvalho, a player who, so far, has failed to adapt to the rigours and intensity of the Championship, could benefit massively.
Another man who may thrive in a de-pressurised environment is John Bostock.
The 28-year-old felt the wrath of the Forest fanbase after a lacklustre display in the 1-0 defeat at Wigan Athletic in October and struggled to recover for some time.
However, a few impressive cameos prior to the break and a howitzer in Forest's unexpected 2-0 friendly win over Wolverhampton Wanderers has seen the tide turn somewhat, with many fans now eager for him to sign a loan extension from Toulouse.
Bostock has struggled to dislodge the midfield stalwarts of Sow and Ben Watson in Lamouchi's system so far, but - with his flair and vision - he brings something else to the table, something that could be easier to express without 30,000 fans riveted on your every movement.
Alex Mighten, the 18-year-old who was born and bred in West Bridgford, may also have a part to play across the final furlongs. Mighten is held in high regard by those who have witnessed his development and made his Championship debut against QPR back in February.
As Lamouchi rotates his squad for the congested run-in, it is likely the young man will be handed more opportunities to showcase his talent.
Losers
When it comes to Samba Sow, Forest's combative midfield destroyer, and his influence on the team, the statistics speak for themselves.
Forest have lost just once in the 19 times the Malian has appeared in the starting XI, averaging a win percentage of 63% (automatic promotion numbers). Without him, the Reds have lost eight times, averaging a win percentage of just 22%. Put simply, Samba Sow is paramount to Forest's success.
His time at the City Ground, however, has been plagued by injuries, a predisposition to which is only going to be aggravated during a hectic climax to the season.
It's a similar case for Lewis Grabban, who has 16 goals to his name this season.
At 32 years-of-age, Forest's marksman is no spring chicken. It's something Lamouchi has been mindful of this season, with the Frenchman refraining from over-using Grabban in case of compromising his sharpness.
However, with games coming thick and fast and each game weighing heavily in the bid for promotion, Lamouchi may not be afforded such a luxury, even with Nuno Da Costa and Tyler Walker waiting in the wings.
Each time he has opted to rest Grabban this season the decision has backfired, most notably in complacent defeats to Charlton and Wigan Athletic, two clubs fighting for their lives at the opposite end of the table.
If the same were to happen again during the run-in, in what is such a pivotal period for Forest's future, and they dropped out of the playoffs as a result, there would be serious inquests.
It looks, therefore, like Grabban is going to be pushed to the limits. The question is whether he is up to the challenge.
Matty Cash, meanwhile, is a player who could suffer for different reasons.
Cash has confounded the skeptics this season with a series of explosive displays at right-back, but he's someone who clearly feeds off the buzz and energy of the crowd, whether it be during a lung-busting foray down the flank or after a forceful sliding tackle to dispossess the opposition.
He lives and breathes through the terraces, and that's what has made him such a compelling watch.
Yet, for the exact same reasons, don't be surprised if Forest return to action at a sterile Hillsborough on Saturday and Cash is unable to pick up from where he left off. The implications of empty grounds are widespread, and - just like the seasoned veterans who depend upon the fervour of the crowd on matchday - the 21-year-old, to steal some classic virus terminology, is high-risk.